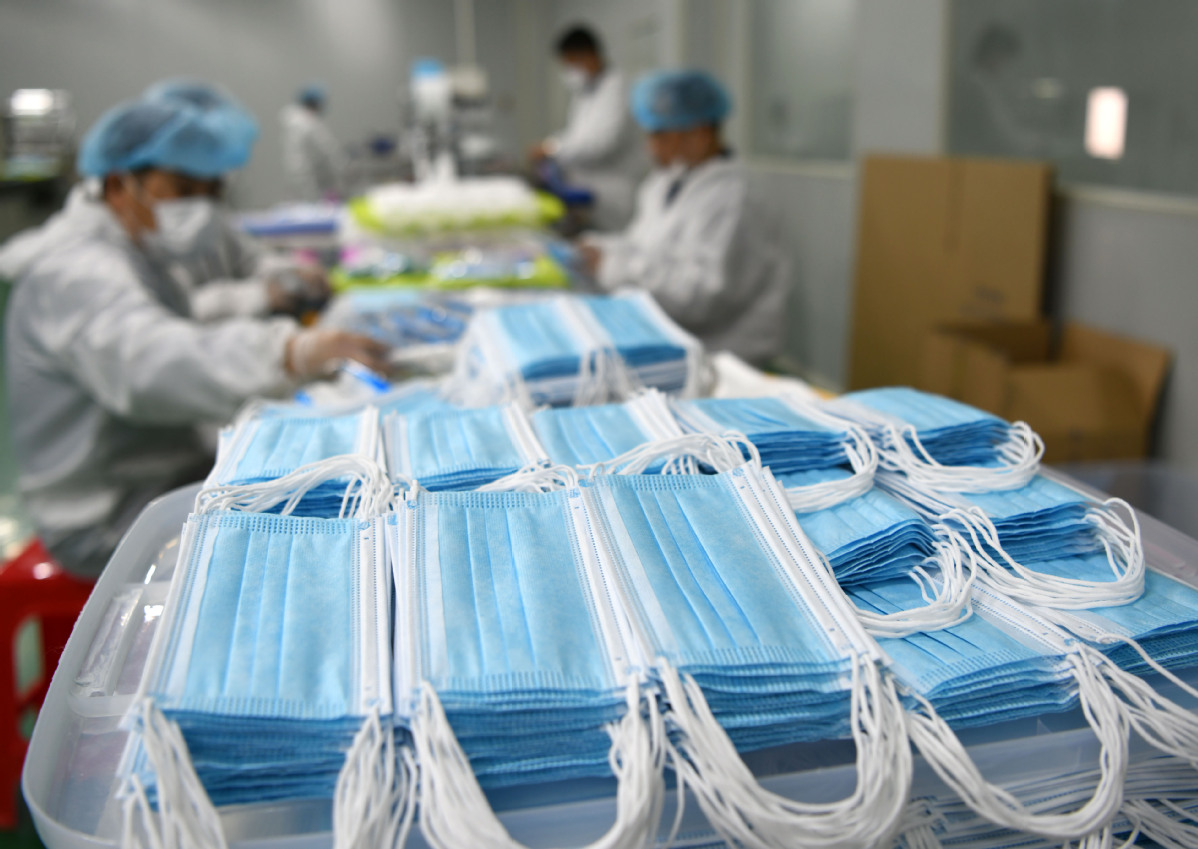 Chinese companies are gearing up capacity to meet surging foreign demand for novel coronavirus-related medical supplies such as protective gowns, non-contact infrared thermometers and surgical masks-all of which are urgently needed to save the lives of COVID-19 patients as the pandemic rages overseas.
China's novel coronavirus-related medical supply exports last month were worth 6.29 billion yuan ($892.9 million), according to the General Administration of Customs.
Jiangsu Yuwell Group, a leading manufacturer of medical products in China, said it had received orders for 700,000 non-contact infrared thermometers, 200,000 blood oxygen saturation monitors, 30,000 ventilators and 40,000 oxygen concentrators from 68 countries and regions as of April 7.
Having bolstered its production capacity and daily output, the company has shipped 300,000 non-contact infrared forehead thermometers and 7,000 ventilators to more than 50 countries including Italy, Spain, Germany and France.
It has also donated about 10 million yuan in medical supplies to Chinese provinces and foreign countries severely hit by COVID-19-including Hubei province and Italy-to support the global epidemic prevention and control situation, the company said.
Zhang Chengyu, deputy general manager of Dishang Group Co Ltd, an apparel company based in Shandong province, said the company has exported protective gowns worth $50 million to more than 20 countries and regions, with more than $100 million of the product exports already shipped.
The company's daily output of protective gowns stands at 30,000.
"Our factory is at full-load operation round the clock, and we are considering whether to expand capacity and output if the pandemic doesn't ease up within the following days," she said.
Zhang said the company never expected the epidemic could be so serious around the world.
Though it is the world's largest producer of protective gowns and surgical masks, China was faced with a massive shortfall of protective gear following the outbreak of the disease. Thanks to efforts of Chinese companies to step up provisions, the country's acute shortages were soon mitigated.
By Feb 12, more than 60 percent of medical supply manufacturers in the textile industry had resumed production, according to data from the China National Textile and Apparel Council.
During late January and early February, many apparel companies shifted production to protective gowns and even petroleum firms built up new production lines to make surgical masks.
Dishang Group, founded in 1993, is one of China's largest apparel exporters. In response to the country's acute need, the company built a protective gown production line in less than 24 hours on Feb 9, with daily production capacity reaching 10,000 units just three days later.
As of early March, the company had produced 300,000 protective gowns for the domestic market.
Overseas orders began to surge in early March.
"Increased overseas market demand is a business opportunity for us, but we are also very concerned for the health and well-being of people overseas and want to help, because we need to help them in time of need," Zhang said.
"Besides, the pandemic knows no borders and has severely impacted the global economy. Only with efforts from every country can we restore the normal status of the global supply chain and economic activity as soon as possible."
The largest order so far was from Italy, followed by Belgium, Spain, Greece, Denmark and the Czech Republic, while Japan, Africa and Southeast Asia have also ranked on the company's export destinations, according to Zhang.
The company is also helping seven producers in Shandong and Henan provinces export protective gowns, masks and face shields worth about $1 million, using the company's overseas sales and marketing resources, she added.