With a new CEO now taking the reins at Coty (COTY), investors might be more willing to give the company a second look. While I do think that much of the headwinds that have weighed on the business over the last year or so will eventually subside, I would caution against buying into a turnaround story pending further clarity into management's strategy to address ongoing headwinds in the off-trend makeup and mass channels, along with the investment needs required to facilitate the turnaround. Amid the external and internal uncertainties, I remain on the sidelines and expect profitability to move further downward heading into fiscal 2021. At approximately c. 20x NTM EBITDA, I think shares are fairly valued at current levels.
Organic Sales Declines Show Little Signs of Abating
In response to investors hoping for a turnaround story, I would point to the disappointing Q4 results in reopened regions such as Asia-Pacific, which saw sales declining 57.5% on a like-for-like basis. If anything, this indicates a long, winding recovery path ahead.
In support of this view, I would also point to weakness in Luxury organic sales growth, which fell 73.3% Y/Y. Although this was largely the result of channel closures throughout much of the quarter across department stores, specialty retailers and, especially, travel retail, it was still far short of consensus at -43.5% Y/Y. Consumer Beauty did not perform much better either, posting -47.9% Y/Y declines on an organic basis, on the back of traffic weakness across mass retailers and drugstores, along with a greater emphasis by consumers on more essential personal care categories. Considering Coty's Consumer Beauty segment indexes heavily toward non-essentials such as color cosmetics, continued demand weakness on this front could spell further declines heading into fiscal 2021 as well.
The shift toward non-essentials was also apparent in the prestige channel, which posted -70% Y/Y declines, relative to the mass business, which was relatively more resilient at -39% Y/Y. The Wella business was also relatively resilient at -40.6% Y/Y, as COVID-19-related salon closures were offset by demand for at-home color. Nonetheless, I would point out that the segment has been moved into discontinued operations following the sale to KKR, and therefore, investors will need to exclude the segment to properly evaluate future earnings power.

(Source: Coty Presentation Slides)
Notably, organic sales did not perform well in any single geography. In aggregate, organic sales growth fell 60% Y/Y, which, even accounting for a c. 2%pt headwind from FX, was still disappointing. The best-performing geography was the Americas at -52% Y/Y, while the EMEA region was the worst performer at -67% Y/Y.
Margin Declines Are Also Cause for Concern
Coty has also been suffering from operational deleverage amid the declining sales volumes, with gross margins contracting to 40.6%. Additional detractors include increased obsolescence expense and additional expenses related to COVID-19 (c. $50 million). As a result, the company has been deeply loss-making at the operational level, as adjusted operating margin from continuing operations fell to -59.8%.
Excluding a $394 million impairment charge amid share price declines, losses from continuing operations reached -$335 million as of the latest quarter. This leaves room for further impairments, should the share price underperformance continue. At present, however, the $750 million contribution from KKR helps shore up the balance sheet, bringing overall liquidity to $1.6 billion as of the latest quarter.
Underlying Trends Remain Pessimistic Heading into Fiscal 2021
Disappointingly, the company has not issued guidance for the upcoming fiscal year. Instead, it has left investors with the following comment: "Coty has seen gradual sales trend improvement from April through June, with significant improvements in July and August across the portfolio."
This does not offer me much comfort, considering most companies bearing the brunt of COVID-19 have echoed similar commentary. While sales declines are improving, they remain far from ideal – while sales were tracking within the -60% Y/Y to -40% Y/Y range from April through June, the July through August period is tracking closer to -20% Y/Y.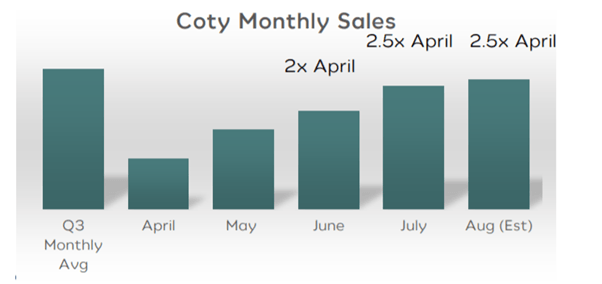 (Source: Coty Presentation Slides)
Positively, management is guiding toward a return to profitability in Q1 2021, but this will be on an adjusted operating income basis. Debt holders will also be encouraged by the flat net debt guide heading into the upcoming quarter, but the caveat is that this assumption assumes the Wella divestiture will close by the end of calendar 2020. One-third of the $600 million cost-cutting program (c. $200 million) will be realized in fiscal 2021, which should also help with deleveraging plans.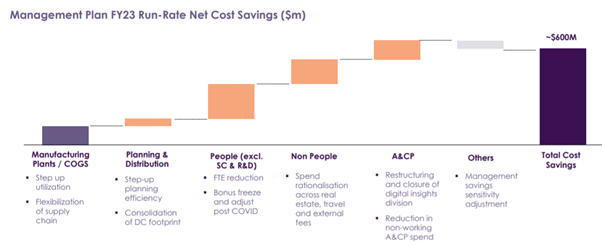 (Source: Wella Divestiture Presentation Slides)
Wella Divestiture a Positive for the Balance Sheet
As highlighted earlier, the Wella sale to KKR is set to close by calendar 2020, with the resulting proceeds of c. $2.5 billion mainly going toward debt repayment. In conjunction, the Kim Kardashian West deal is set for close by Q3 2021 and will see Coty acquiring 20% of the business for a $200 million outlay. This likely entails a limited P&L impact until Coty launches new products, and in the interim, we could see a slight uptick in overall expenses.
Encouragingly, however, Coty has utilized proceeds from the KKR deal to pay down $750 million in Q4 2020 and an additional $250 million thereafter, all of which went toward asset-backed loans. Going forward, incremental proceeds will likely be used to pay down term loans, especially considering the 5.25x leverage covenant will begin to step down beyond March 2022.

(Source: Coty Annual Report, Fiscal 2019)
Cautious Optimism on the New CEO
Encouragingly, new CEO Sue Nabi has stressed the importance of core competencies such as product quality, skin care, along with growth initiatives such as a more focused expansion into China and increased usage of analytics. She does bring experience and credibility into the role, but this isn't the first time that a credentialed new CEO has attempted a turnaround at Coty. The major long-term question also revolves around the level and type of investments that will be to facilitate a transformation. Pending further clarity into a turnaround strategy, I am withholding judgment for now, although I am cautiously optimistic.
Too Early to Bet on a Transformation
In the near term, Coty's prospects do not appear especially optimistic. With the company undergoing yet another CEO change, visibility beyond Q1 2021 is limited, to say the least. The new CEO does bring a strong track record from L'Oreal, and significant changes are likely afoot. Pending visibility into the medium- to long-term turnaround, growth initiatives such as Kylie Skin, along with additional divestiture plans, investors are probably better off sitting this one out.
At the current c.20x NTM EBITDA multiple, Coty shares offer investors little in the way of value as well. Add to that the execution risk associated with another multi-year turnaround and likely reinvestment needs into digital, and it seems hard to justify owning shares at current levels.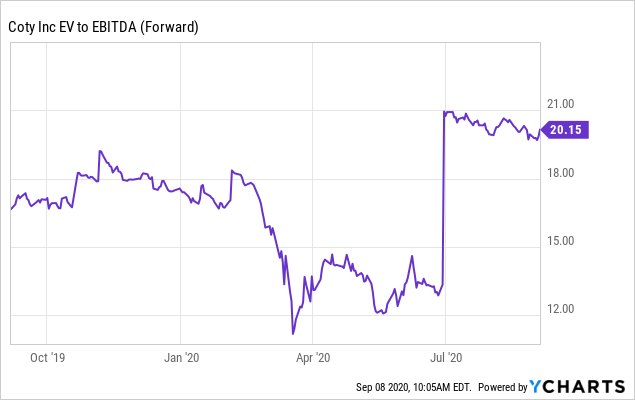 Disclosure: I/we have no positions in any stocks mentioned, and no plans to initiate any positions within the next 72 hours. I wrote this article myself, and it expresses my own opinions. I am not receiving compensation for it (other than from Seeking Alpha). I have no business relationship with any company whose stock is mentioned in this article.