CoStar Group, Inc. (CSGP) is the self-proclaimed "number one provider of information, analytics and online marketplaces to the commercial real estate industry in the United States and the United Kingdom." Indeed, it has a leading commercial real estate database, research department and operates several online marketplaces for commercial real estate and apartment listings. The company has several brands including "CoStar, LoopNet, Apartments.com, STR, Ten-X, BizBuySell and Lands of America."
What I really like about this company is that it has performed exceptionally well through the pandemic, with Q2 2020 YoY revenue growth of 16% and adjusted EBITDA growth of 17%, similar to pre-pandemic growth. In fact, the company is doing so well that the management has reinstated guidance for the remainder of the year.
We currently expect revenue for the full year in a range of $1.63 billion to $1.64 billion, which represents a growth rate of 17% at the midpoint of the range compared to 2019. This estimate includes approximately $25 million to $30 million in revenue from Ten-X in the second half of the year.

We expect revenue for the third quarter of 2020 in the range of $415 million to $420 million, representing topline growth of around 18% at the midpoint compared to the third quarter of 2019. This estimate includes approximately $12 million to $13 million in revenue from Ten-X."
Countercyclical Business
In some respects, CoStar Group's business is countercyclical to the general economy. Real estate activities are still a necessity in real estate, even in a bad economy. Many of CoStar Group's areas of business experienced record levels of traffic as the quarter progressed after a slow start.
Traffic to our Apartments.com and LoopNet marketplaces rose to new record levels exceeding pre-pandemic levels. We had 62 million monthly unique visitors in our platforms in the second quarter an increase of 13% of our record traffic levels of 55 million monthly unique visitors reached in the first quarter of 2020. I hope you can agree with me that these results indicate that our business is not only resilient, but is in fact countercyclical."
In addition, the acquisition of auction site Ten-X in late June should be a big plus financially. Ten-X facilitates online auctions of distressed properties which are on the rise in this economy, and the company should be a nice fit strategically:
"… one of the key synergies of the Ten-X acquisition is that we can leverage our millions of LoopNet visitors and global CoStar users to increase awareness of properties going to auction to Ten-X and thereby dramatically increase the potential bidder pool for properties.

Auctions with three or more engaged bidders are much more likely to transact above the reserve than are auctions with just one or two bidders. More bidders drive more closed auctions which we believe will draw more properties for sale which in turn draws in more bidders. And all that generates more commissions for our brokers."
Large Cash Reserve
Historically, CoStar Group has a reputation for M&A activity, with more than 30 acquired companies since the company was founded. Companies have been acquired during recessionary periods.
Examples include COMPS.COM which we purchased in 2000 at a 60% discount to the pre dot-com premium; and LoopNet, which we acquired in 2012 at a 40% discount to its pre-Great Recession premium.

Taking the two examples of above COMPS.COM now brings in 8 times its acquisition level revenue and LoopNet 4 times. It's this kind of discount and development potential that we aim to exploit in the coming years and why we view market stress as an opportunity rather than a concern."
After raising capital this summer, CoStar Group now has $3.5 billion in cash waiting to be applied to new acquisitions. The company management has indicated that they are in no hurry but will wait for the best opportunities.
Stock Market Performance
Given the company's apparent resilience to the pandemic and recession, CoStar Group's stock price has been moving to new all-time highs. This may be a sign of more bullish action to come as Mr. Market gives its two thumbs up.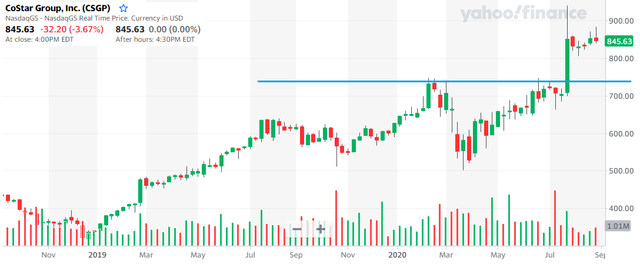 (Source: Yahoo Finance/MS Paint)
Stock Valuation
The plot below illustrates how CoStar Group stacks up against the other stocks on a relative basis based on forward EV/Sales versus forward revenue growth. Note: Please refer to a recent article for more information on the scatter plot-relative valuation technique.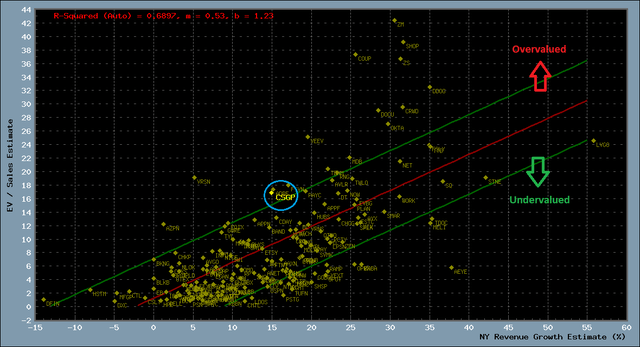 (Source: Portfolio123/private software)
CoStar Group is situated above the best-fit line on the scatter plot, suggesting that the stock is overvalued on a relative basis relative to its peers based on expected future revenue growth and its forward sales multiple.
A better valuation technique may be to look at the EV/Gross Profit estimate, substituting this figure for EV/Sales estimate in the above scatter plot. CoStar Group has a better-than-average gross profit margin, giving it a better standing amongst its peers in terms of relative valuation.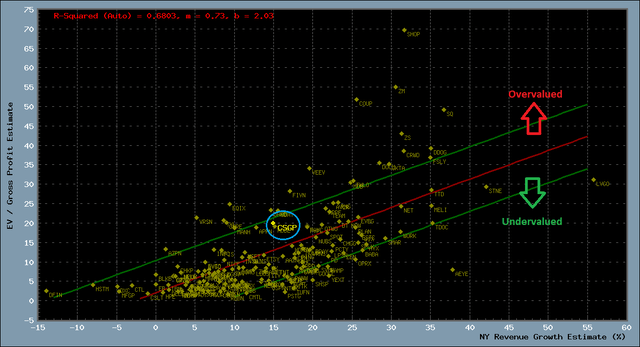 (Source: Portfolio123/private software)
While the stock is still overvalued, it is closer to fair valuation. The question for investors then becomes a matter of whether to assume a higher risk (due to high valuation) versus the likelihood of missing the opportunity. In my estimation, the exceptional company fundamentals (Rule of 40 and cash on hand) plus the countercyclical nature of the business make the risk worth taking. There is a strong possibility that the stock price will never pull back to fair value.
The Rule Of 40
The industry metric that is often used for software companies is the Rule of 40. It is an industry rule of thumb that attempts to help companies ascertain how to balance growth and profitability. For a further description of the rule and calculation, please refer to one of my previous articles.
(Source: Portfolio123/MS Paint)
In CoStar Group's case:
Revenue Growth + FCF margin = 17% + 31% = 48%
CoStar Group scores above the 40% needed to fulfill the Rule of 40, suggesting that it has a healthy balance between growth and profitability. Note that this metric is calculated on a trailing-twelve-month basis.
I have prepared another scatter plot that shows the forward-looking Rule of 40 using analysts' estimates. Analysts usually lowball their estimates and it is more difficult to score 40. The Rule of 40 calculation is referred to as the forward efficiency score in the plot below. Note that the forward earnings margin is used in place of the free cash flow margin.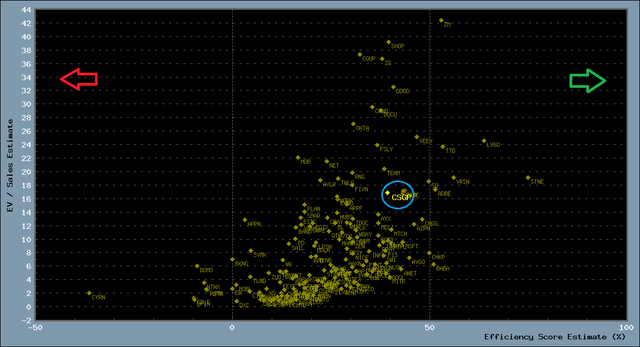 As you can see, CoStar Group still meets the Rule of 40 on a forward-looking basis. This is actually quite a feat, putting the company right up there with Wall street darlings such as Datadog, Inc. (DDOG), Fastly, Inc. (FSLY), and Shopify Inc. (SHOP), but at a considerably lower EV/forward sales multiple.
Investment Risks
It seems unlikely that we will see a vaccine until at least the spring of 2021 and that depends on everything going well in Phase 3 trials for vaccine candidates. While we wait, the government and the Federal Reserve are being generous with handouts and stimulus. But the stimulus appears to be slowing down and may even stop in the near future. When the handouts stop, I expect that the stock market may become very bearish.
We are in the midst of a recession, if not a depression. Government employment statistics do not really capture the true extent of the state of the economy. While the company's business is countercyclical, an extended economic slowdown could ultimately harm the business.
CoStar Group tends to acquire a lot of companies. It is possible that one or more acquisitions could be problematic. Alternatively, the company may overextend itself and have difficulty servicing its debt in an extended economic depression.
Summary and Conclusions
CoStar Group is a leading provider of commercial real estate analytics and online marketplaces in both the United Kingdom and the United States. The company has performed quite well during the pandemic with Q2 2020 YoY revenue growth of 16% and adjusted EBITDA growth of 17%. The company management has suggested that its business is countercyclical. Although real estate activity slowed at the beginning of the pandemic, activity has picked up and reached new highs as the quarter progressed. The most recent acquisition, Ten-X, should perform well in this environment, as the company specializes in the auction of distressed real estate. There are also expected synergies as Ten-X is assimilated into the rest of the company's business.
CoStar Group has raised capital this summer and is now sitting on $3.5 billion in cash, certainly enough to survive a long recession. The company is known for its M&A activity and it is likely that one or more companies will be acquired during this economic downturn.
Given CoStar Group's strong free cash flow margin of 31% and annual revenue growth of 17%, the company scores well on the Rule of 40. The Rule of 40 is a metric that I use to assess software companies. While the stock is overvalued on a relative basis, I am still bullish based on the positive fundamentals. Mr. Market agrees with my bullishness as the stock is pushing a new all-time high. Therefore, I am giving CoStar Group a Buy rating.

Panning for gold is so much work, and so last millennium! There is an easier way. Sign up for Digital Transformation, a Seeking Alpha Marketplace, and learn all the massive paradigm shift to digital.
Tap into four high-growth portfolios, industry and subindustry tracking spreadsheets, and three unique proprietary rating systems. Don't miss out on the digital revolution.
Disclosure: I/we have no positions in any stocks mentioned, and no plans to initiate any positions within the next 72 hours. I wrote this article myself, and it expresses my own opinions. I am not receiving compensation for it (other than from Seeking Alpha). I have no business relationship with any company whose stock is mentioned in this article.