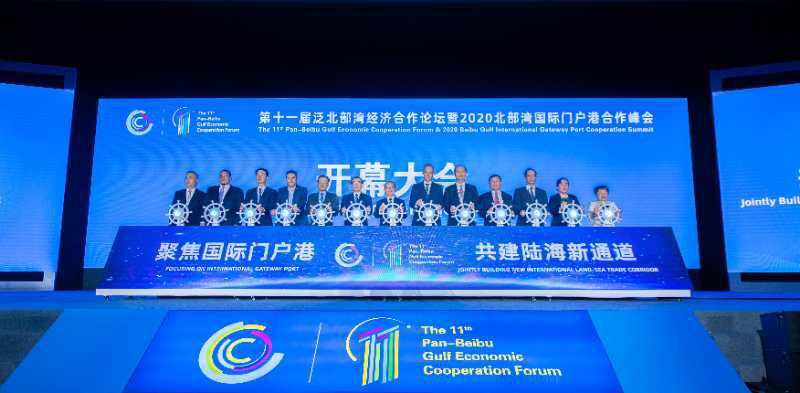 The 11th Pan-Beibu Gulf Economic Cooperation Forum kicked off on Thursday in Nanning, Guangxi Zhuang autonomous region with the aim of injecting new momentum into Pan-Beibu Gulf sub-regional cooperation and China-ASEAN connectivity.
Participants attended the forum in person or via video link.
Themed "Focusing on International Gateway Port, Jointly Building New International Land-Sea Trade Corridor", this year"s event discussed topics including construction of the Beibu Gulf International Gateway Port as a new model of interactive development and building a high-quality land-sea trade corridor for the international supply chain.
Consensus was reached that the joint building of the corridor and port will promote China-ASEAN cooperation. Amid the challenges of the coronavirus pandemic, the principle of consultation and collaboration for shared benefits should be followed in exploring new kinds of land-sea cooperation and promoting development of the Belt and Road Initiative to keep supply chains resilient.
The forum also yielded fruitful outcomes in the form of signing ceremonies for a series of cooperation pacts, as well as the release ceremonies for a series of other projects.
The event had two subforums — the China-ASEAN Port Cities Cooperation Network Conference and Pan-Beibu Gulf Think Tank Summit.
This year marks the 10th anniversary of the establishment of the China-ASEAN free trade area. The forum highlighted the significant achievements made in the joint construction of the port and corridor.