Constellation Software (otcpk: CNSWF) is a Canadian-listed software company that has delivered one of the best compound shareholder returns on the TSX and among global technology peers. The secret to CSU's success over the last decade is centered around its focus on the fragmented vertical market software and its ROIC-based acquisition strategy. The company completes a few dozens of very small deals buying up software designed for a wide range of public and private sectors. We think the company will be challenged to continue its 30-40% ROIC over the next decade as capital deployment at a much larger scale is not a given. However, acquisition execution remained strong today and there is little evidence to suggest that CSU will not be able to deliver superior shareholder returns in the next decade. As long as investors have the right expectation, we think CSU is an excellent investment in the software space that has an impeccable track record of compounding equity return over a long period of time.

Buy and Build
Constellation Software utilizes an acquisition strategy that focuses on the vertical market software segment. These are mission-critical software applications designed for a specific industry. Unlike the more well-known SaaS software vendors such as Adobe (ADBE) or ServiceNow (NOW), CSU's products are mostly based on licenses and services with little SaaS components. About 2/3 of CSU's revenue comes from public sector customers. Given the large number of specific end-markets that CSU covers, the company utilizes a decentralized management approach that relies on managers at the 6 operating groups and the BU levels to management execution. The company also delegates capital allocation decisions to its managers with the headquarter providing oversight for investments of more than $20 million.
In the 2017 President's Letter, CEO and Chairman of the Board Mark Leonard described a type of employee as Compounders. This definition is supported by the equity-heavy compensation scheme at CSU where senior managers are required to reinvest at least 75% of their bonus in company shares that vest over three to ten years. We think CSU has successfully instilled a culture that focuses on long-term growth versus short-term maneuvering.
"If the PM is good at finding acquisitions, and helping them learn relevant best practices, and continues to deploy at least the FCF produced by their portfolio, then we refer to them as a Compounder."
Constellation has not repurchased any of its own shares in the last decade and its capital allocation strategy has also been focused on acquisitions and reinvestments. Its management focuses on ROIC and organic revenue growth as measures for its success. It's worth noting that CSU's definition of ROIC is essentially ROE based on industry conventions as it is calculated with net income and shareholders' equity. Starting in 2018, CSU also made the decision to pull back its non-GAAP disclosures significantly including the table below and cancellation of its quarterly earnings call. There seem to be heightened sensitivities at CSU around providing the potentially competitively sensitive information to the public due to more and more competitors in the VMS market. While it is a setback for investors, the company has likely earned the right to be capricious as long as it keeps executing.
Right Size Expectations
Before the annual letter was discontinued, CSU used to use ROIC religiously to evaluate the company's performance. Himself also acknowledged that the growth going forward will likely be lower than the historical averages. The concern comes from two fronts. First of all, as CSU gets bigger, it requires higher amounts of acquisitions to move the needle which requires more resources and available opportunity sets. Secondly, competition is getting tougher as more players entered the VMS market and asset prices are inflated in general. Many have questioned whether CSU will revert to the mean and growth has indeed slowed down in certain periods. At the end of the day, the addressable market is vast and CSU is continuing to expand into new verticals which means expanding opportunity sets.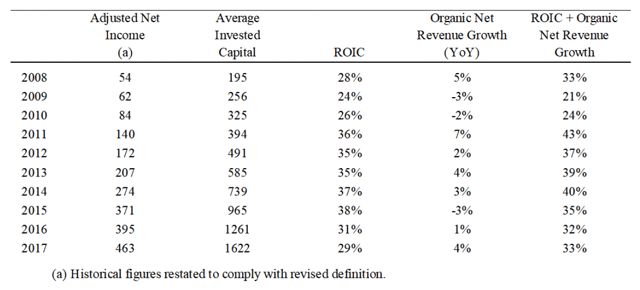 (Source: 2018 President's Letter)
CSU's acquisition strategy is unique. It completes a few dozens of small deals every year (2019 saw 93 deals which were an all-time high) and it typically pays less than 1.0x revenue with most deals below $20 million in size. It paid for most deals with cash and deferred payments. It aims to deploy all its retained capital through acquisitions and it evaluates deals based on an internal hurdle rate/IRR. The software that CSU acquires typically have minimal organic growth and high cash flow conversion. Its top verticals include healthcare, education, government, telecom, and transportation.
Valuation and Performance
CSU is one of the largest technology companies in Canada and its C$33 billion market cap puts it in the league of large-cap software stocks. Over the last five years, CSU's share price increased by 201% which is almost double the performance of Nasdaq. Its total return including dividends (reinvested) was 230% over the last five years which equates to an 18% annualized total return. While there have been stronger performers within Canadian peer sets, such as Kinaxis (OTCPK:KXSCF) and Descartes (DSGX), but it is important to expand the timeframe to truly appreciate what CSU has accomplished. Over the last 10 years, CSU has delivered total shareholder returns of 4,344% with an annual return of a whopping 46%! For comparison, another longstanding Canadian software giant OpenText (OTEX) delivered a 10-year annual total return of 16% while another strong performer Enghouse (OTCPK:EGHSF) had a total-year total return of 31%. CSU has grown to become much larger and it is more difficult to grow at the same rate as before. We expect the growth rate to deaccelerate compared to historical levels but the outlook remains bright as the business is much larger and more diverse now.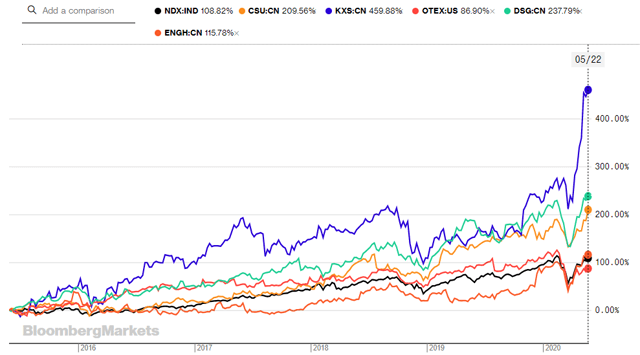 (Source: Bloomberg)
Looking Ahead
Constellation is truly unique among software players as its decade-long history of ROIC-based prolific acquisition history has supported its stellar shareholder value creation of 4,344% over the last 10 years. Although incremental growth requires more heavy lifting given its C$33 billion market cap, CSU has managed to deliver thus far. We think investors should not expect the company to deliver another 10 years of 46% annual total returns, nor does its founder and CEO Mark Leonard expects that to happen. However, the company remains one of the best equity compounders in the market as its focus on the VMS market and self-funded capital recycling program is a unique and powerful combination. The biggest risk to CSU's business model is a significant deterioration of organic growth which has historically been low single-digit. We believe Constellation remains one of the best software consolidation story and its addressable market remains large for the foreseeable future.
Disclosure: I/we have no positions in any stocks mentioned, and no plans to initiate any positions within the next 72 hours. I wrote this article myself, and it expresses my own opinions. I am not receiving compensation for it (other than from Seeking Alpha). I have no business relationship with any company whose stock is mentioned in this article.
Editor's Note: This article discusses one or more securities that do not trade on a major U.S. exchange. Please be aware of the risks associated with these stocks.