No surprises were expected from Ciena Corporation (CIEN) with the release of its Q3 quarterly report. Industry peers had all given upbeat assessments, so Ciena was expected to do the same. When the report was released, Ciena did as expected in terms of strong earnings growth. But what was not expected was weak guidance from the company and earnings call comments that call into question whether the bull thesis behind Ciena is as sound as previously thought. Why will be covered next in greater detail.
Q3 FY2020 quarterly earnings
Ciena beat estimates for the top line and bottom line with its Q3 FY2020 report. Q3 revenue grew by a modest 1.7% YoY to $976.7M. While the top line did not change all that much, the same cannot be said of the bottom line. Non-GAAP net income jumped by 48.2% YoY to $166.4M. In terms of earnings growth, Ciena certainly delivered the goods.
| | | | |
| --- | --- | --- | --- |
| (GAAP) | Q3 FY2020 | Q3 FY2019 | YoY |
| Revenue | $976.7M | $960.6M | 1.7% |
| Gross margin | 47.6% | 44.2% | 3.4pp |
| Operating income | $188.0M | $125.3M | 50.0% |
| Net income | $142.2M | $86.7M | 64.0% |
| EPS | $0.91 | $0.55 | 65.4% |
| | | | |
| (Non-GAAP) | | | |
| Revenue | $976.7M | $960.6M | 1.7% |
| Gross margin | 48.2% | 44.7% | 3.5pp |
| Operating income | $219.2M | $155.9M | 40.6% |
| Net income | $166.4M | $112.3M | 48.2% |
| EPS | $1.06 | $0.71 | 49.3% |
Source: Ciena Form 8-K
However, the outlook was a different story. Guidance calls for Q4 revenue of $800-840M, a decrease of 15.3% YoY at the midpoint. Margins are expected to stay elevated in Q4, just like they had in Q3. The forecast expects gross margin of 46-48%, which is above the company's current run rate margin of 43-45%.
| | | | |
| --- | --- | --- | --- |
| (Non-GAAP) | Q4 FY2020 (guidance) | Q4 FY2019 | YoY (midpoint) |
| Revenue | $800-840M | $968.0M | (15.3%) |
| Gross margin | 46-48% | 43.8% | 3.2pp |
Higher margins are generally seen as a plus, but not in this case. The higher margins seen recently are the result of a shift in revenue mix. There's a higher percentage of revenue coming from existing business and less from new design wins that tend to have lower margins. The higher margins are more a sign of underlying weakness than strength since there are fewer early life projects getting off the ground.
In addition to downbeat guidance, the earnings report included the following statement:
Although COVID-related market dynamics have resulted in an orders slowdown and are likely to adversely impact our revenue for a few quarters, we are confident in our ability to continue executing on our strategy and expanding our market leadership."
Ciena sees a slowdown ahead that could extend for at least several quarters. Not exactly what the market had been looking for.
Q3 FY2020 earnings call
The downbeat assessment of the current state of the industry is contrary to expectations. Ciena's outlook stands in sharp contrast to previous comments from industry peers that were much more upbeat. Management therefore went into further detail as to the reasoning behind its industry outlook. From the Q3 earnings call:
late in the fiscal third quarter, we began to see some of the effects of COVID-19 manifest in our business to a greater degree than anticipated, as well as increased economic uncertainty. Specifically, we began to experience a meaningful slowdown in orders and a softening of our outlook. I would stress that the decline is broad based across our service provider's customers globally whose spend now appears to have been somewhat front-end loaded in the calendar year, resulting in lower orders in our third quarter from a number of our large customers in this segment."
A transcript of the Q3 FY2020 earnings call can be found here.
Ciena sees the slowdown not as something company-specific, but as something that the entire industry and all participants will have to deal with, both in the U.S. and abroad. Q3 orders slowed down to such an extent that they fell below revenue, a rare occurrence.
However, the length and breadth of the COVID-19 pandemic and its effect on the global economy remains uncertain, and it is leading to more cautious customer spending behaviors and ongoing difficulties with operationalizing projects. This resulted in Q3 orders coming in significantly below revenue, something we have not seen for some time and a softening of our near-term outlook."
Ciena's peers and competitors were much more optimistic about the state of the industry. No mention was made that anything was amiss, which is why Ciena's warnings about an industry-wide slowdown took the market by surprise. Management explained the reasons why Ciena's comments are a taste of what's to come. Others will follow in Ciena's footsteps.
you will be hearing this from our competitors, peers, and even customers frankly. We have a quarter that's slightly off in terms of most of our peers, competitors, and customers. And so since this phenomenon really occurred late in our quarter and specifically in the last month of the quarter, it might not have been evident to them at the time they did their earnings. We believe this is very broad and everyone will be talking about this over the next several quarters. We have the kind of global stability that others don't quite have, particularly with global service providers which is where this is focused. And so I think that's why we're seeing it a bit earlier than others."
Ciena did end on a positive note by pointing out that prospects further down the road remain robust.
I would stress that we believe that these challenges will be short-term in nature. With bandwidth demand increasing at approximately 25% to 30% year-on-year, we do not believe it will be possible for our customers to serve that level of demand for more than a few quarters without increasing capacity."
In a nutshell, Ciena has thrown cold water on future expectations with its latest industry outlook. The coronavirus pandemic seems to have led to a cascading effect. From orders pulled forward in prior quarters, difficulties in executing projects, slowdown in new orders, cut in capex spending and service providers running networks hotter. If Ciena is correct in its assessment, the uncertainty from the pandemic is starting to take its toll. Companies are more cautious and beginning to tighten their belts.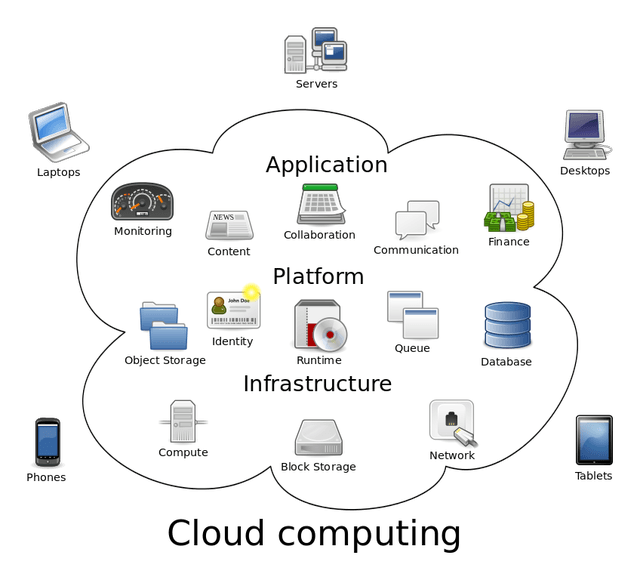 Source: Wikimedia Commons
Investor takeaways
The COVID-19 pandemic has led to a number of changes worldwide. One of them is the need to do more things online since the odds of getting infected is reduced with less direct contact and social distancing. This had led to what can be referred to as the work-from-home trade.
The basic idea is that certain companies stand to benefit as a result of COVID-19 and its consequences. It's why a number of tech stocks have outperformed in 2020 compared to the rest of the stock market. Since people will interact more through the Internet, communication networks will need to be ready to accommodate increased demand.
For instance, networks may need to be upgraded to handle more capacity. Companies that stand to benefit include suppliers of related equipment. One of these companies is Ciena, a provider of networking equipment for telecommunications service providers and cloud service companies. Ciena's customers include service providers like Verizon (VZ) and AT&T (T).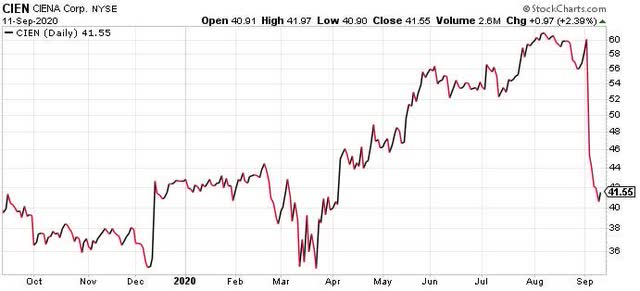 Ciena is therefore seen as a beneficiary of increased spending to facilitate the work-from-home trend. In anticipation of increased demand for Ciena's services, the stock quickly recouped all its losses from the stock market selloff in March. Ciena appreciated by as much as a third YTD before the Q3 earnings report, vastly outperforming the S&P 500 during this time frame. But with the recent selloff in the aftermath of the Q3 report, the stock is now down 2.6% YTD.
With such a big drop, valuations have come down and Ciena now trades at roughly 13 times forward earnings. With the stock much cheaper, it may be tempting to go long at this point. Ciena is after all still expected to benefit from the need for more bandwidth in the future. This should lead to increased network spending down the road, something that Ciena itself points out.
Ciena does have a good track record in terms of growth. For instance, annual revenue was just $780M in 2007, but that grew to $3,572M in 2019. With the company steadily growing revenue and EBITDA as shown below, it makes sense to bet on continued growth from Ciena.
| | | |
| --- | --- | --- |
| | Revenue | EBITDA |
| 2019 | $3,572M | $469M |
| 2018 | $3,094M | $340M |
| 2017 | $2,802M | $338M |
| 2016 | $2,601M | $298M |
| 2015 | $2,446M | $236M |
| 2014 | $2,288M | $158M |
| 2013 | $2,083M | $125M |
| 2012 | $1,894M | $54M |
However, the recent updates from Ciena may be a sign that the arguments underpinning the work-from-home trade may not be as sound as some believe, at least in the case of Ciena. While some employees can certainly work from home, the same cannot be said of most people. For instance, large numbers of people in the hospitality, leisure, retail and other industries cannot do their work from a remote location.
Companies want to know if they can recoup their investment before committing to increased spending. In the case of service providers, the question is whether increased spending is worth it under current circumstances. On the one hand, you have the increased demand from work-from-home customers.
On the other hand, there are large numbers of people who are in some sort of financial distress due to a bad economy and have to cut back on spending, which may include their service providers. Increased investment is warranted for the first group, but not so for the second group. For increased spending on networks to make sense, the first group must be able to negate any potential hit from the second group.
The service providers do not seem to have an answer at this point and may even be leaning towards no. Service providers have opted to run their networks hotter instead of fully committing to increased spending on upgraded networks. If Ciena will not be the beneficiary of increased spending as initially thought, the underpinnings supporting the bull case get weaker.
The next several quarters will be challenging for Ciena. Longer term, Ciena is likely to recover as the fundamental story behind the company remains more or less intact. Anyone with patience may want to stick with Ciena. On the other hand, other tech stocks are likely to outperform Ciena in the meantime and more deserving of a long position for that reason. From that standpoint, it may be best to stay on the sidelines since Ciena could be dead money for some time, even if being long eventually pays off.
I am neutral on Ciena. Up until the release of the Q3 report, the thesis for Ciena was clear. The work-from-home trend would boost spending in Ciena's favor. But the recent revelations suggest at the very least that there are limits to the work-from-home trend. The general state of the economy is weighing more heavily than positive outcomes from the pandemic like working from home. Ciena needs the former to improve. The latter is not enough.
Disclosure: I/we have no positions in any stocks mentioned, and no plans to initiate any positions within the next 72 hours. I wrote this article myself, and it expresses my own opinions. I am not receiving compensation for it (other than from Seeking Alpha). I have no business relationship with any company whose stock is mentioned in this article.