Written by Nick Ackerman, co-produced by Stanford Chemist
The tech space has helped elevate the overall market to new all-time highs. In general, it is masking what would be an otherwise down year for many areas of the market. However, as tech has started to become quite volatile, the short-term future can be a bit shaky from here. This latest volatility is almost as swift as we saw with the broader market indexes earlier this year at the end of February too. With the NASDAQ Composite and NASDAQ 100 hitting correction territory; the indexes are down 9.98% and 10.73%, respectively. This has happened in just 7 trading days starting September 2nd.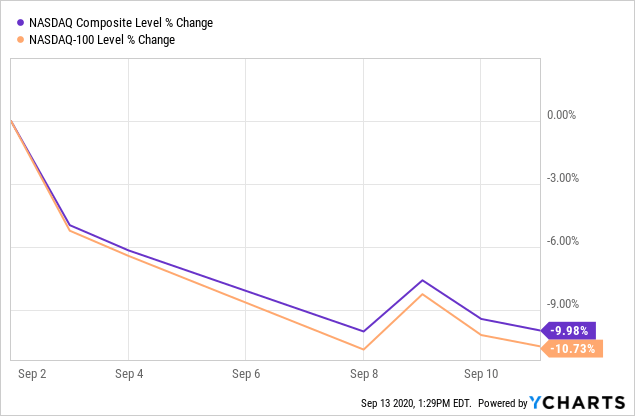 While valuations still seem to appear stretched in just a handful of the top names that have led the market to new highs; we can still take a second to look at some areas in the CEF space to watch for an opportunity. I believe that over the longer-term, any 4 of these funds highlighted are probably worth taking a serious look at. However, those that prefer to be a bit more patient could pick these funds up at even steeper discounts than presently.
As it is, we have already seen their discounts widened a bit just over this same short period.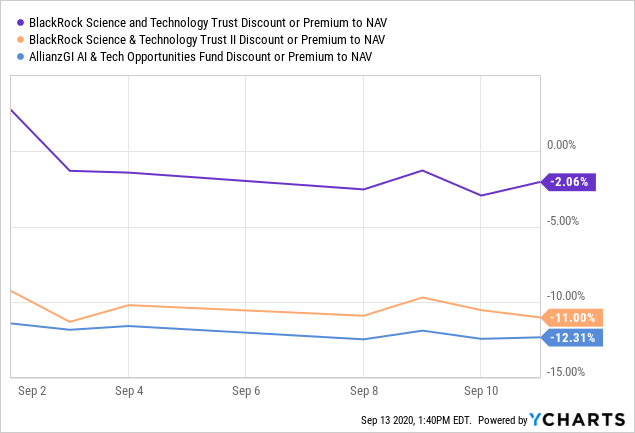 The above chart shows BlackRock Science & Technology Trust (BST), BlackRock Science & Opportunity Trust II (BSTZ) and AllianzGI AI & Tech Opportunities Fund (AIO). We will also be giving an overview of Columbia Seligman Premium Technology Growth Fund (STK); however, they report NAV weekly.
While these four funds might be at the forefront of the correction as tech plays – it is important to consider that volatility will also likely create opportunities elsewhere too. The velocity and the depth in the tech sector just might give us an even greater opportunity should we continue lower.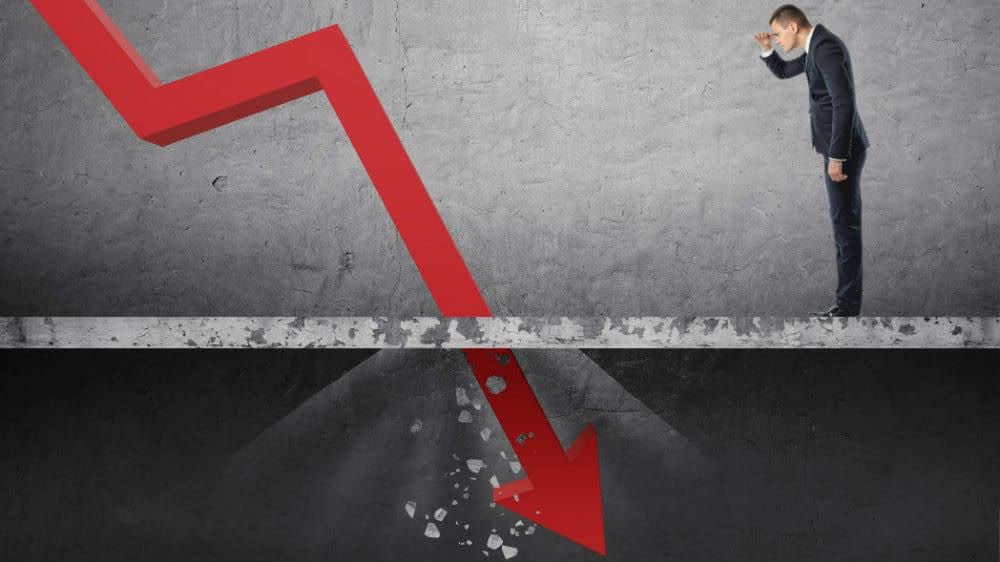 (Source)
As quickly as the volatility came, it does appear that we are back to heading higher. I am still keeping a rather close watch on these four funds due to the volatility we might experience going forward. Both the election and chance for an uptick in COVID-19 infections into the fall could wreak havoc on the market.
BlackRock Science & Technology Trust (BST)
BST has been a long-time favorite of mine for several years now. This fund also has been a difficult one to get at a discount for the last several years now as the fund has frequently traded at premium levels.
BST is the more straightforward of the funds discussed today. They have an investment objective of "providing income and total return through a combination of current income, current gains and long-term capital appreciation." They intend to achieve this through "investing at least 80% of its total assets in equity securities issued by U.S. and non-U.S. science and technology companies in any market capitalization range…" They also utilize an option writing strategy that we see on so many of BlackRock's funds.
Their portfolio generally leans into the larger-cap tech names. In fact, 83.96% of the portfolio is considered large-cap companies. This is reflected in their top ten holdings.

(Source – Fund Website)
These are some of the largest tech companies on the planet as measured by market cap. Therefore, I believe that BST is more suited for investors that want a bit more stability as these companies have long track records. That being said, tech is still a volatile area of the market – so, in saying "stability," that is only relative to the other funds we talk about today.
The fund pays out a healthy distribution of $0.1655 monthly or a 4.61% yield. This has been raised several times in the fund's history as well. The fund currently trades at a slight premium of 0.61%. Which, was compliments to the latest volatility that dropped it from its slight premium.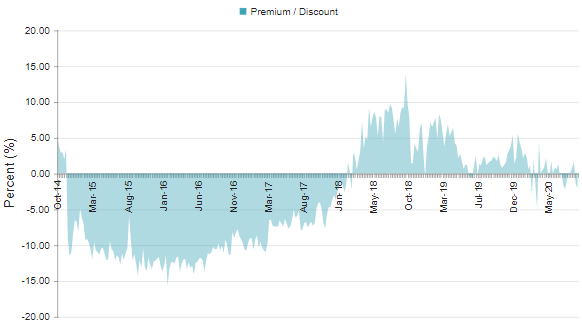 (Source – CEFConnect)
BlackRock Science & Opportunity Trust II (BSTZ)
BSTZ is another one of my favorites, though it was only recently launched mid-2019. This is a holding in our Tactical Income- 100 portfolio at the CEF/ETF Income Laboratory.
BSTZ is a bit like BST. Two distinct features set them apart though. First, BSTZ is structured as a limited-term CEF. Meaning that it has a date at which it should liquidate. A second difference is in its target investments. These generally include smaller-cap companies and some of those being private investments as well.
That being said, BSTZ has the same objective of "providing total return and income through a combination of current income, current gains and long-term capital appreciation." That is along with the same wording for how they intend to achieve this; "under normal market conditions, the Trust will invest at least 80% of its total assets in equity securities issued by U.S. and non-U.S. science and technology companies in any market capitalization range…" They will also utilize an options strategy.
Large-caps make up 59.41% of their portfolio, mid-cap 26.14% and small-cap 15.99%.

(Source – Fund Website)
Some of these names have become seriously stretched in the fund's portfolio. However, that is what makes BSTZ one of the more exciting positions. After the correction, we don't know where these names could head. Additionally, the fund's discount has just moved wider and wider. The discount is now at an attractively wide 12%+.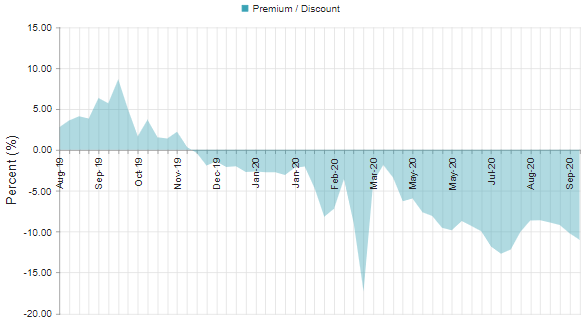 (Source – CEFConnect)
The fund currently pays out a monthly distribution of $0.10 or a yield of 4.68%. This is quite attractive for many positions that don't pay an underlying dividend themselves. The exposure also allows an investor in some private investments that retail investors wouldn't have access to in the first place.
AllianzGI AI & Tech Opportunities Fund (AIO)
AIO is another newer tech CEF offering. The fund has an inception date of October 31st, 2019. The fund "seeks to provide access to the secular growth opportunity of artificial intelligence and other new technologies. The Fund aims to provide total return through a combination of current income, current gains and long-term capital appreciation, employing a multi-asset approach designed to offer an attractive risk/reward profile."
The fund also has a term structure like BSTZ, in where they intend to liquidate "on or about October 29th, 2031."
This fund is unique in this line-up due to its focus outside of equity investments like the others. The portfolio has significant exposure to convertible securities at almost 50%. This can be a benefit to the downside as convertible securities share qualities of fixed-income investments. However, this can come to the detriment of the upside too should the equity portion of a company not perform. That is because with this feature the issuing company generally pays less than a typical bond. Therefore, if it doesn't work out then an investor was left with less of a return for a comparable bond investment.
Though, the convertible exposure to AIO might be attractive to some investors as this is once again, an area where retail investors don't typically have access to.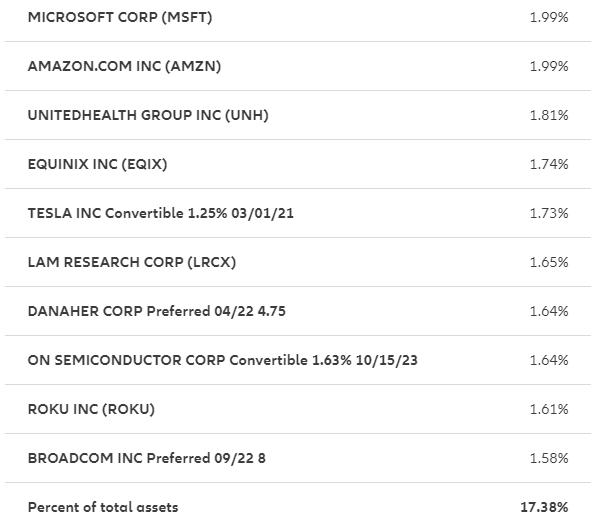 (Source – Fund Website)
The fund holds some of the usual companies that we will see in many other funds. However, we also see those convertible securities that aren't typical in every fund.
The short track record of AIO doesn't allow us a lot of information to go on. However, since being launched the fund has trended towards a wider and wider discount. At the present level of 11.63%, this would seem quite attractive already. The fund also pays a monthly distribution of $0.1083 or a 6.02% yield.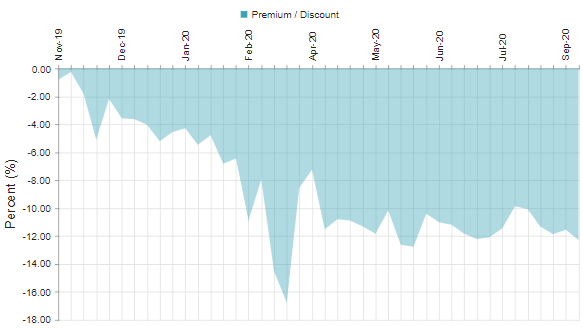 (Source – CEFConnect)
Columbia Seligman Premium Technology Growth Fund (STK)
STK has an investment objective of "growth of capital and current income." They will invest "under normal market conditions, the fund's investment program will consist primarily of investing in a portfolio of equity securities of technology and technology-related companies as well as writing call options on the NASDAQ 100 Index or its exchange-traded (ETF) fund equivalent on a month-to-month basis. The aggregate notional amount of the call options will typically range from 25% to 90% of the underlying value of the fund's holdings of common stock. The fund expects to generate current income from premiums received from writing call options on the NASDAQ 100 or its ETF equivalent. "
As a fund that writes call options, it is a bit similar to BlackRock's offerings. However, they implement a "rules-based option strategy." Essentially, the greater the volatility, the more options writing they implement on their portfolio's value. This is a way of trying to mitigate the downside potential by increasing the defensive nature of their portfolio. Though in the last crash, it was so swift that they weren't really able to implement their strategy to full effect and we saw them trail the performance in BST and QQQ.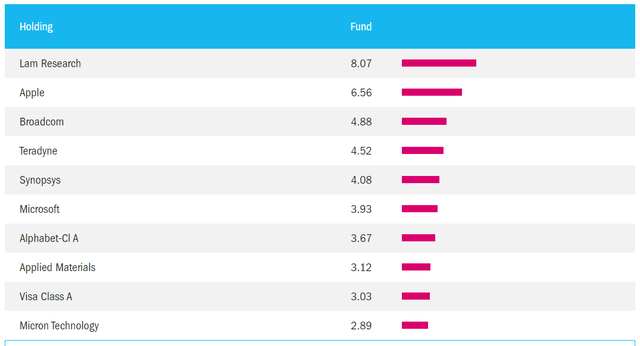 (Source – Fund Website)
STK offers exposure to some of the larger players, similar to BST. However, they also offer several positions that we don't see in BST too. That makes me feel like they are unique enough to possibly use both funds in an investor's portfolio. Going about it that way, one could begin to accumulate positions with whichever is showing the more attractive valuation
Coming up with a current discount on STK is a bit more difficult in that they report NAV weekly. So, a 1.04% discount displayed is likely different than the actual discount. For this fund, premiums aren't out of the ordinary either as they frequently trade at such levels.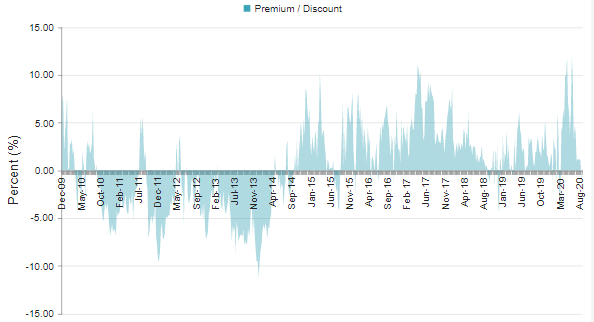 (Source – CEFConnect)
The fund also pays the highest distribution of 8.45% out of the four funds. This is paid quarterly at a rate of $0.4625.
Conclusion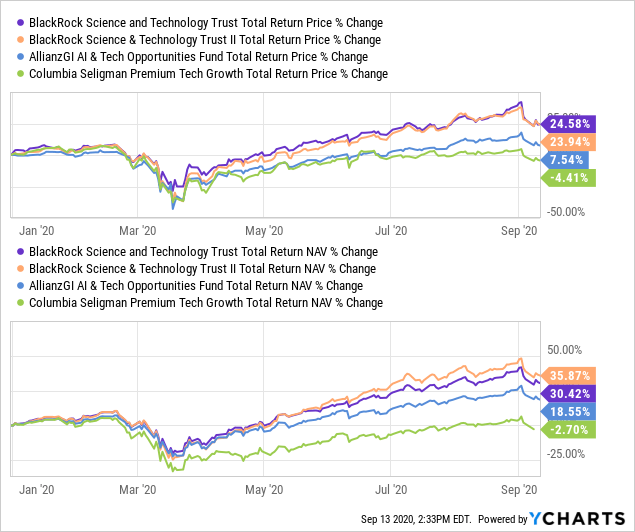 On a YTD basis, it isn't even close in terms of performance with BST and BSTZ blowing the other two out of the water. However, consider that AIO does have those downside protections that convertible securities can offer.
STK is the rare fund that has strong exposure to tech but is showing slight losses on a total return basis for both NAV and share price. Consider that Lam Research Corporation (LRCX) is its largest holding and is performing rather subpar. That helps explain some of STK's significant lag relative to the others. Additionally, I feel that this is just further evidence that STK can be appropriately held with the others as they are providing different exposure.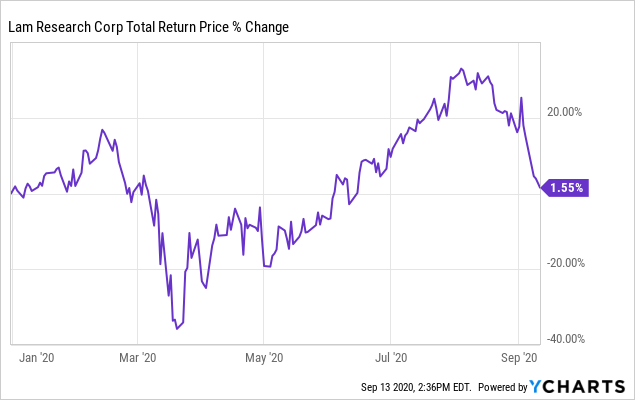 A lot of CEFs hold tech names, but not all CEFs are like the funds discussed above. These names hold substantial exposure almost exclusively to the tech sector. They each present their own opportunities and disadvantages. What they do have in common is the tech sector going against them lately. As tech drove the market higher and higher, we are now seeing the reverse; and this was only over a short time as well.
Patient investors can be on the lookout to pick these names up at some attractive discounts. While AIO and BSTZ are already at significantly wide discounts, volatility can exacerbate this even more.
Profitable CEF and ETF income and arbitrage ideas


At the CEF/ETF Income Laboratory, we manage ~8%-yielding closed-end fund (CEF) and exchange-traded fund (ETF) portfolios to make income investing easy for you. Check out what our members have to say about our service.
To see all that our exclusive membership has to offer, sign up for a free trial by clicking on the button below!



Disclosure: I am/we are long BST, BSTZ. I wrote this article myself, and it expresses my own opinions. I am not receiving compensation for it (other than from Seeking Alpha). I have no business relationship with any company whose stock is mentioned in this article.
Additional disclosure: This article was originally published on September 13th, 2020 to members of the CEF/ETF Income Laboratory.