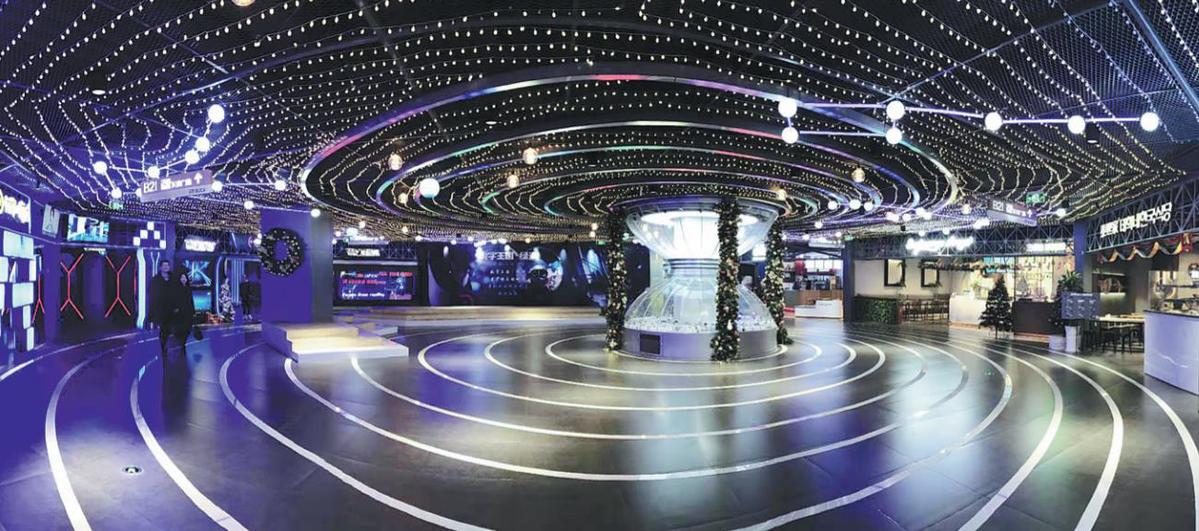 Chaoyang Hopson One, which owns shopping, dining and entertainment spaces in Beijing under the name, 21 Blocks, announced in December that it would roll out more measures to upgrade its services.
It has signed cooperation agreements with 20 other Chinese companies, including Huayi Brothers Media Group, a film producer, and Oppo, a mobile phone manufacturer, to jointly provide better services to visitors.
Opened in October 2017, Chaoyang Hopson One, the second-largest shopping center in the city, with an area of 190,000 square meters, welcomes around 150,000 people daily to enjoy food, culture, shows and shopping experiences provided by dozens of shops, restaurants and theaters there.
Compared with many other malls that have visitors, mostly on the weekends, the company hosts performances during weekdays, even late into the night.
"We have been making efforts on providing better experience to consumers," said Zhang Xi, chief branding officer of Hopson Commercial Properties, owner of Chaoyang Hopson One. "At this point, we can ignore the cost."
While the Beijing municipal government has been promoting the city's night economy by starting subsidies this year, Chaoyang Hopson One has been working on this valuable period for businesses since last year.
"At first, we wanted to offer a place for consumers, especially young people, to hang out after work. At 21 Blocks, we not only have restaurants with various flavors but also theaters, sports and live-house activities, photo studios and many shops, which stay open until midnight," she said.
Theme events such as basketball games, small-scale concerts are also held from time to time, which attract people with different interests.
"I always hang out with my friends in Hopson, since it has provided a huge space that's more than enough for me--dining, karaoke, shows, dancing, yoga, nail care," Li Lin, a bank clerk in Beijing, said. "The only problem is finding parking space as the mall is getting popular. So, I come here by public transport."
The Chaoyang district authorities rolled out policies in May to upgrade consumption in the area and develop a 24-hour convenience store, in order to add to the city's consumption growth.
In 2018, the total retail sales in Chaoyang reached 280 billion yuan ($40 billion), accounting for around one-quarter of the capital's overall number.
Chaoyang Hopson One is located at a transportation hub in Beijing's eastern area, linking two subway lines and more than 10 bus routes. Many residential communities and commercial buildings are located nearby, which has helped the center to cover a big number of potential consumers.
According to local authorities, there are 620,000 permanent residents and 400,000 white-collar workers and college students nearby who have supported Hopson's business.
"Hopson has seen the opportunities and provided various choices for consumers, which helped the city's night economy to develop," Zhang said. "We will continue to work with our shops to bring more creative service for the public."
Hopson Commercial Properties opened another 21 Blocks facility in Wangjing community in northern Beijing in October, where bars serve until 2 am.
Zhang said the "block" will serve as a bridge to connect not only shops but also different businesses with consumers. People, for sure, will get more from there.