The Fed's annual stress tests known as CCAR are getting a repeat screening in December. Normally, these are run once annually and published in late June but this time is different due to the pandemic. The Fed is expected to release these mid-cycle CCAR results sometime in December.
The Fed didn't clarify how the upcoming CCAR cycle will be used. The obvious inference is that it will be determinative in whether to allow banks to resume buybacks, possibly as early as Q1 2021. However, there are a number of uncertainties and chiefly amongst these is the trajectory of the pandemic and economy. Stating the obvious, if macroeconomic conditions materially deteriorate, there won't be share buybacks on the horizon.
Make no mistake about it. The CCAR stress-tests are absolutely crucial for large U.S. banks as they effectively determine the amount of dividends and buybacks the banks can return to investors.
For bank investors, dividends and buyback are immensely important. In recent times, the large U.S. banks typically returned ~100 percent of their earnings or more. I cannot really emphasize enough how important this is for the investment case in banks.
For Citigroup (C) it is even more pronounced given that it is trading at much lower multiples of tangible book value than peers. Currently, Citi trades at a mere 0.6x tangible book. Now if one conservatively assumes that Citi can generate a double-digit return on tangible equity in the medium term (Citi generated 12 percent RoTCE in 2019), then buying back shares at 0.6x is amazingly accretive.
This indeed has been Citigroup's playbook for the last 5 years or so. As you can see from the below chart, the share count reduced from ~3.2 billion to 2.1 billion.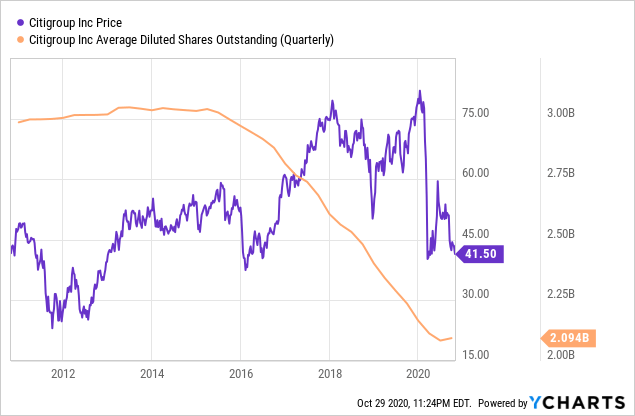 The correlation with the share price is also apparent. As soon as buybacks started around 2015, the share price directionally followed suit.
Important to note that buybacks represent excess capital held by Citi and do not materially impact top-line revenue or earnings.
Show me the money: how much capital can Citi return?
The maths is reasonably simple.
Citi's tangible equity is ~$150 billion. Let us assume it generates a conservative 10 percent RoTCE in 2021 (almost 20% less than FY2019).
That's approximately $15 billion of capital. Assume Citi's dividends remain flat (~30% of earnings) that would cost the firm approximately ~$4.5 billion.
Citi also realizes about $1 billion of disallowed DTA per annum (think about it as excess capital).
Assume Citi's Common Equity Tier 1 ratio is ~12 percent at the end of 2020.
Given its target of 11.5 percent, Citi has an excess of 0.5 percent. This translates to approximately ~$6 billion of excess capital.
So adding this all up (15+1+6 – 4.5) equals 17.5 billion. Applying another measure of conservatism (given pandemic, transitional reliefs on loan losses), Citi would probably look to buyback $10 to $12 billion in 2021 and much higher in 2022 onwards (given excess capital). On current valuation, this equates to 11 to 13 percent of the share count or up to ~280k of shares.
That is why the reinstatement of buybacks is so crucial for Citigroup.
Citi and CCAR
The source for all of the data and charts in the below section is from the Federal Reserve Board website.
Citi has a chequered history with CCAR. Citi, headed by then-new CEO Mr. Corbat spectacularly failed the 2014 CCAR cycle on "qualitative" concerns. This has really slowed down the buyback train that only really only managed to pick up steam in 2015 onwards. However, in recent years, Citi was able to return more than 100 percent of its earnings including returning excess capital above its target CET1 ratio of 11.5 percent.
Citi appears to manage the CCAR process quite well these days – as I pointed out, in this article, Citi has probably found a creative way to "game" the Global Markets Shock Scenario. Nonetheless, the outcome, based on the 2020 June CCAR, is that Citi has the lowest drawdown of all its large U.S. peers. Clearly, Citi is a star performer when it comes to CCAR.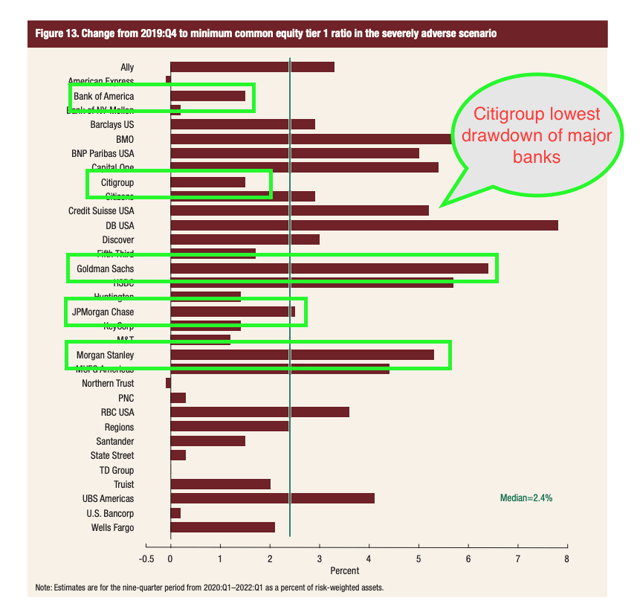 The December CCAR process
The second-round of CCAR is due to be published in December 2020. It is a makeshift effort designed to deal with the unusual circumstances of the recent pandemic. The starting point for this stress-test is the 3rd quarter of 2020 (i.e. 1st July 2020) and involves two alternative scenarios as per below chart: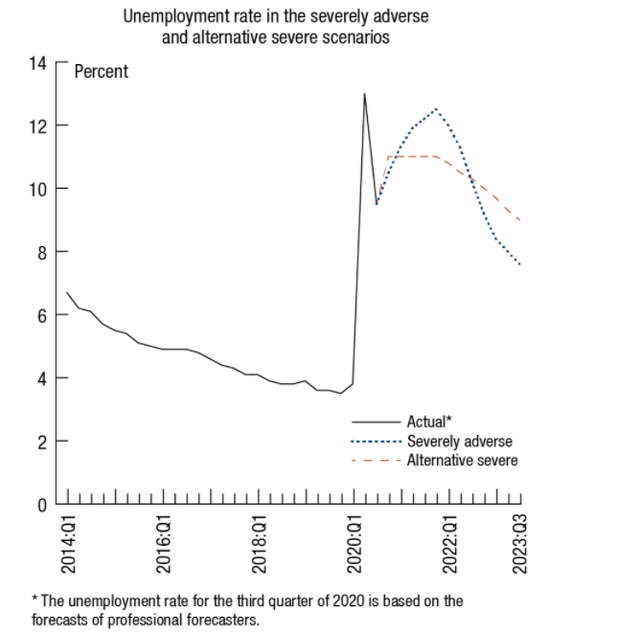 The "severely adverse", features the unemployment rate peaking at 12.5 percent at the end of 2021 and then declining to about 7.5 percent by the end of the scenario. Gross domestic product declines about 3 percent from the third quarter of 2020 through the fourth quarter of 2021. The scenario also features a sharp slowdown abroad.
The "alternative severe" incorporates an unemployment rate that peaks at 11 percent by the end of 2020 but stays elevated and only declines to 9 percent by the end of the scenario. Gross domestic product declines about 2.5 percent from the third to the fourth quarter of 2020.
The two scenarios also include a global market shock component similar to prior CCAR tests and thus Citi will be required to "assume" the default of their largest counterparty.
How will these scenarios impact Citigroup?
I expect Citi to do just fine. The starting point already factors much of the downside, yet the CET1 ratio is a healthy 11.5 percent as of 2Q'2020. By the second quarter, Citi already booked most of the loan loss provisions as well as a conservative management buffer (even though, reserves are not fully reflected in capital ratios given certain transitional reliefs). Finally, I expect Citi to also manage the Global Market Shock Scenario well, in line with prior CCAR processes.
In the Third Quarter 2020 Fixed Income Investor Review call (transcript not yet available), Citi CFO Mark Mason, confirmed that Citi is approaching this mid-year cycle from a position of strength. The rationale was based on the prior CCAR performance where Citi Stress Capital Buffer was "floored" at a minimum of 2.5 percent, suggesting it has plenty of headroom unlike some of its peers.
The Consent Orders
The Fed (and other regulators) have identified long-standing and substantial control, risk and operational issues Citi operations. As a result, Citigroup has found itself in an unenviable position being forced to deliver a costly remediation programme addressing these deficiencies as well as paying a fine of $400 million.
The concern Mr. Market and Wall Street analysts have is the potential impact of CCAR and whether the Consent Orders compromise Citi's ability to return capital to shareholders. Citi's CFO, however, was at great pains to highlight that these are completely separate issues and that there should not be any impact on the firm's ability to return capital.
It is true, however, that in past CCAR cycles, the Fed applied a "qualitative test" lens and had the ability to refute a bank's capital plan on the basis of qualitative deficiencies. Important to note though, that the qualitative test is no longer applicable (since the 2020 CCAR cycle) and the Fed can only object now, on a quantitative basis.
Final thoughts
Citi will not be trading at low 40s if buybacks are resumed. It will trade much higher. It is an interesting options play as well (with a clear catalyst that is not factored in options pricing) for more risk-tolerant investors. The risk is of course, that buybacks do not resume in the near-term and then the stock will likely languish for longer than expected.
Longer-term though, Citi has the opportunity to massively reduce the share count by as much as 50% in the next 3 to 5 years. As discussed, in my prior article, it is compelling (for a number of reasons) to dispose of the Asian and Mexican consumer bank and apply the proceeds to buyback shares at below tangible book.
In my next article, I will cover the risks emanating from a Biden Blue Wave on the large U.S. banks – so if of interest, please scroll up and click "follow".
If you enjoyed this article and would like to be notified of additional articles on banks, special situations and conviction ideas, scroll up and click "Follow". IP Banking Research coverage includes U.S., UK, Asian and European banks, as well as other special situations, deep value and conviction ideas.
T
Disclosure: I am/we are long C. I wrote this article myself, and it expresses my own opinions. I am not receiving compensation for it (other than from Seeking Alpha). I have no business relationship with any company whose stock is mentioned in this article.
Additional disclosure: I am using a variety of options plays to trade Citi