I first evaluated Cimarex Energy Company (XEC) a few years ago and concluded it was mainly a natural gas producer, a sector suffering from oversupply and low prices. The company even quantified its reserves in cubic feet of gas equivalent (a gas measure) instead of in barrels of oil equivalent (an oil measure). But, like Cabot Oil & Gas (COG), Cimarex has persevered through low gas and natural gas liquids (NGLs) prices. Unlike Cabot and some others, Cimarex has also successfully added oil production, which is now over a quarter of its output.
After the twin spring 2020 disasters of steep coronavirus demand contractions and a Saudi-Russia price war, Cimarex took non-cash impairment costs of nearly $1 billion for the quarter and $1.3 billion for the first half of 2020, with first-quarter impairments due to persistently low gas prices.
Cimarex is set apart from other energy producers, and especially natural gas producers, for its capital discipline, its more successful pivot towards oil, its good cash flow, its dividend growth, and its focused operations. I recommend it for these reasons, along with increased upside optionality (finally) in natural gas prices.
*Please note that throughout this report the heat content of natural gas is assumed standard at 1000 British Thermal Units (BTUs) per cubic foot. Thus, a million BTUs or 1 MMBTU can be used interchangeably with a thousand cubic feet (1 MCF).
Macro
Natural gas came into the second quarter weakened by persistent oversupply, a warm 2019-2020 winter that undercut prices, and yet more oversupply from "forced" (associated) production as U.S. oil drilling ramped up to 13 million BPD.
Beginning in February, a coronavirus tsunami swept through the world, causing most countries to lock down in attempts to defeat the contagious, sometimes-deadly virus for which no vaccine existed. Then a second black swan alighted in the energy market. Although the virus had already led to a demand drop of as much as 30% for oil, Saudi Arabia and Russia (curiously) decided to fight a vicious price war by flooding the market with crude, way oversupplying already-reduced demand.
Second-quarter results for many sectors, except tech companies and those meeting emergency food and medical needs, dropped precipitously. Recovery has started throughout the economy, but it remains fragile in both the oil and natural gas markets.
Second-Quarter 2020 Results and Guidance
Cimarex's second-quarter 2020 net loss was -$925.1 million or -$9.28/share, compared to net income of $109.3 million or $1.07/share for the same quarter a year ago.
Although revenues for the quarter were $249 million, operating expenses were $1.432 billion. This included charges of:
*-$942.2 million for impairment of oil and gas properties
*-$196.6 million for depreciation, depletion, amortization, and accretion, and
-$123.9 million for a loss on derivatives.
Net cash from operating activities was $144.7 million in the second quarter compared to $414.0 million for the same quarter a year ago. After dividend payments this left $26 million of free cash flow, extraordinary in such a weak quarter.
Oil production averaged 78,000 barrels per day (BPD) and total production (oil, gas, and natural gas liquids) was 254,700 barrels of oil equivalent (BOE) per day.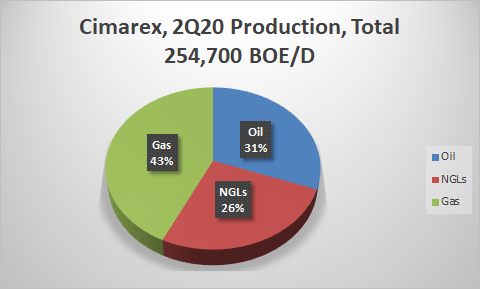 The company realized only very low prices in the second quarter, although these were somewhat offset by the first quarter. Prices for the second quarter and first half of the year:
*2Q: $0.91/thousand cubic feet (mcf) for natural gas (=$5.46/BOE) and 1H: $0.72/mcf (=$4.32/BOE);
*2Q: $7.52/barrel for NGLs and 1H: $8.71/barrel
*2Q: $19.57/barrel for oil and 1H: $32.74/barrel.
With these prices it is no surprise that on a revenue basis for 2Q, although oil was only 31% of volumetric production, it accounted for nearly twice as much – 56% – of revenues.
Oil and Natural Gas Prices
End-of-day prices Friday, September 4, 2020, were $39.77/barrel for West Texas Intermediate (WTI) crude oil at Cushing, Oklahoma, and $2.59/million British Thermal Units (MMBTU) for natural gas at Henry Hub, Louisiana. The five-year patterns for each are shown below. Oil prices could fall again with even marginal overproduction; gas prices recently strengthened on big "power burns" (use in electricity generation) over the summer and a better liquefied natural gas export market. There is also seasonal demand as gas is put into storage to meet winter consumption needs.
WTI, $/barrel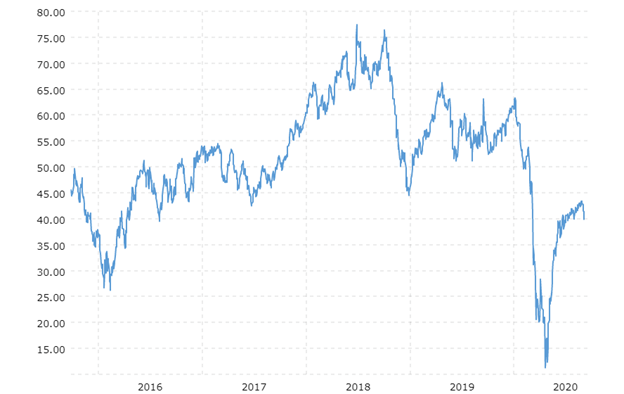 Credit:Macrotrends.net
Henry Hub Spot Natural Gas Price, $/MMBTU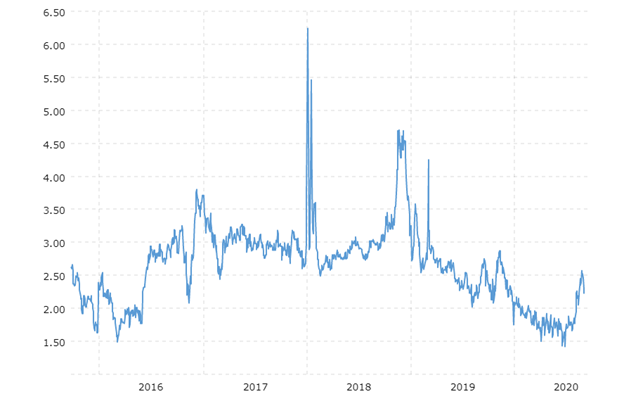 Credit:Macrotrends.net
Cimarex Energy's Reserves
At the end of 2019, Cimarex Energy's proved reserves were 619 million BOEs. As shown in the chart below, they comprised:
*27.4% oil and condensate (light oil);
*31.4% natural gas liquids; and
*41.2% sales gas (natural gas).
Reserve estimators DeGolyer and MacNaughton define "sales gas" as "the total gas to be produced from the reservoirs, measured at the point of delivery, after reduction for fuel usage, flare, and shrinkage resulting from field separation and processing."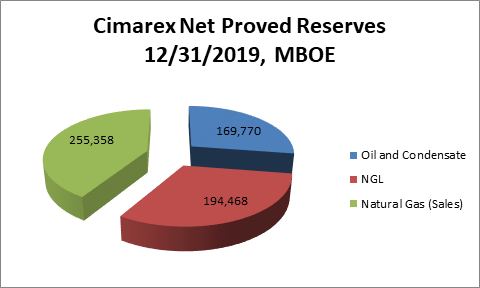 As illustrative, even pre-spring 2020 energy crash, are the December 2019 PV-10 calculation reference prices: oil and condensate at $51.47/barrel, NGLs at $13.27/barrel, and natural gas at $0.41/MCF, which equals a mere $2.46/BOE.
The SEC PV-10 value estimated for these reserves was $3.63 billion.
It is important to note that Cimarex has been receiving a price for its natural gas far below the Henry Hub reference price. For example, in the PV-10 calculation, the Henry Hub reference price was $2.58/MMBTU (recall this equates to $2.58/MCF), but the price used to value Cimarex' reserves was less than 20% of that at $0.41/MCF.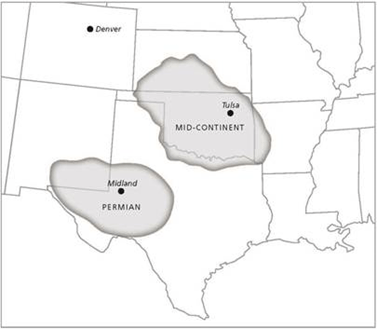 Credit: Cimarex 10-K
Competitors
Cimarex Energy is an Oklahoma and Permian (Delaware sub-basin) gas and oil- producing company. The company is headquartered in Denver, Colorado.
In the west Texas and eastern New Mexico Delaware sub-basin of the Permian, Cimarex competes with virtually every producer. A few of these are Apache (APA), Chevron (CVX), Diamondback Energy (FANG), Exxon Mobil (XOM), and Parsley (PE). The company also faces significant competition from private companies.
In Oklahoma, public-company competitors include Continental Resources (CLR), Devon (DVN), Ovintiv (OVV), and Marathon Oil (MRO).
Due to its heavier concentration in natural gas (and natural gas liquids), Cimarex also resembles, and competes with, Cabot Oil & Gas.
Strategy
Cimarex Chairman and CEO Tom Jorden noted that due to the challenging price environment of the second quarter, the company decreased capital spending and curtailed May production volumes. With better prices, the company has resumed activity-adding three rigs in the third quarter and restarting completions in September. Total capital investment for 2020 is projected at $600 million with more than two-thirds of that allocated to drilling and completion.
The company projects third-quarter oil production at 69,000-74,000 BPD (compared to 78,000 BPD for the second quarter) and total production of oil, natural gas, and NGLs at 230,000-250,000 BOE/D (compared to 254,700 BOE/D in the second quarter). These slight declines clearly speak to the drop in second-quarter capital spending.
It is hard to overstate what an accomplishment it's been for Cimarex – a mostly gas and NGLs company until a few years ago – to stay not just solvent but to continue to grow. Many natural gas producers, most notably Chesapeake (OTCPK:CHKAQ), have been forced to enter bankruptcy. Oil and gas companies of all stripes took on more debt than they found themselves able to service once the Covid-19 and oil price war crises hit.
Governance
At the end of last year, Institutional Shareholder Services ranked Cimarex Energy's overall governance as a 4, with sub-scores of audit (5), board (4), shareholder rights (4), and compensation (1). In this ranking, a 1 indicates lower governance risk and a 10 indicates higher governance risk.
As of August 14, 2020, shorts are 3.5% of floated shares. Insiders own 1.76% of shares.
Cimarex's beta is 2.4, considerably more volatile than the overall market but in line with its status as a mid-sized independent oil and gas producer in the very turbulent 2020 energy environment.
Cimarex Energy's Financial and Stock Highlights
With a September 4, 2020, closing stock price of $26.91/share, market capitalization is $2.75 billion.
Trailing twelve months' earnings per share is -$19.69 because it includes such substantial write-offs. Average analysts' estimated 2021 earnings per share are smaller at $3.08, which gives the company a forward P/E ratio of 8.7.
At June 30, 2020, Cimarex had $2.94 billion in liabilities, including $1.99 billion of long-term debt. With $4.87 billion in assets, the liability-to-asset ratio is 60%. Although this is high, Cimarex is in better shape than many of its oil (and especially gas) sector brethren.
Trailing twelve months' operating cash flow is $1.13 billion, while trailing twelve months levered free cash flow is -$79.3 million.
The 52-week price range is $12.15-55.29 per share, so the company's September 4, 2020, closing price of $26.91 is 49% of its one-year high. Cimarex Energy's one-year target price is $40.56/share; its closing price was 66% of that level.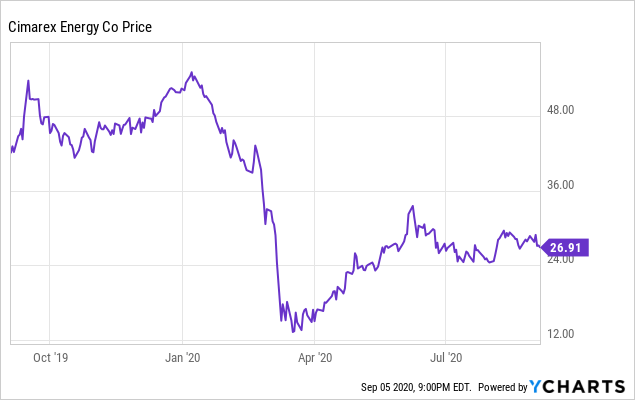 Cimarex pays a $0.88/share dividend for a yield of 3.3%.
The company's mean analyst rating is a good 2.2 – "buy" leaning slightly toward "hold" – from the twenty-eight analysts who follow it.
Notes on Valuation
The company's book value per share of $18.54, less than its current market price, indicates positive investor sentiment.
At present, market capitalization is $10,800/flowing BOE but $35,200 per flowing barrel of oil. For perspective, both Devon and Apache had similar metrics in June, and both are also gas-leaning producers.
Cimarex Energy's enterprise value (EV) is $5.12 billion and, as noted, its market capitalization is a little more than half that level at $2.75 billion. With a trailing twelve months' EBITDA of $1.26 billion, the EV/EBITDA ratio is a highly attractive 4.1.
The $2.75 billion market capitalization is less than the PV-10 reserve value of $3.63 billion at the end of 2019. Investors should recall that this reserve value was calculated at a higher-than-current price for oil but a lower-than-current price for natural gas.
Positive and Negative Risks
Potential investors should consider especially their Oklahoma natural gas and natural gas liquids price expectations as well as their Permian oil price expectations to be the factors most likely to affect Cimarex Energy.
Recommendations for Cimarex Energy
The company pays a dividend of $0.88 for a current yield of 3.3%, exceptional for a mid-sized oil and gas producer.
I recommend Cimarex for its capital structure stability – the company resisted the siren call of additional debt – its capital spending discipline, its focus on returning money to investors via a 3.3% dividend, its free cash flow, its investor-friendly EV/EBITDA ratio, and its calm addition of Permian oil (via the Resolute acquisition) to its base of MidContinent natural gas and NGL production.
Even slightly higher gas prices would be a well-deserved bonus for Cimarex as it managed to soldier through low gas and NGL prices for the last few years. The company quickly clamped off capital expense hemorrhaging when the twin Covid-and-oil price war disasters occurred in the second quarter, and it has optionality with its natural gas production (another way of saying the most likely direction for natural gas prices is up).

I hope you enjoyed this piece. I run a Marketplace service, Econ-Based Energy Investing, featuring my best ideas from the energy space, a group of over 400 public companies. Each month I offer:
 *3 different portfolios for your consideration, summarized in 2 articles, with portfolio tables available 24/7 to subscribers;
 *3 additional in-depth articles = 5 EBEI-only articles; 
*3 public SA articles, for a total of 8 energy-related articles monthly;
 *EBEI-only chat room;
 *my experience from decades in the industry. 
Econ-Based Energy Investing is designed to help investors deal with energy sector volatility. Interested? Start here with a 2-week free trial.
Disclosure: I am/we are long CVX, FANG, PE. I wrote this article myself, and it expresses my own opinions. I am not receiving compensation for it (other than from Seeking Alpha). I have no business relationship with any company whose stock is mentioned in this article.