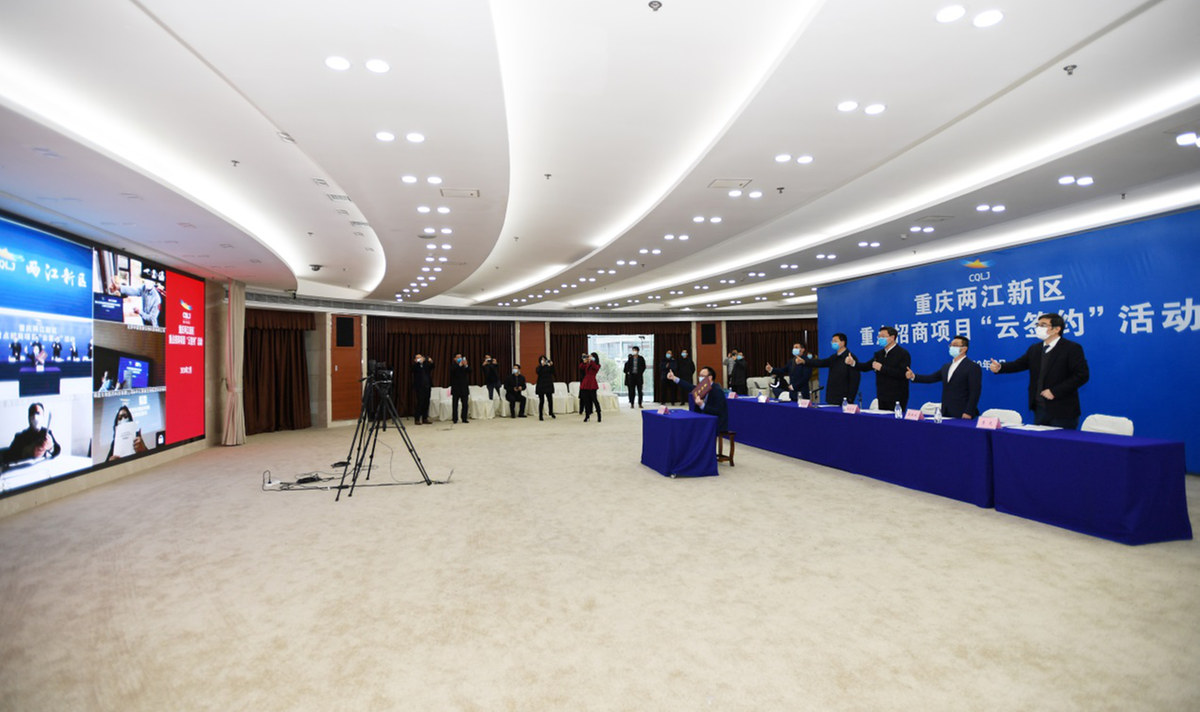 On Saturday, Chongqing Liangjiang New Area launched a "cloud signing" activity, attracting a total of 6.9 billion yuan.
The online signing via video communication on a big screen was simple and efficient, which promoted investment without physical gatherings. On the same day, an online investment platform of the new area was launched to deal with daily business inquiries.
The new area, established in 2010, is the third national development zone after Shanghai Pudong and Tianjin Binhai. It is also the first in China's interior to spearhead economic development in western regions.
Duan Chenggang, director of the Chongqing Liangjiang New Area Administrative Committee, attended the event and communicated online with business representatives from Beijing, Guangdong, Zhejiang, Jiangsu, Sichuan and other places.
"The epidemic should not stop our economic exchanges. Thank you for being optimistic about Chongqing Liangjiang New Area and the municipality," Duan told the director of Langshion Lightweight Automotive Components.
This online business event has attracted a total investment of 6.9 billion yuan, including seven major projects in the fields of vehicles, IOT (Internet of Things), bio-medicine, new materials and international cooperation.
Namely, they are Langshion Lightweight Automotive Components Project, Zhejiang Jinmei Automotive High-end Membrane Material Project, Zhongnuo Hengkang 3D Printing Orthopaedic Medical Device and Medical Mask Project, Drug Discovery Contract Services Platform by Cyagen Biosciences , Novel Antibacterial Peptide Project, Aerospace China Power Technology PLC and IOT solution Research/Development and Manufactoring Center as well as Kyrgyz Union of Industrialists and Entrepreneurs Chongqing Representative Office.
Fan Guoqi, deputy general manager of Beijing Zhongnuo Hengkang Biological Technology Co Ltd, said in a video interview that the "cloud signing" is an innovative way to do businesses.
"It is a very thoughtful idea which saved time and costs," he said. "Most importantly, it is very safe during the epidemic. We will arrange and complete the production line before the end of the month and expect to put it into production as soon as possible."