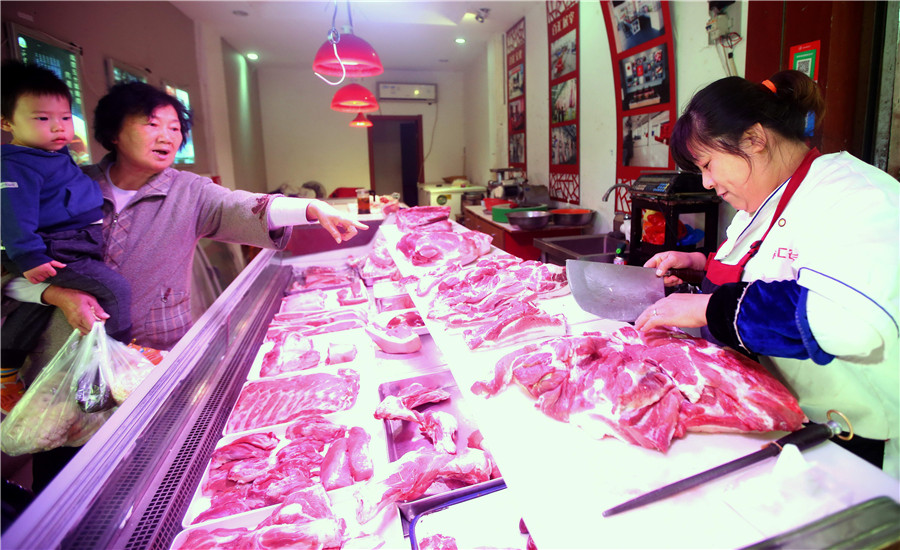 Runaway pork prices in China receded last week, bringing much relief to consumers. Although it is still too early to claim that they will continue to fall and stabilize, it at least shows that the efforts by the regulatory authorities to stabilize pork prices have started to bear fruit.
And as the number of pigs is expected to rise next year, the current price spikes may only be cyclical.
The average wholesale price of pork dropped by 5.96 percent from a week earlier to 48.13 yuan ($6.85) per kilogram on Nov 15, according to the Ministry of Agriculture and Rural Affairs. The decline widened significantly, compared with a decrease of 2.33 percent week-on-week on Nov 8.
Before that, surging pork prices had pushed up the inflation rate in China above 3 percent. The country's Consumer Price Index, a main gauge of inflation, rose 3.8 percent year-on-year in October, following an increase of 3 percent in September, according to the National Bureau of Statistics.
In October, pork prices rose 101.3 percent year-on-year, contributing nearly two-thirds of the CPI growth over the same period.
The continuous increase in pork prices and the CPI raised an alarm among the authorities. In its third-quarter monetary policy implementation report released on Nov 16, the People's Bank of China, the central bank, stressed that the CPI growth was mainly driven by a rapid increase in food prices, especially pork prices, whereas the prices of other goods and services remained generally stable.
The PBOC pointed out that the drop in the Producer Price Index widened in recent months mainly because of the base effect, and this did not suggest significant deflationary pressure on China's industrial products.
However, there is no foundation for continued inflation or deflation, said the report, which also noted that the follow-up monetary policy should highlight the importance of guiding market expectations and being alert to the diffusion of inflation expectations.
The government has taken multiple measures to stabilize pork supply. The State Council, China's Cabinet, decided on Aug 21 to step up efforts to stabilize hog production and ensure pork supply. The Ministry of Agriculture and Rural Affairs and several other ministries jointly launched a set of supporting measures, such as selecting a good opportunity to release emergency reserves of frozen pork.
As people will soon welcome the arrival of the Chinese New Year, ensuring stabilized pork prices has become a major task.
A decrease in pork supply due to outbreaks of African swine fever sparked the latest round of spike in pork prices, which has structural and cyclical features.
Considering that it takes a while for pork supply to recover in China, the authorities concerned should ramp up policies, such as providing pig farmers subsidies, funding support and insurance protection, to ensure that they will increase pig breeding as soon as possible.
In the meantime, China also needs to expand pork imports. The country imported 1.33 million metric tons of pork in the first three quarters of this year, up 43.6 percent year-on-year, while beef imports increased 53.4 percent to 1.13 million tons, according to the General Administration of Customs.
As pork supply increases, pork prices will stabilize, so will the prices of some other food products that are affected. Consequently, there is no need to worry about a hike in consumer product prices in the long run. The current rise in consumer prices is only a temporary market disruption, rather than inflation.
The core CPI which excludes goods with high price volatility, such as food and energy, rose 0.1 percent month-on-month and 1.5 percent year-on-year in October, according to the NBS.
Profit on self-supporting pig farming reached 3,000 yuan per head in November. Moreover, the central and local governments launched policies to encourage and subsidize pig farming. Analysts estimate that China's hog production capacity will recover gradually at the end of this year.
That means, if things go smoothly, pork supply will improve in the second half of next year, which will bring down pork prices.