In another sign of strengthened ties and increased cooperation between the militaries of two countries which spent much of the 20th century as bitter rivals, Russian warships are taking part in China's 70th anniversary of the People's Liberation Army (PLA) Navy.
The four-day showcase in naval power this week will also feature India and other regional navies, including Japan, Australia, and the Philippines. Crucially, the 70th anniversary exercise appears an occasion for Beijing to reassert its own vision of "freedom of navigation" and maritime security issues with "major naval leaders" from the region at a time when the US is challenging Chinese territorial claims in the South and East China Seas.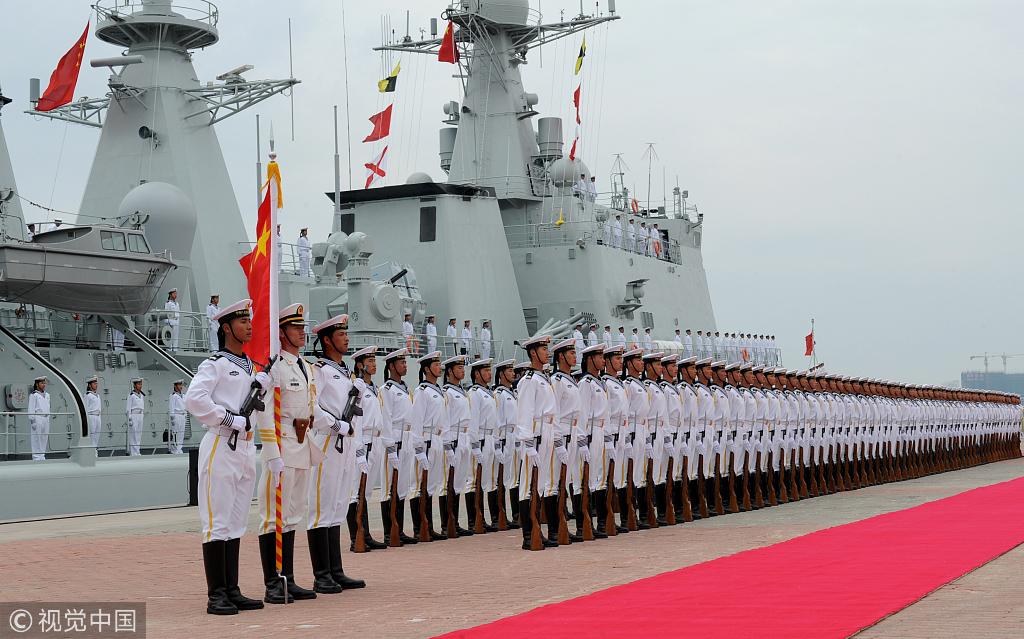 After the past year involving multiple incidents with US naval vessels and aircraft passing through contested areas, the PLA touted its non-threatening presence on the seas to enforce freedom of navigation as well as sovereign boundaries. 
"With its growth, the PLA Navy has provided the world with more and more security products," Chinese Navy deputy commander Qiu Yanpeng stated upon the opening of the naval exercise. "The PLA Navy is always a force of peace, and will never pose a threat to any other country.
Qiu added that such international exercises "create opportunities for navy leaders of different countries to discuss maritime security cooperation."
Beijing plans to showcase its newest vessels alongside other nations' advanced warships such as a stealth guided-missile destroyer of the Indian Navy, INS Kolkata, and the Russian Caliber cruise missile-equipped frigate, the Admiral Gorshkov.
During the parade staged in Qingdao and its nearby sea areas and airspace, the vessels will sail in six groups: submarines, destroyers, frigates, landing ships, auxiliary ships, and aircraft carrier.

The planes will fly in 10 echelons, showcasing aircraft for early warning, reconnaissance, anti-submarine patrol, as well as bombers, fighters, carrier-based fighters, and carrier-based helicopters. — Xinhua News
In all, 32 Chinese warships are scheduled to participate, including the Liaoning aircraft carrier and nuclear subs. 
Deepening Military-to-Military Relations.
The Indian Navy's frontline destroyer, INS Kolkata reached the Qingdao Port today to participate in the PLA Navy International Fleet Review. She is accompanied by the tanker INS #Shakti.
Press Release: https://t.co/sHLTtZekYU@MEAIndia pic.twitter.com/JEyesKNj6Q

— India in China (@EOIBeijing) April 21, 2019
Dozens of more countries which are not directly participating in the naval exercises, are expected to send delegations to both observe PLA capabilities and engage with Chinese military leaders.
In total some 60 countries are expected to be represented, with the main naval parades to take place on April 23, the day of the PLA's founding.