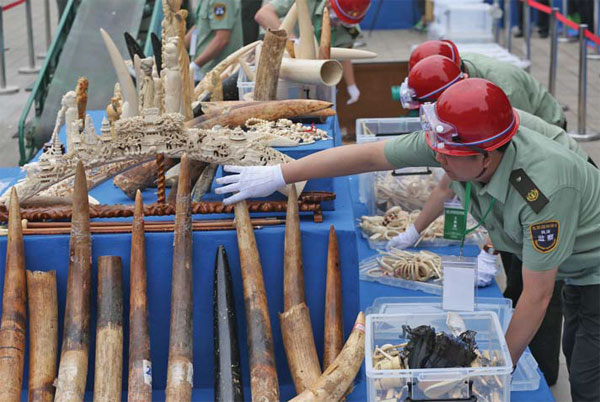 Chinese customs probed 444 cases of smuggling endangered species and their products in the first 10 months, said Sun Zhijie, director of the anti-smuggling bureau of the General Administration of Customs on Tuesday during a concluding ceremony on international joint probes in Shenzhen.
A total of 1,237.5 metric tons of endangered species and their products had been seized, including 9.16 tons of ivory products during their investigations of 157 cases of ivory smuggling.
"With integrated efforts, we are now cracking down on smuggling both at home and abroad, deploying our forces at every link from sources to transit avenues to destinations," Sun said as reported by Xinhua. The customs' Huangpu branch rooted out an international ivory smuggling ring, seizing 7.48 tons of ivory last March, he said, using the case as an example during the interview.
In addition, branches of customs in Fuzhou, Xiamen and Nanning also discovered major cases of endangered species smuggling, destroying criminal gangs sourcing from Africa, Malaysia, Vietnam and China.
Sun said China has zero tolerance for the smuggling of endangered species. Chinese customs will continue to enhance international cooperation in this effort at every level, he added.