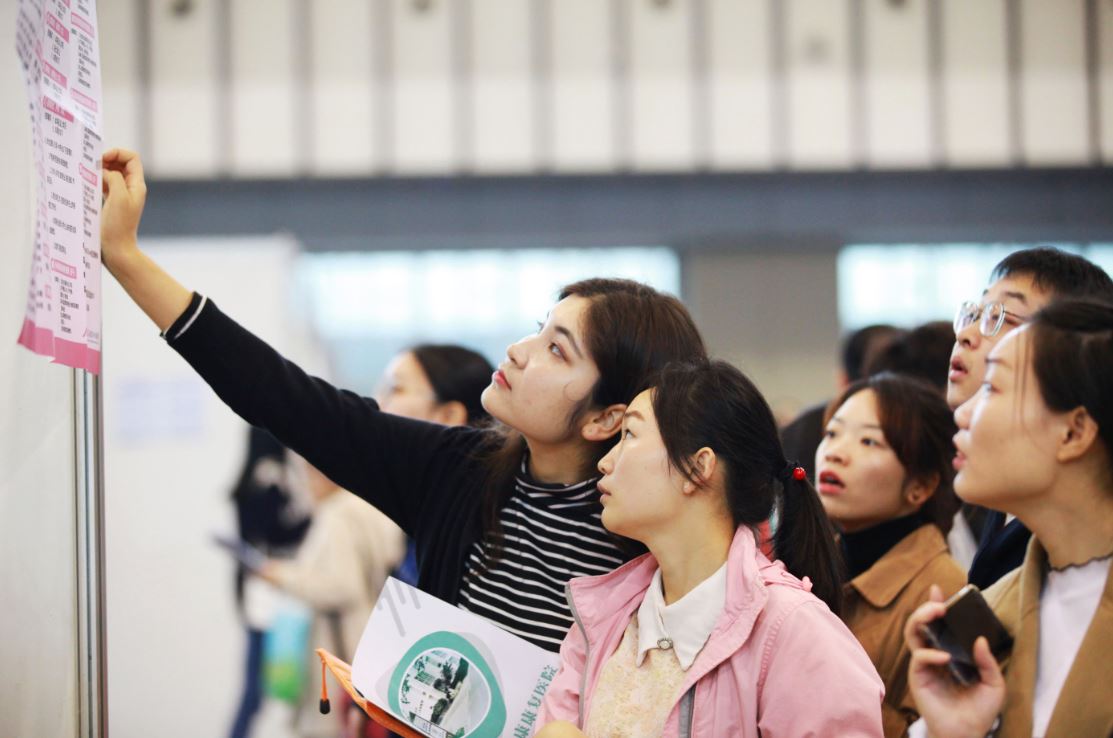 Companies finding it easier to hire high-tech professionals in the country
Companies are finding it easier to find skilled talent in China, an indication that China's labor market is still more robust than other 33 major labor markets amid rising global uncertainties, a new report said.
The report, released by Hays Plc, a global professional recruiting group, and Oxford Economics, said China has the least pressured labor market among 34 of the world's economies for the second consecutive year. It suggested that employers will have an easier time finding the right-skilled talent in China than in 33 other major economies.
"In recent years, China's local labor market has increasingly been able to meet the hiring demands of employers, represented over the past five years by a steadily decreasing overall index score," said Simon Lance, managing director of Hays China.
The overall index score is an average of the seven indicator scores, a score closer to 0 indicates the labor market is less pressured whereas a score closer to 10 indicates it is more pressured.
Within this year's overall index, China scored 3.7, the lowest in 34 of the world's major labor markets and in its own record low since 2012. The average score of all 34 markets this year remains unchanged from last year's 5.4.
"Workers in high-skilled industries, scientific activities in particular, saw strong wage growth last year, widening the pay gap with those in low-skilled sectors," Lance said.
Wages in the information, computer service and software industry grew by 9 percent, the highest among China's industries, he said.
He also noted key skills in demand in China include data scientists, clinical physicians, e-commerce managers, senior engineers in research and development, and digital finance experts, and sectors like life sciences and engineering are the most sought-after for high-skilled professionals.
Businesses are paying a premium for highly-skilled professionals across a number of industries, as wages in highly-skilled industries are outpacing those in lower skilled industries. The widening pay gap suggests China's rising appetite for top talents to propel its economic transition from export-oriented to tech-driven, the report said.
China's economy has maintained overall stability. The country's GDP expanded 6.2 percent year-on-year in the first three quarters of 2019, data from the National Bureau of Statistics showed. Investment in high-tech manufacturing and high-tech services rose 14.5 percent and 13.7 percent year-on-year.
At the same time, the research found talent mismatch, a key indicator to measure the gap between the skills businesses are looking for and the skills available in the labor market, bothers China less than most of other major labor markets.
China's lower talent mismatch score is driven by the falling unfilled job vacancies rate in the index, Lance said.
"Employers are becoming more selective in their hiring decisions, and focusing greater attention on soft skills, culture fit and aptitude for ongoing learning. Various new technologies and heightened consumer expectations continue to bring about unparalleled changes across retail banking, which indicates transformation within the sector is far from complete," he said.
However, he added there are exceptions to this trend, where skills shortages have the potential to hamper business operations, and these are typically within high-tech sectors and STEM (science, technology, engineering and math) job functions.
Chinese e-commerce giant JD is continuing to enlarge the scale of employment. According to its financial results for the third quarter, the number of its employees excluding part-time and interns reached 200,000, increasing by 25,000 compared with same period last year.
Moreover, it has accelerated efforts in technology investment and the expenditure on research and development amounted to more than 13 billion yuan ($1.8 billion) in the first three quarters of this year, surpassing the 12.1 billion yuan it spent in the same period of 2018.
In February, JD Logistics, the logistics arm of JD, said it will hire 10,000 employees mainly as front line staff and first-line managers.
JD Logistics will introduce outstanding experts and tech talents from sectors like artificial intelligence algorithms, the internet of things, big data and autonomous driving this year, to continuously enhance its strength in logistics and unmanned business. In addition, it will also recruit talents with huge potential, including top fresh graduates.
Baidu Research, a world-class research institute affiliated to internet search giant Baidu Inc, has been continuously attracting world-class artificial intelligence talents, injecting strong talent and technology potential into Baidu and promoting the long-term development of AI.
Zhang Chewei, head of the Institute of Population and Labor Economics at the Chinese Academy of Social Sciences, said: "University graduates now make up around half of the newly increased labor force in China."
The quality and structure of the Chinese labor force has changed fundamentally as more than half of the newly increased labor force had an educational level below the junior high school in the past, he said.
Li Qiang, executive vice-president with Zhaopin, an online recruitment platform headquartered in Beijing, said that 5G will be widely used in different business scenarios and integrated with cloud computing, big data, artificial intelligence and other technologies, all of which have a higher requirement for talents.