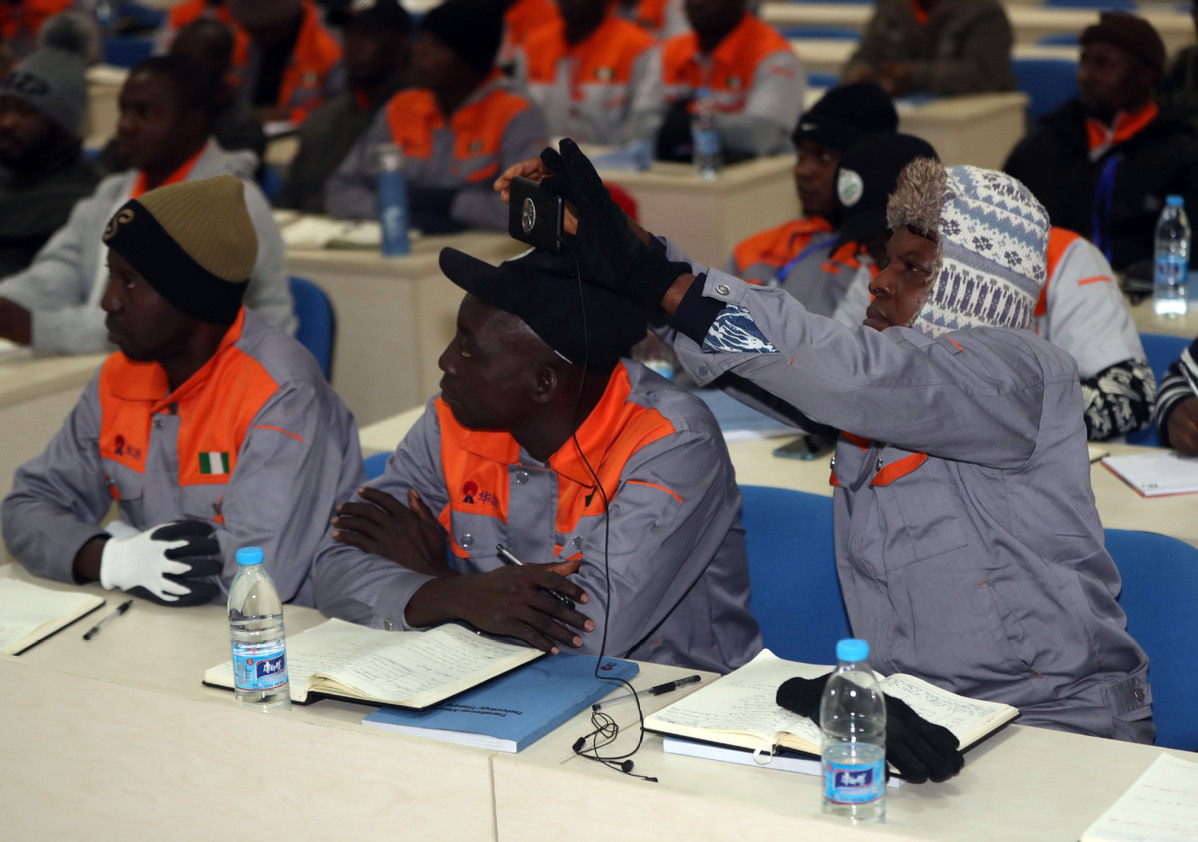 A total of 60 engineers from Nigeria are learning power transmission techniques and equipment manufacturing in Northeast China's Liaoning province, to further Africa's indigenization efforts and promote bilateral cooperation with China.
"These engineers are seeds of the localization of electrical equipment production in Nigeria and even in Africa. Nigeria will be able to build, manufacture and maintain its own grid. We will help Africa build and upgrade electricity infrastructure in the next 10 to 20 years," said Ma Liming, chairman of the Liaoning Huaye Group.
Ma disclosed that Chinese and Nigerian engineers will cooperate to build a large power transmission equipment manufacturing industrial park in Nigeria. This will include three transformer plants and one high voltage testing laboratory.
Nigeria and other African countries have a strong desire for industrialization. In 1989, the United Nations General Assembly decided to designate Nov 20 as Africa Industrialization Day in order to mobilize international engagement.
Unfortunately, Africa's dream of industrialization has not been realized due to political, economic and even geographic reasons. Its proportion of manufacturing industry has declined from 3 percent in 1970 to less than 2 percent in 2014.
"The premise of economic development in Africa is to strengthen infrastructure construction represented by the power network because the lack of energy infrastructure will lead to frequent power outages and high electricity prices. This has seriously dragged down the development of the African economy," said Zhou Jinyan, an assistant researcher from the Institute of West Asia and Africa at the Chinese Academy of Social Sciences.
The 2018 Beijing Summit of the Forum on China-Africa Cooperation put forward eight initiatives and paid special attention to production capacity cooperation.
Nigeria's $300 million power transmission and transformation equipment manufacturing park is one in the package which aims to set up its own electrical equipment production base.
Huaye is a professional electrical equipment producer with a 25-year history and has done business in African countries including Mali and Ethiopia.
Nigerian presidential spokesperson Garba Shehu said the country has suffered from a long-term deficit in power supply, which is a major obstacle in the nations' goal of economic diversification, according to Xinhua News Agency.
More Nigerian technicians will come to China for training in the next four years and Huaye would also send its own experts to Africa for on-site training, according to Ma.
"We are not only going to help Nigeria get on the industrialization path. We will also escort them into the future. Nigerian engineers are learning the most advanced technologies and will work with us to achieve technology upgrade. We hope that Africa can build, manufacture and maintain its own grid," Ma explained.
Huaye was entrusted by Nigeria to organize experts from universities, industry associations and leading enterprises to formulate national electrical standards in Nigeria that are based on its own needs and finally "light up" the future of local and even African independent industrialization.
"China's greatest contribution to Africa is helping Africa transform to an investment hot spot. Africa will achieve the power of reshaping its status and dialogue with the outside world on an equal footing," said Zhou.
Zhang Hongchen contributed to this story.