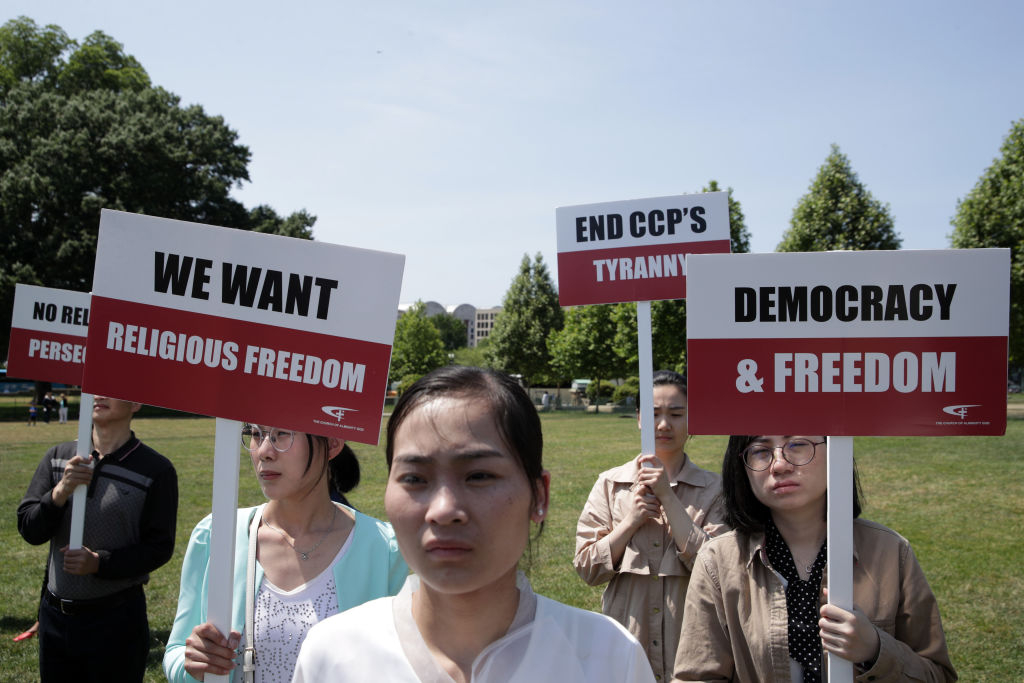 One mother in China, who is a member of The Church of Almighty God, recently said that her son told her to abandon her faith when he returned home after school. "My son told me that if I get arrested, our entire family will be finished. He threatened to jump off the building to end his life if I continued practicing my faith." Pictured: Members of The Church of Almighty God commemorate the 30th anniversary of the Tiananmen Square massacre, on June 4, 2019 in Washington, DC. (Photo by Alex Wong/Getty Images)
China is increasing its already extremely severe suppression of religious freedom. More than a year ago, at a November 2018 hearing of the Congressional-Executive Commission on China, the President of the Religious Freedom Institute, Thomas F. Farr, described China's religious suppression as "the most systematic and brutal attempt to control Chinese religious communities since the Cultural Revolution."
On December 30, 2019, China's Communist Party (CCP) announced new "Administrative Measures for Religious Groups". The measures — which came into force on February 1, 2020 — stipulate that religious organizations exist to promote the CCP and its ideology, according to Bitter Winter, a magazine on religious liberty and human rights in China.
According to article 17 of the new measures:
"Religious organizations shall spread the principles and policies of the Chinese Communist Party, as well as national laws, regulations, and rules, to religious staff and religious citizens, and educate and guide religious staff and religious citizens to support the leadership of the Chinese Communist Party, support the socialist system, and adhere to the path of socialism with Chinese characteristics…"
"In practice, your religion no longer matters, if you are Buddhist, or Taoist, or Muslim or Christian: the only religion allowed is faith in the Chinese Communist Party," a Catholic priest said.
The Communist ideology, it seems, does not tolerate competing narratives.
The new administrative measures have been accompanied by an intensification of educational indoctrination. In one city, Bitter Winter notes, schoolchildren were told to sign pledges to stay away from religion. Their parents received letters explaining that children cannot hold religious beliefs "because they are unable to think independently, as they are at a critical stage of development, both physically and mentally, which is crucial for establishing correct outlook on the world, life, and values".
Also, according to Bitter Winter:
"A variety of government-issued documents order schools 'to make the most of the adolescence' and 'increase anti-religious publicity' by organizing meetings for students and using broadcasts, bulletins, and other means, to achieve 'the goal of planting anti-religious thoughts into young students' minds and hearts'… Anti-religious propaganda is also extended to students' families and society at large, as communities are encouraged to get involved in the indoctrination of the young 'by setting examples and influencing each other.'"
Bitter Winter additionally reported that a high school teacher in Yichun warned students that "their families' future will be ruined and even their descendants will be implicated if anyone in their families believes in God." One mother, who is a member of The Church of Almighty God, said that her son told her to abandon her faith when he returned home after school. "My son told me that if I get arrested, our entire family will be finished. He threatened to jump off the building to end his life if I continued practicing my faith," she recently told Bitter Winter.
The Church of Almighty God (CAG) is a relatively new Christian movement in China, established in the 1990s. It is currently said to be the most persecuted religious group in the country. According to the Church of Almighty God's "2019 Annual Report on the Chinese Communist Government's Persecution of The Church of Almighty God":
"According to incomplete statistics, just between 2011 and the end of 2019, more than 400,000 CAG Christians were arrested by the Chinese authorities, and it is well-documented that the number of believers who have died as a result of persecution since the Church's establishment has reached 146."
In 2019, also according to the report:
"…at least 32,815 CAG Christians were directly persecuted by the authorities… because they engaged in such normal church activities as attending gatherings and preaching the gospel… at least 6,132 members have been arrested… with 3,824 members suffering all manner of cruel tortures and forced indoctrination; 1,355 members have been sentenced, with 481 members given severe sentences of 3 years or more, 64 members given sentences of 7 years or more, and 12 members having been sentenced to 10 years or more… at least 19 believers died as a result of persecution… The figures above only represent a portion of the CAG Christians victimized by the CCP during the past year…".
In the Hubei province, Bitter Winter states, authorities have cracked down on Buddhist and Taoists places of worship, leaving believers "with no place to worship, and monks forced to return to secular life." In August, 40 out of 79 temples in one town were sealed off. Authorities also literally destroy temples and statues. "We just worship Bodhisattva and burn incense. But officials attacked our temple like a gang of bandits," one elderly believer told Bitter Winter. "They are inhuman. What can people like us do about it? We can't stop them."
In January, Gatestone Institute's Lawrence A. Franklin wrote about the atrocities committed against the approximately one million incarcerated Chinese Muslims — Uighurs, Kazakhs and others — in detention centers and how they are forcefully "re-educated," including "horrific physical abuse, such as forced organ removal, abortions and medical 'experiments'".
The Chinese government even prohibited religious couplets, which according to Bitter Winter are a Chinese form of poetry, "a tradition spanning generations when people write their wishes, often on red paper, and hang them on the doors or gates of their homes. Spring Festival couplets are the most common and traditional form to celebrate the Chinese New Year." One shop-owner told Bitter Winter:
"A few years ago, many shops sold religious couplets. In 2018, the government started banning them. Last year, all couplets were confiscated from shops, and this year, sellers are threatened to be fined and imprisoned. No one sells them in Shangqiu anymore. Who dares to risk?"
China, meanwhile, maintains that its human rights record is admirable. According to Chinese Foreign Ministry spokesman Geng Shuang, "The Chinese people are in the best position to judge China's human rights condition, which is at its historical best."
Judith Bergman, a columnist, lawyer and political analyst, is a Distinguished Senior Fellow at Gatestone Institute.
© 2020 Gatestone Institute. All rights reserved. The articles printed here do not necessarily reflect the views of the Editors or of Gatestone Institute. No part of the Gatestone website or any of its contents may be reproduced, copied or modified, without the prior written consent of Gatestone Institute.