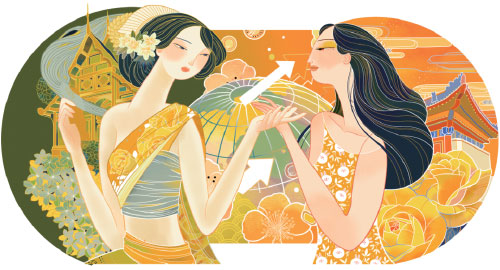 HONG KONG – The year 2019 has been a fruitful year for China and the 10-member Association of Southeast Asian Nations (ASEAN) in their concerted efforts to consolidate ties and forge a closer community with a shared future.
One year into the implementation of the landmark China-ASEAN Strategic Partnership Vision 2030, the two sides have built stronger economic and trade links, further synergized their development plans, and made major progress in managing differences. All these were achieved while the world is afflicted with rising protectionism and unilateralism that undermine globalization and development.
In fact, the China-ASEAN partnership has become one of the most dynamic partnerships that the bloc has with a dialogue partner, said Thai Prime Minister Prayut Chan-o-cha, whose country is the rotating chair of ASEAN for 2019.
Founded in 1967, ASEAN now groups Brunei, Cambodia, Indonesia, Laos, Malaysia, Myanmar, the Philippines, Singapore, Thailand and Vietnam.
ROBUST TRADE FOR SUSTAINED GROWTH
The past year has not been easy for the global economy, but China and ASEAN have confronted the downward pressure by further expanding their trade and economic links.
ASEAN has surpassed the United States in 2019 to become China's second largest trading partner, while China has remained the bloc's top trading partner for 10 years. Trade volume in the first half of 2019 reached $291.85 billion, up 4.2 percent year-on-year. The total trade volume this year is expected to reach $600 billion.
With promising trade prospects, both sides aim at a joint target of two-way trade of $1 trillion and $150 billion in investments by 2020.
Moreover, the upgraded protocol of the China-ASEAN Free Trade Area (CAFTA) came into effect in October, covering areas including trade in goods and services, investment, economic and technological cooperation, to name a few.
The CAFTA, covering 11 countries with a population of around 2 billion people, has brought "visible and tangible" benefits to businesses in the region, becoming a model for mutually beneficial and win-win cooperation among developing countries, said Chinese Ambassador to ASEAN Huang Xilian.