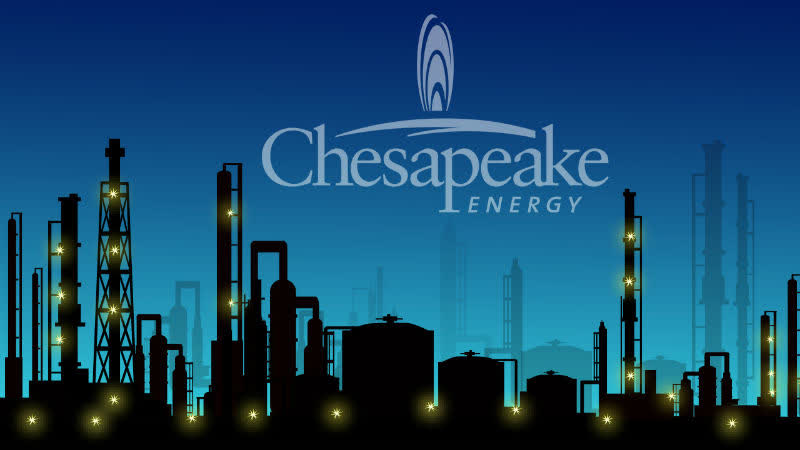 Courtesy: The financial
Investment Thesis
Oklahoma City-based Chesapeake Energy (OTCPK:CHKAQ) and 40 affiliates have voluntarily filed for Chapter 11 bankruptcy protection in the U.S. Bankruptcy Court for the Southern District of Texas on June 28, 2020.
The filing came with a Restructuring Support Agreement ("RSA") deal with 100% of its lenders that carried $925 million in debtor-in-possession financing, which should be enough to keep the company's operations afloat. The filing also involves agreements for a $1.75 billion revolving credit facility and a $750 million term loan for exit financing.
In addition to what has been decided above, it has the support of its term loan lenders and got a commitment from noteholders to backstop a $600 million rights offering upon exiting Chapter 11 protection.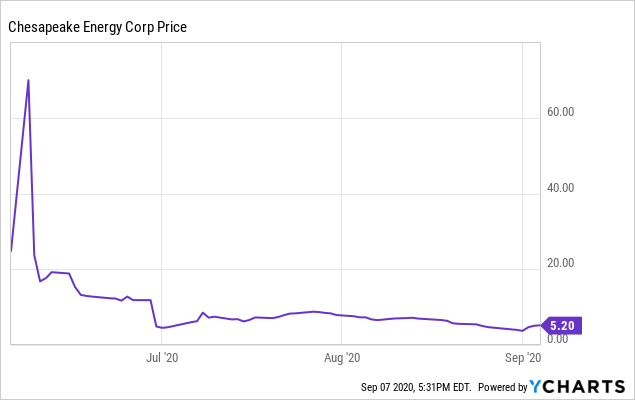 CEO Doug Lawler said:
"We are fundamentally resetting Chesapeake's capital structure and business to address our legacy financial weaknesses and capitalize on our substantial operational strengths. By eliminating approximately $7 billion of debt and addressing the legacy contractual obligations that have hindered our performance, we are positioning Chesapeake to capitalize on our diverse operating platform and proven track record of improving capital and operating efficiencies and technical excellence."
However, most of your shareholders are not really interested in the procedure itself but only in the immediate effect of such a filing to your CHKAQ shares that you still hold, assuming you did not sell when the stock jumped over $70 per share on June 8.
What I can offer here is one good news and one bad news.
Let's start with the bad news.
Chesapeake's common and preferred shares will be canceled most likely without any recovery or minimal recovery, representing a few cents, with or without warrants generally worthless. The reason is simple; liabilities massively exceed assets.
It is not written in black and white yet, but the stock is likely to be zero when the new Chesapeake company emerges from bankruptcy. Furthermore, the stock is now trading over the counter, and it is unlikely that the stock will have any significant move.
The stock is worthless now, but somehow it is still trading well above zero. The question is, why?
The main reason is that retail speculation may drive these bankrupt stocks higher for a while (zombie stock). It is irrational, but it has happened frequently in the past. Another possible explanation that justifies a value for the stock is that it is challenging to short the stock, and the cost of shorting is massively high.
The investment thesis for CHKAQ is elementary. Avoid the stock and sell your shares as soon as possible while they still have value.
However, CHKAQ can be considered as a trading tool for some of you who know how to trade such a transition period with a quasi-certainty of zero value in a few months. The new company will not emerge from bankruptcy tomorrow, and you have many months to play the game.
Chesapeake Energy – 2Q '20 Quarterly Financial Table: The Raw Numbers
Chesapeake Energy filed its 10-Q SEC filing for the Quarterly Period Ended June 30, 2020.
| | | | | | | |
| --- | --- | --- | --- | --- | --- | --- |
| Chesapeake CHK | 1Q '19 | 2Q '19 | 3Q '19 | 4Q '19 | 1Q '20 | 2Q '20 |
| Total Revenues $ Million | 2162 | 2370 | 2059 | 1898 | 2525 | 507 |
| Net Income in $ Million | -44 | 98 | -61 | -324 | -8,297 | -276 |
| EBITDA $ Million | 345 | 853 | 688 | 391 | -7,578 | 19 |
| EPS diluted in $/share | -6.0 | 10.0 | -12.0 | -36.0 | -852.97 | -28.22 |
| Operating cash flow in $ Million | 456 | 397 | 329 | 441 | 397 | 376 |
| CapEx in $ Million | 530 | 575 | 593 | 565 | 518 | 349 |
| Free Cash Flow in $ Million | -74 | -178 | -264 | -124 | -121 | 27 |
| Cash and cash equivalent $ Million | 8 | 4 | 14 | 6 | 82 | 82 |
| Long term Debt (including short term) in $ Billion | 9.547 | 9.701 | 9.341 | 9.458 | 9.583 | 1.929 |
| Shares outstanding (diluted) in Million | 6.900 | 8.140 | 8.490 | 9.750 | 9.753 | 9.779 |
| Oil Production | 1Q '19 | 2Q '19 | 3Q '19 | 4Q '19 | 1Q '20 | 2Q '20 |
| Oil Equivalent Production in K Boep/d | 485 | 496 | 478 | 477 | 479 | 421 |
| Oil Composite realized price ($/Boe) | 28.22 | 26.12 | 22.79 | 26.57 | 20.53 | 11.46 |
Source: Chesapeake Energy 10-Q and Morningstar/Fun Trading
Analysis: Revenues, Free Cash Flow, Net debt, And Oil & Gas Production
1 – Quarterly revenues and others were $521 million in 2Q '20

Chesapeake reported a net loss of $276 million, or $28.22 a share, compared to a profit of $98 million, or $9.21 per share, in the year-ago period.
2 – Free cash flow was $27 million in 2Q '20.

The generic free cash flow is cash from operating activities minus CapEx.
Yearly free cash flow ("TTM") is a loss of $482 million, with a profit of $27 million in the second quarter of 2020.
3 – Net debt is $1.847 billion in 2Q '20, with $8.135 billion reclassified to liabilities subject to comprise as of the end of June.

The company has guided total net debt will be about ~$2.92 billion at the end of 1Q 2021, including the planned $600 million rights offering.
On August 31, 2020, Chesapeake Energy asked the U.S. Bankruptcy Court in Houston to let go of a nearly $300 million natural gas contract with pipeline giant Energy Transfer (NYSE:ET).
If it cannot exit the agreement, Chesapeake tells the court it would be required to spend millions "for capacity they do not need or could otherwise contract at a lower rate," according to Bloomberg.
Chesapeake Energy may well succeed in this maneuver even after Energy Transfer received the support of the Federal Energy Regulatory Commission ("FERC"). I believe CHKAQ has an excellent chance to win the case in court with or without the support of the FERC.
4 – Quarterly Production was 421K Boep/d in 2Q '20
Production was 421K Boep/d this quarter, down 15.1% from the same quarter a year ago and down 12.2% sequentially.

The big issue is that the price per Boe this quarter was at a record low again:

Below is the output in K Boep/d per basin.

Chesapeake Energy is mainly a domestic gas producer who represents 71.3% of the total output for the second quarter of 2020.

Conclusion
Chesapeake Energy is entering the last phase of this painful saga that has no happy ending for shareholders. The company will probably emerge from bankruptcy by the end of 1Q '21.
Most of the debt will be exchanged for shares in the newco.
The new stock will trade in the NYSE under CHK again after a reverse split of 1:20 or more. Actual shareholders will get a few cents in the newco if lucky, and CHK will be back in business with cash in the coffer and potentially a recovery in oil and gas demand.
Just make sure to exit before the process is completed.
Author's note: If you find value in this article and would like to encourage such continued efforts, please click the "Like" button below as a vote of support. Thanks!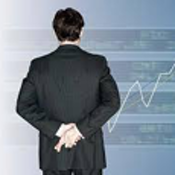 Join my "Gold and Oil Corner" today, and discuss ideas and strategies freely in my private chat room. Click here to subscribe now.
You will have access to 57+ stocks at your fingertips with my exclusive Fun Trading's stock tracker. Do not be alone and enjoy an honest exchange with a veteran trader with more than thirty years of experience.
"It's not only moving that creates new starting points. Sometimes all it takes is a subtle shift in perspective," Kristin Armstrong.
Fun Trading has been writing since 2014, and you will have total access to his 1,988 articles and counting.
Disclosure: I/we have no positions in any stocks mentioned, and no plans to initiate any positions within the next 72 hours. I wrote this article myself, and it expresses my own opinions. I am not receiving compensation for it (other than from Seeking Alpha). I have no business relationship with any company whose stock is mentioned in this article.