The COVID-19 crisis has had many unforeseen impacts on businesses of all types. Some have been well-positioned to take advantage of what is a horrific situation, while others have struggled. One company that has seen its share price return to pre-COVID-19 levels is facilities servicer ABM Industries Inc. (ABM).
Shares bottomed at $19 in March but have since doubled, and they trade today at $38, within a whisper of their pre-COVID-19 high of $40.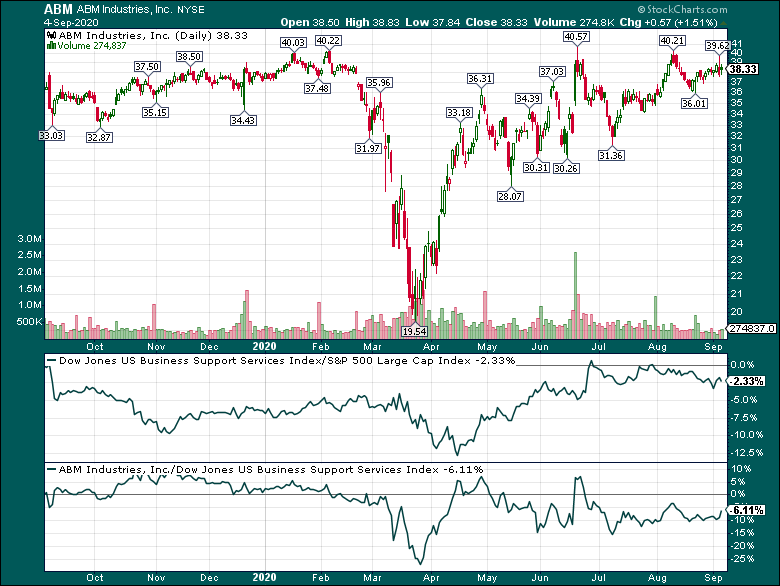 We can see in the bottom two panels of the chart that ABM is in a very strong sector – business support services – that has outperformed the S&P 500 this year by a decent margin. However, ABM itself has underperformed its peer group and, therefore, has simply been taken along for the ride, so to speak. That lack of relative strength is a clue that perhaps the rally we've seen in the stock may be nearing exhaustion.
ABM is set to report earnings on September 8th, and I think the stock is perched quite precariously heading into that report. It has tried to rally past $40 twice in recent weeks and has been rejected both times. Higher lows have been made in the process, but $40 seems to be the ceiling for now.
Couple this with what I see as a very full valuation and a lack of growth catalysts, and you have a stock that I think is far too risky to own into earnings. For that reason, I think ABM is a Sell heading into the report on Tuesday.
Lack of growth catalysts
ABM has grown over the long term, but in recent years, growth has proven elusive.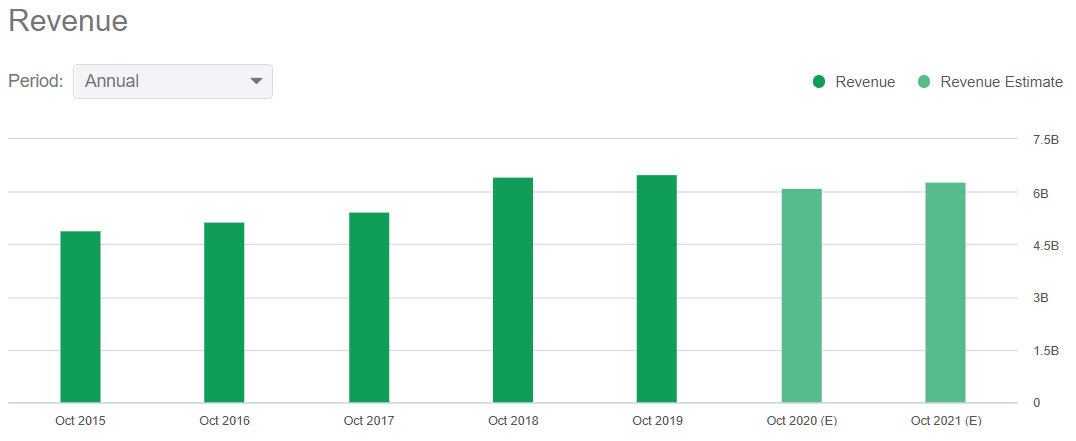 (Source: Investor presentation)
Revenue plateaued in 2018/2019 and is set to decline this year. Interestingly, revenue is slated to be lower next year than it was last year, indicating that ABM's path to recovery is going to be somewhat lengthy. This is something I agree with, and also something I don't think the stock is pricing in right now.
Here's the problem I have with the company; its model requires people to go to office buildings and other places where people congregate during the day. In a post-COVID-19 world, where it is quite reasonable to believe that such gatherings will be restricted or otherwise reduced, I'm not sure how ABM will cope. It can try and take market share, but I firmly believe the addressable market for ABM is shrinking due to COVID-19.
Consider that countless white-collar workers are working from home full-time right now, or close to it, and that it is also reasonable to think that at least some of that working from home will become semi-permanent or permanent. If people aren't going to office buildings, for instance, with the same frequency they once did, the demand for ABM's services would be impaired, and probably permanently.
Working from home is a problem for ABM, but the other thing is that unemployment is still quite elevated, even after months of strong job gains. Again, this reduces the company's addressable market because it needs employers to employ people, and then it needs those employees to show up at facilities (not their own residences) to work. This combination of COVID-19 outcomes, in my view, impairs ABM's growth outlook. Importantly, it's not a temporary impairment, either.
Apart from what I see as an addressable market issue, current earnings estimates are pricing in strong margin growth. If I'm right, not only will revenue face an uphill battle, but estimates for margins will need to come down as well.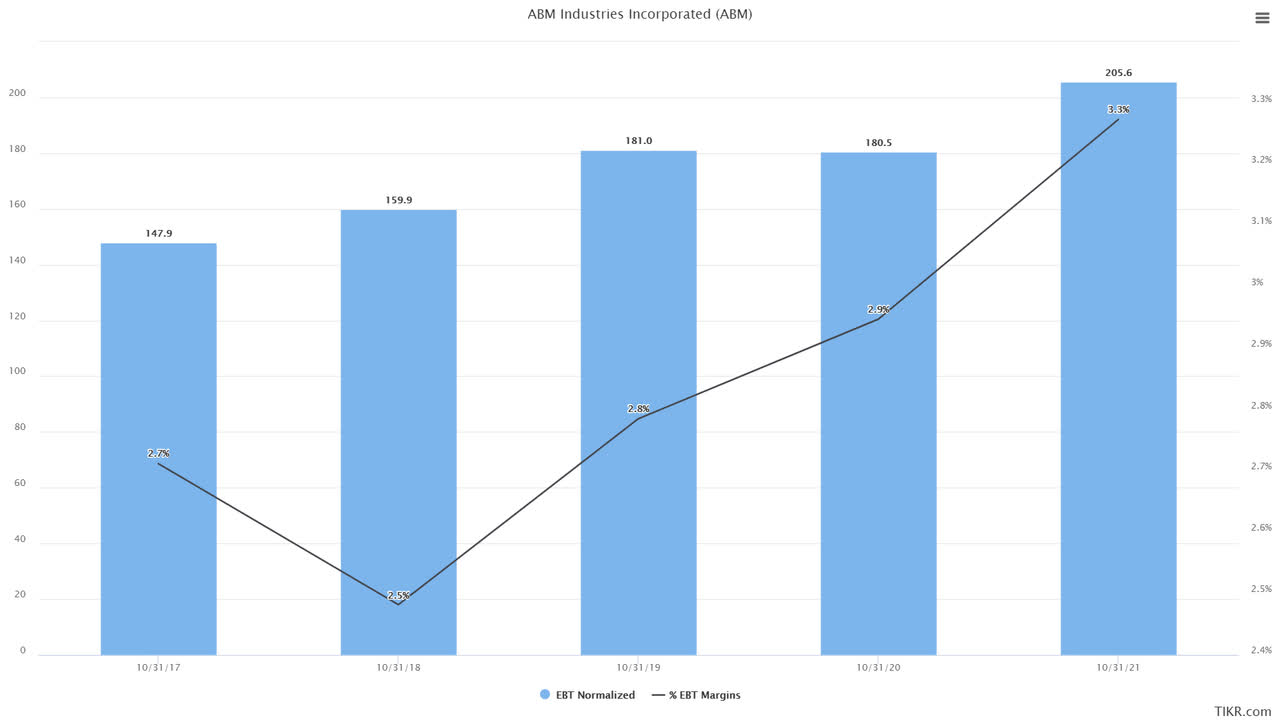 (Source: TIKR.com)
We can see that ABM has been working in recent years to boost its razor-thin margins, and it has worked. The numbers we're talking about are very small, with EBT margins under 3% in recent years. However, margins are expected to expand this year and once again into next year, all with revenue that is below 2019 levels. That implies a fair amount of pricing power and cost discipline at a time when pricing power and cost discipline will be very difficult to come by. As with the addressable market, I'm quite skeptical that ABM can deliver on these expectations, and not because ABM is incompetent but because factors outside of its control are working against it in a big way.
Another headwind I think investors ignore at their own peril is the way that the company grows its float over time. Many mature companies buy back their own stock to reduce the float, and thereby boost EPS with a lower share count. ABM, however, generally does just the opposite.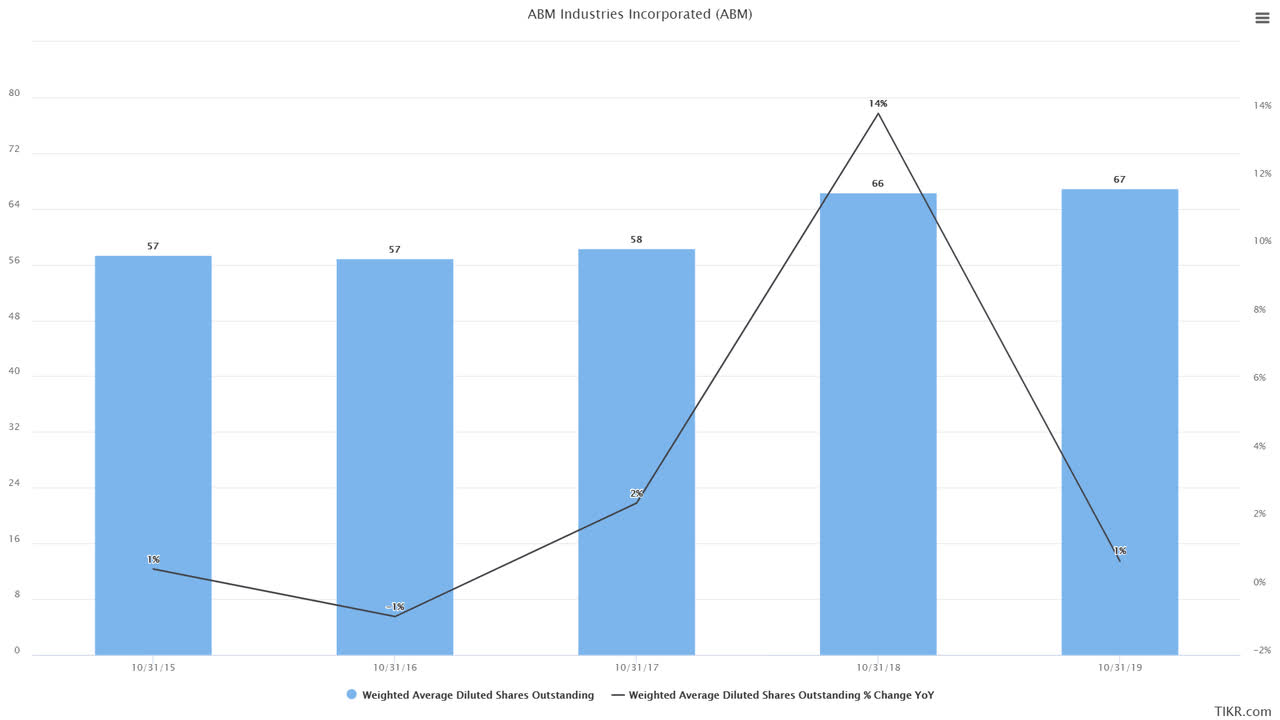 (Source: TIKR.com)
The share count has moved materially higher in recent years, with very few buybacks but lots of issuances. This leads to an EPS headwind, because the denominator of the equation – the share count – continues to grow. Given what I see as headwinds to EPS as described above, this is just one more reason to be cautious.
What to do?
ABM is a great company with a long history of boosting its EPS and a streak of 50+ years of dividend increases, which is enormously impressive. However, the stock has the headwinds I described above, as well as a very full valuation, heading into the earnings report on Tuesday.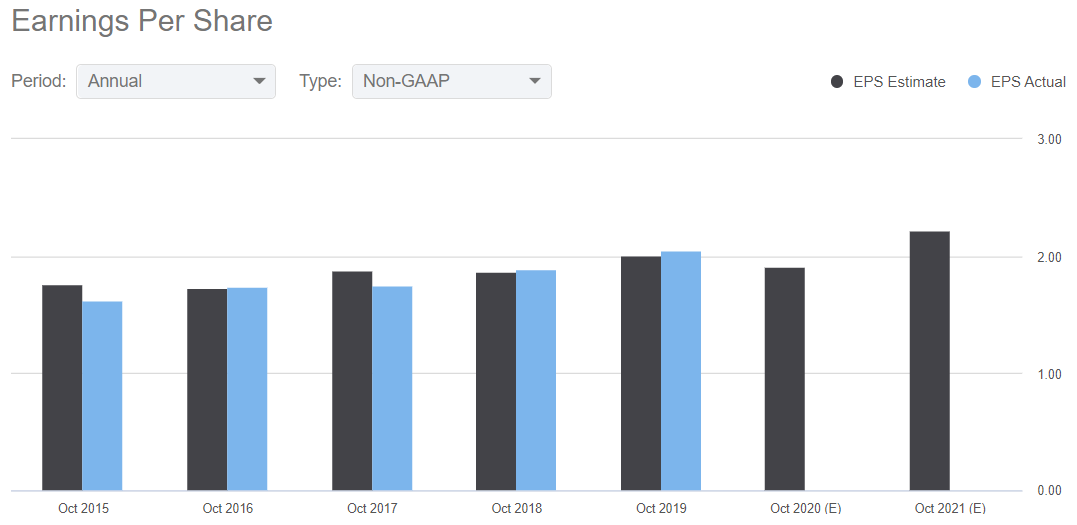 (Source: Investor presentation)
Lofty expectations are in place for next year's earnings, as I mentioned that margins are expected to move quite a bit higher in fiscal 2021. Even if we ignore that, shares go for 20 times this year's earnings and 17 times next year's earnings. ABM has been valued at 15-17 times earnings in most years over the past decade, so 20 times earnings is quite pricey, with 17 times earnings being full value.
When we put all of this together, we have a company with significant external headwinds, very high expectations when it comes to profitability, and a full valuation on EPS estimates that I see as too high. With this combination, as well as the fact that the stock is trading very close to resistance ahead of an earnings report, I think you have to sell ABM before the close on Tuesday. It is my view that ABM can be bought back lower in the coming weeks than it is today, where the value proposition will be more favorable.
Disclosure: I/we have no positions in any stocks mentioned, and no plans to initiate any positions within the next 72 hours. I wrote this article myself, and it expresses my own opinions. I am not receiving compensation for it (other than from Seeking Alpha). I have no business relationship with any company whose stock is mentioned in this article.