Written by Sam Kovacs
Introduction
Last week, the S&P 500 (SPY) moved upwards, reaching new highs. And then it fell – over 4% in two days. This has led to a rather large number of articles popping up all over the web, concerned that the market crash is coming.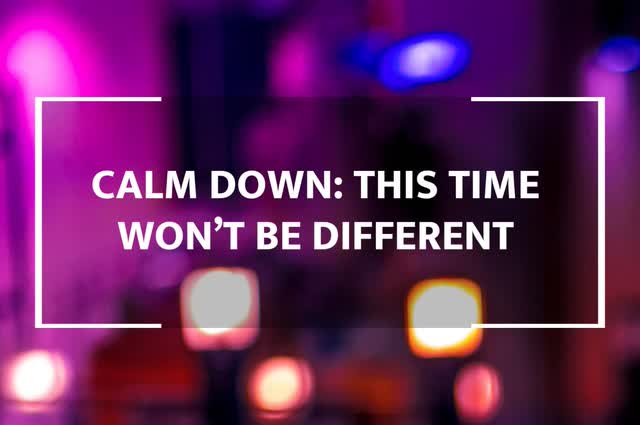 Source: Open Domain
I, unfortunately, have very little to offer in terms of directional advice. Last summer, Robert & I suggested that it was a good time to start making portfolios more defensive. A good old pruning of weaker stocks was in order. That being said, we didn't know how long stocks would keep going up. Then, in early April, when rumors of a "V-shaped" recovery were popping up, we once again didn't have an opinion. We did suggest that there were a lot of great stocks trading at really attractive prices, and focusing on quality would be a good idea.
If you want to know whether the market is going up or down, you're reading the wrong article. This article will argue that if you're concerned by a market decline, and the stress is eating at you, there is another way.
And no, this isn't the way of the ostrich. I do not suggest you disregard valuations or the news or the economic data.
In fact, it is quite important to keep up-to-date often enough. This information should then be digested, and considered relative to your long-term goals. Don't ever buy because you fear missing out. Don't ever sell because you're panicking. Observe. Think. Diagnose. Act.
With that in mind, here is my take on some of the headlines we see daily in (often fear-mongering) news outlets.
Investors are scared of the disconnect between the economy and markets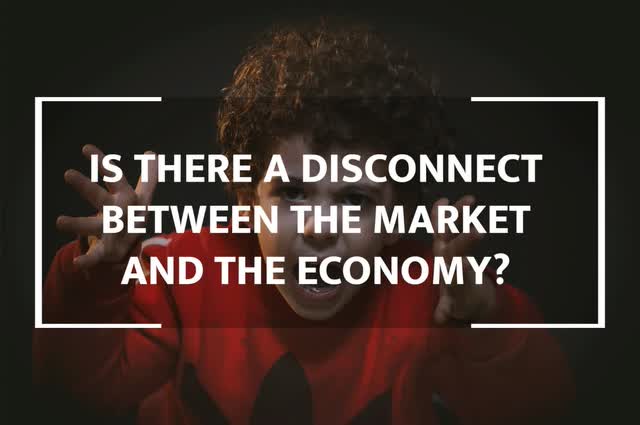 Source: Open Domain
The S&P 500 is up 9% in the past 3 months and up 15% in the past year.
Many have pointed to the fact that the Fed's endless printing of money has created a massive divide between the real economy and the stock market. After all, they argue, the stock market is up so much while we're living in the worst economy since World War 2.
And it is true, monetary policy, especially in the form of quantitative easing, whereby the Fed prints money to buy bonds, doesn't exactly get the money into the right hands, if reinvigorating the economy is the goal.
Yet, the Fed has increased its balance sheet by $3 trillion this year, from $4 trillion to $7 trillion. That increase is the equivalent of 3% of all US household wealth, or 15% of annual US GDP.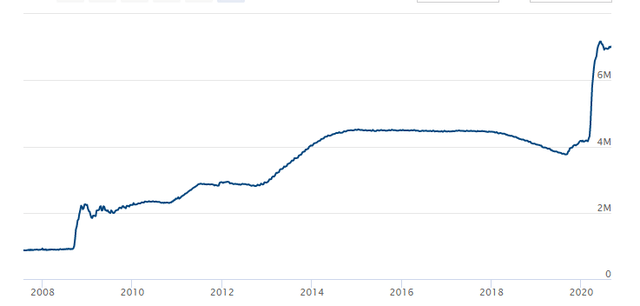 (Source: Federal Reserve Balance Sheet)
Now, one must ask, wouldn't creating so much extra currency make the dollar worth less? It is simple economics – if there is more of something, all else held equal, it should be worth less.

(Source: MarketWatch)
Looking at the above chart of the Dollar Index this year, this would seem like a fairly simple observation.
And so, if the dollar is worth less, all else held equal, shouldn't other assets be worth more dollars?
Take a hard asset like gold, for instance. Its supply is well-known, so pricing it in dollars means it is a mostly effective (although volatile) measure of the perceived value of a dollar.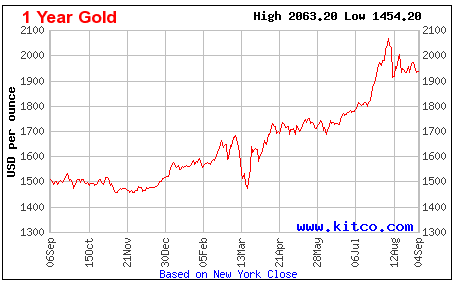 (Source: Kitco.com)
Relative to gold, relative to currencies, the dollar is worth less. So shouldn't it follow that if the dollar is truly worth less, other assets, such as stocks, should be worth more?
The below chart of the S&P 500 could suggest this.

(Source: Seeking Alpha)
Is the market really up or is the dollar just down?
Whether you agree with my somewhat simplistic way of viewing it, we can surely agree that the Fed's money printing does prop up markets. But it does very little to prop up the economy. To prop up the economy, the ball is in the government's court. And while fiscal policy has been largely ignored in favor of monetary policy in the past decades, we've seen somewhat of a resurgence this year.
This is probably best seen with the US distributing "helicopter money", through the form of stimulus checks. If you want people to consume, give them cash. Data shows that this has led to people spending the money on food, utilities, or rent.
The Coronavirus Aid, Relief and Economic Security (CARES) Act, which was a staggering $2 trillion with maybe a second round of relief coming, was classic fiscal stimulus.
A combination of monetary stimulus and fiscal stimulus has occurred. Yet, most feel as if recent highs in the stock market have created a disconnect with the economy. But is that really the case?
Not all the market is up, it's not even close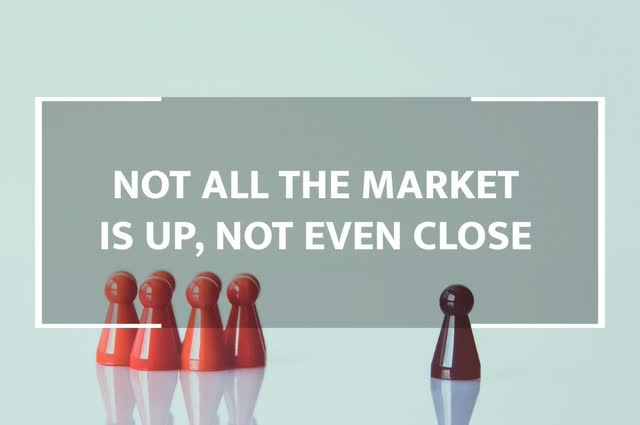 (Source: Open Domain)
The S&P 500 has reached new highs. So have many tech darlings. But using this market weighted index as a proxy might not be the best way to view
During the past 3 months, the S&P 500 has gone up by 9%. This isn't the case of most stocks by a long shot.
Using the mad-dividends.com database of over 3,600 US stocks, I sorted 3-month performance into different deciles.
| | | | | | | | | | |
| --- | --- | --- | --- | --- | --- | --- | --- | --- | --- |
| Percentile | 10th | 20th | 30th | 40th | 50th | 60th | 70th | 80th | 90th |
| 3-month price change | -21% | -11% | -5% | -1% | 0% | 4% | 10% | 19% | 35% |
(Source: mad-dividends.com)
It turns out 68% of stocks have gone up less than the S&P 500 index. In fact, half of all stocks in the US are either flat or down in the past 3 months. Extend that to the past 12 months, and you once again have the S&P 500 beat 70% of all stocks, except this time, 58% of all stocks are either flat or down.
One might ask, what is driving the indices large gains? And, of course, one would already know the answer. The 5 largest stocks, which account for 20% of the index, have been firing on all cylinders these past 3 months.
| | | | | | |
| --- | --- | --- | --- | --- | --- |
| Stock | Apple (AAPL) | Microsoft (MSFT) | Amazon (AMZN) | Facebook (FB) | Google (GOOGL) |
| 3-month price change | 48.72% | 17.23% | 35.80% | 26.49% | 13.22% |
| Percentile | 93rd | 78th | 90th | 85th | 73rd |
(Source: mad-dividends.com)
Just look at this list of Dividend Aristocrats' performance over the same period to realize that not all stocks have gone up.
| | |
| --- | --- |
| Company | 3 month performance |
| Exxon Mobil Corporation (XOM) | -20.0% |
| Chevron Corporation (CVX) | -15.0% |
| Walgreens Boots Alliance Inc. (WBA) | -14.0% |
| Federal Realty Investment Trust (FRT) | -12.0% |
| People's United Financial Inc. (PBCT) | -12.0% |
| Cardinal Health Inc. (CAH) | -11.6% |
| Automatic Data Processing Inc. (ADP) | -8.2% |
| Ecolab Inc. (ECL) | -7.2% |
| AT&T Inc. (T) | -6.0% |
| Consolidated Edison Inc. (ED) | -4.3% |
| Aflac Incorporated (AFL) | -3.3% |
| Becton, Dickinson and Company (BDX) | -3.2% |
| A.O. Smith Corporation (AOS) | -2.1% |
| General Dynamics Corporation (GD) | -2.1% |
| Johnson & Johnson (JNJ) | 0.6% |
| AbbVie Inc. (ABBV) | 1.1% |
| Franklin Resources Inc. (BEN) | 2.0% |
| Sysco Corporation (SYY) | 2.2% |
| 3M Company (MMM) | 3.2% |
| PepsiCo Inc. (PEP) | 4.9% |
| Clorox Company (CLX) | 5.2% |
| Coca-Cola Company (KO) | 5.4% |
| Nucor Corporation (NUE) | 5.7% |
| T. Rowe Price Group Inc. (TROW) | 5.9% |
| Dover Corporation (DOV) | 6.1% |
| S&P Global Inc. (SPGI) | 6.1% |
| Realty Income Corporation (O) | 6.8% |
| Hormel Foods Corporation (HRL) | 7.0% |
| V.F. Corporation (VFC) | 7.1% |
| Roper Technologies Inc. (ROP) | 7.1% |
| Kimberly-Clark Corporation (KMB) | 7.5% |
| Colgate-Palmolive Company (CL) | 8.4% |
| Genuine Parts Company (GPC) | 8.6% |
| SPDR S&P 500 ETF (SPY) | 9.0% |
| Illinois Tool Works Inc. (ITW) | 9.1% |
| Emerson Electric Company (EMR) | 9.3% |
| Medtronic plc. (MDT) | 9.3% |
| PPG Industries Inc. (PPG) | 10.0% |
| McDonald's Corporation (MCD) | 10.6% |
| Pentair plc. (PNR) | 11.0% |
| Archer-Daniels-Midland Company (ADM) | 13.0% |
| W.W. Grainger Inc. (GWW) | 13.2% |
| Sherwin-Williams Company (SHW) | 14.2% |
| Abbott Laboratories (ABT) | 15.4% |
| Caterpillar Inc. (CAT) | 15.4% |
| Stanley Black & Decker Inc. (SWK) | 16.3% |
| Procter & Gamble Company (PG) | 16.6% |
| McCormick & Company Incorporated (MKC) | 17.0% |
| Walmart Inc. (WMT) | 17.1% |
| Linde Plc (LIN) | 17.6% |
| Target Corporation (TGT) | 19.9% |
| Leggett & Platt Incorporated (LEG) | 20.6% |
| Lowe's Companies Inc. (LOW) | 21.5% |
| Cintas Corporation (CTAS) | 22.1% |
| Cincinnati Financial Corporation (CINF) | 26.1% |
(Source: mad-dividends.com)
33 of the 55 Aristocrats have underperformed the index over the same period. Maybe, after all, not all stocks are doing so well, and maybe not the entire stock market is overvalued?
Let's look at another metric, P/E ratios.
| | | | | | | | | | |
| --- | --- | --- | --- | --- | --- | --- | --- | --- | --- |
| Percentile | 10th | 20th | 30th | 40th | 50th | 60th | 70th | 80th | 90th |
| P/E ratio | 7x | 9.9x | 13x | 16x | 20x | 26x | 33x | 47x | 87.7x |
(Source: mad-dividends.com)
Using the 2,200 or so stocks in our database which have a positive P/E ratio, I sorted them into deciles.
The table above puts into perspective the large 29x P/E of the S&P 500.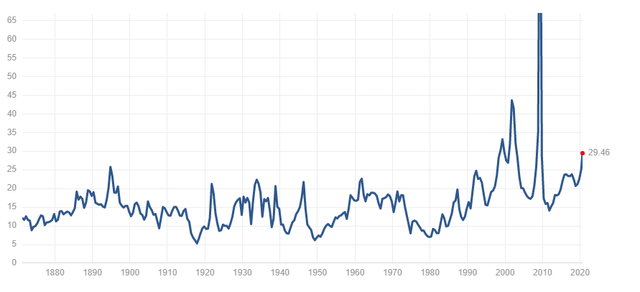 (Source: Multpl.com)
Once again, the S&P 500 isn't quite representative of most stocks. Its P/E is higher than that of 66% of individual stocks.
It is interesting to note that 40% of profit-making stocks are trading at P/Es less than 16x.
What's the point here? Not all stocks have been going up like crazy, and not all stocks are trading at insane valuations. Of course, this is something that index investors can't do much about. But for active investors, it means that worrying about the demise of the market might not be warranted.
Volatility has been high and will continue to be high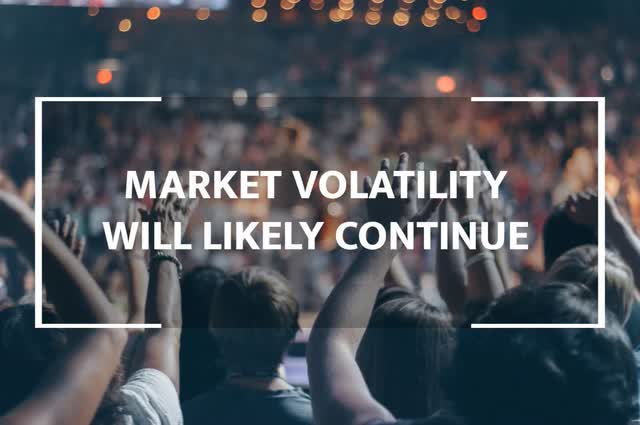 Source: Open Domain
This year has been more volatile than the past few years. You don't need any data to know this.

(Source: Google Finance)
The above chart of the VIX (VXX) shows that it is undisputable. Volatility has been sky-high since March.
You should expect this to continue. The influx of individual investors into the market this year might have something to do with it.
In a recent WSJ piece, it was highlighted that individual investors had gone from trading 15% of all shares traded last year to 19.5% of all trading this year. The case made is that as individual investors make up more of the market, volatility goes up. The WSJ journalist mentions places like Shanghai and Korea, where individuals account for more than 80% of the shares traded, and where "individuals can create a casino-like feel, with exuberant bull runs followed by spectacular crashes".
So, while pockets of the market still remain undervalued, you should brace yourself for more turbulence and volatility. But there is a way to deal with it.
Calm down: This time won't be different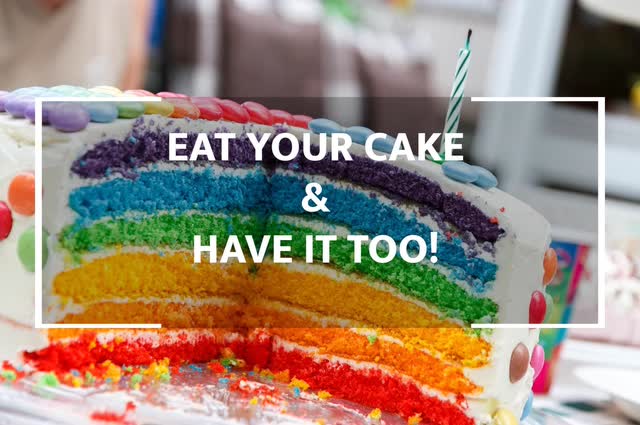 Source: Open Domain
Ask yourself this question: Why are you investing?
If you're anything like Robert & I, it is because you want to live off of your investments in retirement. Planning on capital gains to get you there can be extremely stressful. But if you plan carefully and follow a dividends-first approach, you don't need to rely on capital gains. You'll exploit capital gains to increase your retirement income (as explained in this article), but you won't need them.
A dividends-first approach assumes that your investments dividends alone will be enough to meet your financial goals.
This means that, for example, if you have $300,000, know you can invest $2,000 per month into the market and have 20 years to go, you can figure out what dividend growth rate needs to be achieved at any given dividend yield to meet your retirement income goals. Say, you want to generate $5,000 per month in dividends (adjusted for 2% inflation):

(Source: mad-dividends.com prototype)
You could figure out that if you invest in stocks yielding 2%, you'll need to achieve 10% dividend CAGR, or 3.9% growth for stocks yielding 4%.
Now, with this knowledge, you can focus on finding such stocks, and as long as the dividends do what you expect them to, you can totally disregard price appreciation. If this sounds attractive to you, you can read this piece: "How You Can Retire On Dividends Forever And Ever".
Sometimes prices will become overvalued and you'll be tempted to sell part of your position to increase your income even faster. This will make up for times when the dividends don't grow as much as expected. For instance, you can look at when I recently sold Home Depot (HD) at $280.
The point is, with a dividends-first approach, you're naturally inclined to focus on valuation, so that you buy stocks when they yield enough relative to future dividend growth prospects. Evaluating future dividend growth prospects forces you to focus on quality. Then, the rest is noise.
What is sure is that the market will go up and down. But nothing is different: high-quality companies will continue to pay dividends to their shareholders. We call these companies All Weather Dividend Stocks.
If all you need to focus on are dividends, your life becomes easier. And you don't necessarily need to lag the stock market by much either.
Since we started sharing our All Weather Dividends Portfolio in May, the portfolio is lagging the S&P 500 by just 1% (once accounting for dividends), while yielding 3x more. None of the All Weather picks have cut or suspended their dividends.
You can have your cake and eat it too. Just don't play checkers when you can be playing chess.
Conclusion
You can make economic data support any story you want to tell. It is important to not get sucked in and caught in the noise. Focus on your goals, on finding good value stocks (even when they become scarce), pruning your overvalued stocks (even if you like them a lot), and if you want peace of mind, consider a dividends-first approach.
Interested in a dividends-first approach? Then click on the orange "Follow" button at the top of this page so that we can let you know when we next publish dividend related articles here on Seeking Alpha.
Disclosure: I am/we are long O, VFC, CAT, CLX, CVX, FRT, JNJ, HD, T. I wrote this article myself, and it expresses my own opinions. I am not receiving compensation for it (other than from Seeking Alpha). I have no business relationship with any company whose stock is mentioned in this article.