Written by Nick Ackerman, co-produced by Stanford Chemist
Recently, we took a position in BlackRock Science & Technology Trust II (BSTZ). This was in our Tactical Income-100 Portfolio. This portfolio is designed to be more aggressive and take advantage of special situations. In this case, the fund is a term dated fund with a huge discount. This discount came thanks to the stellar performance of the fund's underlying NAV. This is exactly what we like to see – a discount widening via NAV growth and a lagging market price. The technology space has certainly been a hot place to invest throughout the pandemic.
BSTZ is a relatively newer fund launched only last year on June 26th. The fund has a term structure that should see the fund liquidated around June 26th, 2031. We certainly have quite a bit of a wait for that to come. However, the fund's 11%+ discount should see us generate additional returns by about 1% annually, all else being equal. An investor does need to take into account the fact that we could see some volatile movements from now until then, though. The tech sector is certainly known to be a volatile place to invest. Traditionally, tech is also quite a cyclical place to invest. COVID-19 turned all that around this year as the health crisis is generating an even stronger demand for tech-related companies.
The fund has an investment objective to "provide total return and income through a combination of current income, current gains and long-term capital appreciation." They intend to achieve this through "investing at least 80% of its total assets in equity securities issued by U.S. and non-U.S. science and technology companies in any market capitalization range, selected for their rapid and sustainable growth potential for the development, advancement and use of science and/or technology."
In addition to just investing in these rapid growth companies, the fund will utilize a covered call strategy too. They write covered calls on the individual positions in their underlying portfolio. They target 30 to 40% of the portfolio being overwritten. At this time, they are a little light at 22.01%. This strategy generally leads to an underperformance to a benchmark. That is why I wouldn't complain about its overwritten portion being lower than their target at the moment. Additionally, the heavy tech-focused Invesco QQQ ETF (QQQ) is the laggard in this case.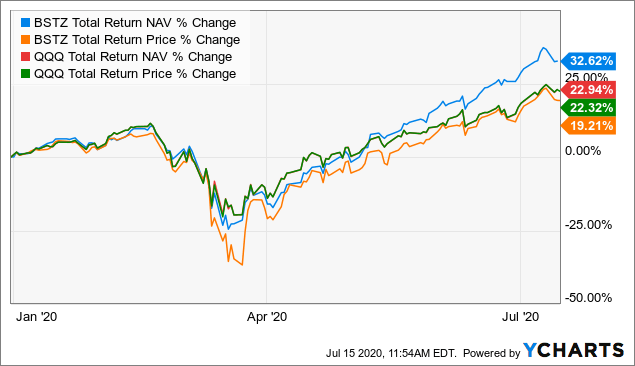 This is because while QQQ is invested in generally larger-cap tech holdings – BSTZ has a focus on some of the smaller names. These have been generating these strong, attractive returns for shareholders.
The fund currently has $2.099 billion in managed assets. Considering the fund launched last year with $1.4 billion in assets, I would say they are doing remarkably well. Of course, no one could have known the tear that tech would take after noseriding early in 2020 due to the pandemic.
The fund charges an acceptable 1.36%. Though this is higher than some of their other covered call funds. This has to do with the additional time and investment it takes to deploy capital in smaller-cap names and even private investments.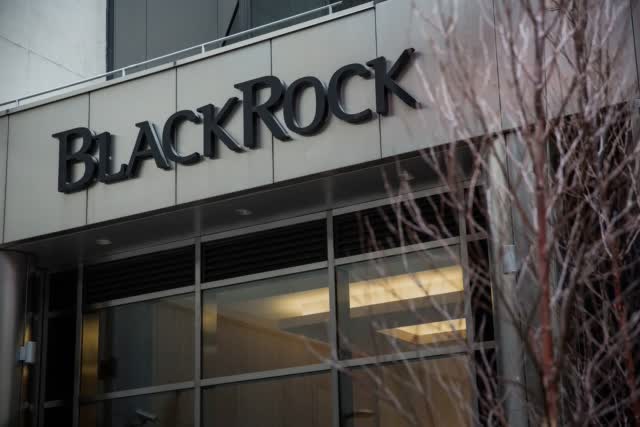 (Source)
Performance
As we touched on above, BSTZ is having a phenomenal year. On a YTD basis, the fund has a total NAV return of 32.62%.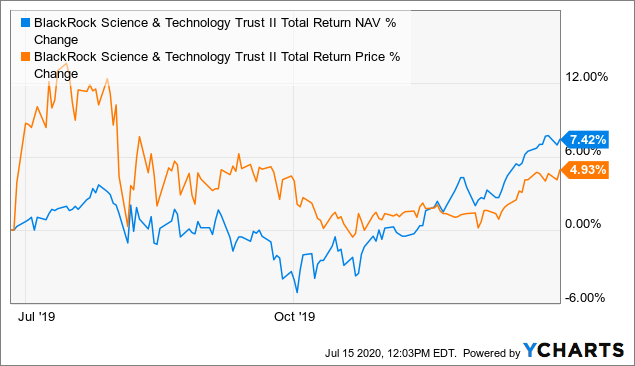 This was on the back of 2019, the year the fund launched, having a decent year already. Right off the bat, we did see the market price rocket higher as BlackRock already has another tech fund. The BlackRock Science and Technology Trust (BST) trades remarkably close to par level – even touching premium levels on occasion. In fact, BST's 3-year average is a premium of 1.88%. That is likely what caused the euphoria for this second launch.
Now, the opposite has happened. The fund can't seem to get any notice from investors as its NAV has rocketed higher for the year. The discount has just expanded further and further as the underlying portfolio has been on fire. The current discount comes in at a whopping 11.31%. This is while the past year has averaged a discount of only 3.19% as well.
This is exactly what CEF investors want to see, NAV rising strongly to create a discount. Additionally, as a term structure fund, we can look to capitalize on any discount that appears – this is generally more important when we get closer to liquidation date. So, in that case, we do have quite a while for that to happen.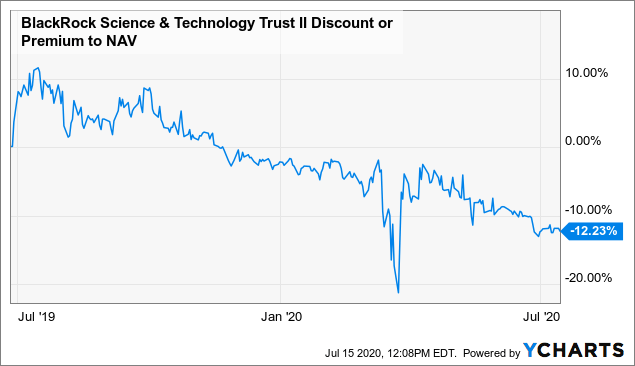 Distribution
One reason that his fund might not be getting love from the CEF crowd could be due to the fact that it "only" yields 4.84%. On a NAV basis, this works out to what would be a paltry 4.29% in the CEF world. To get that low, we usually would have to go to the municipal bond CEFs. (And even in that case, the tax-equivalent yields are even higher.)
With that being said, the fund does pay on the attractive monthly schedule. The current monthly amount is $0.10 per share. This has been the same rate the fund has had since it launched. Again here though, just like the fund's discount going deeper and deeper – the fund's yield has been going lower and lower as well due to its price appreciation.

(Source – CEFConnect)
That is why it might not be that attractive for income investors and one of the reasons behind its widening discount. However, BlackRock isn't afraid to increase distributions or pay out special year-end distributions if need be. Ultimately, we could be setting up for some attractive year-end distributions – barring any collapse in pricing which we can't rule out completely at this time, but consider the past of BST's distributions as a potential guide.
In that case, BST paid out a special distribution of $1.8507 last year. They also increased their distribution heading into this year. The fourth raise this fund had since launching in late 2014. Further, this fund could be due for an increase again as that fund is at only a 4.98% distribution rate as well.

(Source – CEFConnect)
Another area that can make it concerning for income investors is the lack of NII the fund can generate. As primarily a tech-focused fund, we will rely heavily (even almost completely) on capital gains to fund its current rate. There is no way around it and someone is lying if they suggest otherwise. If the gains stop – so do these attractive monthly payouts.
In this case, BSTZ generates negative NII as reported at the end of 2019. We should be seeing an updated Semi-Annual Report within a couple of months or so.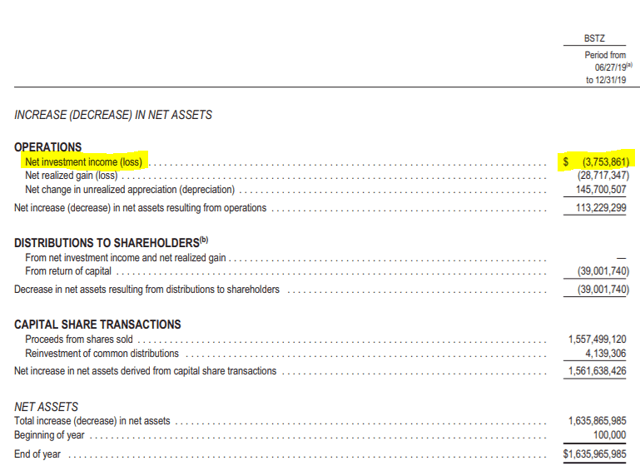 (Source – Annual Report)
We can also see that the fund was able to take advantage of its sharp upward price at launch by raising some cash from the reinvestment of distributions. Unfortunately, it was short-lived as the fund came back down to discount levels. This can be a positive, though, as shares reinvestment above NAV is accretive to current shareholders. In fact, it can be a source for funds being able to continue paying out the same level of distributions for a bit longer if the premium is around long enough.
For prior, short-lived, tax year for BSTZ – the fund reported all return of capital as its source of distribution. This is likely because they did not sell any of their portfolio holdings to turn it into realized capital gains. Additionally, the fund reported very little in the way of income, so they didn't have to classify any of that as a source either. Overall, this wasn't a concern as the fund had returned a positive total NAV return.

(Source – Annual Report)
Holdings
It is important to mention that BSTZ does have some private investments. These would be put under the classification of level 3 assets. In this case, sometimes it is difficult to put a true value on these assets. In this case, BlackRock being the world's largest asset manager I believe gives them credibility. They are also not invested in a sector like energy, where it can be extremely difficult right now to find a buyer for their assets. Essentially, I don't have a fear that BlackRock couldn't turn around and sell their underlying private investments for what they say they are valued at.
At the end of 2019, this accounted for $120,973,745 in assets. Total assets at that time were $1,719,630,196. This means that around 7% of the fund's assets were in these level 3 investments. This was much under their expected target of around 25%. From their Prospectus:
"Under normal market conditions, the Trust currently intends to invest up to 25% of its total assets, measured at the time of investment, in such securities. The Trust expects certain of such investments to be in "pre-IPO securities," which are securities of new and early stage companies, often funded by venture capital, whose securities have not been offered to the public and are not publicly traded."
Since the end of 2019, the fund has given an update at the end of March. At that time, they had expanded these private placement investments to 12.5% or about $194 million in assets. This has likely increased again.
It is also important to note that the fund only holds 57.70% of its investments in the U.S.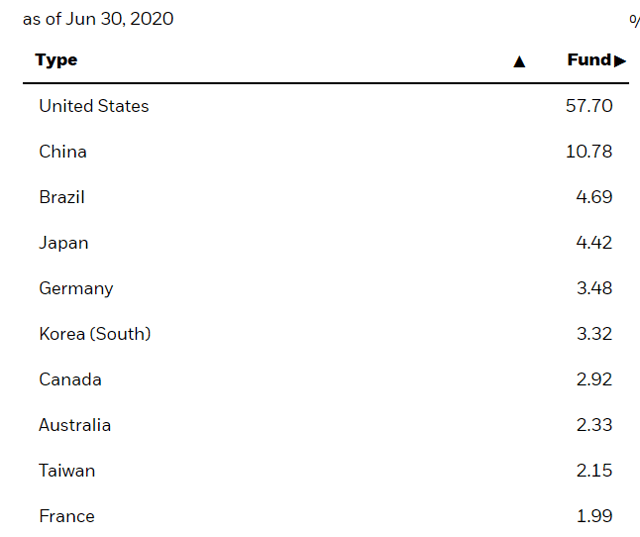 (Source – Fund Website)
This could mean an increase in the volatility of the fund as well. That is on top of the volatility in the tech space already. Even furthering the volatility more, is the fact that the fund is invested only 56.69% in what is considered large-cap investments.

(Source – Fund Website)
That being the case, this investment is more for aggressive investors. I wouldn't suggest that someone with a short-term horizon start putting all their eggs in this basket. An investor could likely see a bumpy ride for the rest of 2020 – as we have already seen thus far. Though, this is the exact place that longer-term investors can look to benefit from as these are where growth is going to come from in the form of capital appreciation. For CEF investors, this can also mean boosted distributions over time too.

(Source – Fund Website)
Finally, we can take a look at the fund's top ten holdings. As far as tech plays go, it is no wonder that Tesla Inc (TSLA) does constitute its largest position. As an electric vehicle maker, they are at the forefront of a technological revolution. While their value does appear to have gone parabolic, it is important to consider that it isn't BSTZ's only position. It makes up a 2.3% allocation. There are another 102 positions that make up their holdings. With the parabolic share price appreciation in TSLA, the position did go from a 1.75% allocation to that current 2.3%.
At the end of 2019, BSTZ held 51,796 shares of Tesla worth $21,667,821 million. That was an even lower allocation of 1.3% to the name. However, extrapolating this out now by the last price of TSLA at $1,498, we arrive at a $77,590,408 position. At that level, we would be looking at a 3.7% allocation. So, BlackRock is doing exactly what they should be doing and taking profits! Another quick way of doing this would be to consider that TSLA has had a 250%+ return YTD, but it hasn't doubled its position in BSTZ in that time. That is the quick estimate way of looking at it. It isn't perfect as other positions are also moving around too.
So, while TSLA has been fueling BSTZ higher – they have been profiting from it and locking in those gains.
Though, that isn't the only parabolic stock. Shopify Inc. (SHOP) has also been a rocket, which as the pandemic has raged on only makes sense as an e-commerce platform.
Then, we also have Twilio Inc. (TWLO), which exploded higher too. This is a communication cloud-based service that is essential in this "work from home" era.
While it is concerning just how much the fund's underlying holdings have exploded higher, the tailwinds are still their propelling them higher. Additionally, the fund is locking in these profits as they should be. Hopefully, they are being sensible and moving them to areas that are showing much more value at this time.
Conclusion
BSTZ isn't necessarily the income investor's dream fund. However, the growth potential for this fund is huge in the capital appreciation department. As they take profits in their explosive portfolio, it could also indicate a large year-end special may need to take place. That is on the back of their historical increases they have been able to put in place for growing BST's distribution. So, while not a stunning yield of a fund currently, the 5% is still attractive for a tech-focused play. This is especially true as the fund holds relatively smaller tech companies that don't pay any dividends at all.
With all that being said, I am quite bullish on the fund throughout the remainder of 2020 due to the tailwinds. However, it doesn't come without some severe risks that we could easily turn the other way during a sell-off. This is especially true as many of the fund's underlying positions have doubled or tripled.
Starting by buying a portion of a position now might make the most sense. That way you can participate in any upside, while you will still be able to participate in accumulating more in a sell-off if one should occur in the latter half of 2020. You are also getting paid monthly waiting for further buying opportunity. While 5% isn't the highest rate for a CEF, it certainly is quite attractive if you are looking at comparing it to other investments on the market.
Profitable CEF and ETF income and arbitrage ideas


At the CEF/ETF Income Laboratory, we manage ~8%-yielding closed-end fund (CEF) and exchange-traded fund (ETF) portfolios to make income investing easy for you. Check out what our members have to say about our service.
To see all that our exclusive membership has to offer, sign up for a free trial by clicking on the button below!



Disclosure: I am/we are long BSTZ, BST. I wrote this article myself, and it expresses my own opinions. I am not receiving compensation for it (other than from Seeking Alpha). I have no business relationship with any company whose stock is mentioned in this article.
Additional disclosure: This article was originally published to members of the CEF/ETF Income Laboratory on July 15th, 2020.