On the whole, Broadcom (AVGO) continues to execute impressively despite the uncertain industry and macro backdrop. The company's competitive advantages in the semiconductor business are clear, but the potential of its software business remains underappreciated. Current valuation likely reflects skepticism around management's software M&A strategy, and therefore, execution on the software front will be key to a potential re-rating. Heading into fiscal 2021, the company appears primed for steady organic growth and a dividend increase, which would entail the dividend yield rising to (and perhaps beyond) the c. 4% level.
Overall Resilience Drives Q3 Outperformance
The recent quarter saw a broad-based beat, with revenue above consensus at up 1.4% Q/Q (+6% Y/Y), reaching $5.82 billion. The top line increase was largely down to at-home trends, along with strength in the semiconductor business. Relative to the low expectations, the resilient infrastructure software segment performance also contributed to the Q3 beat.

(Source: Q3 2020 Earnings Release)
Looking ahead, management is guiding toward a return to Y/Y growth in semiconductors, largely due to the iPhone 12 launch, which features richer RF and Wi-Fi content. With at-home trends also set to continue, wireless sales look set to outperform into Q4. The margin implications are less upbeat, with gross margins likely to remain flat as short-term margin dilution from greater Wireless contribution nets out the revenue growth tailwinds.
Wireless the Key Growth Driver Heading into Q4
The Wireless segment posted a c. 4% sequential decline in Q3, but this was largely due to a delay in the iPhone 12 ramp this year. With the ramp-up only set to begin in October, Q4 is set to see the full benefit, driving the 50% Q/Q guide for the wireless segment. On a Y/Y basis, the Q4 guide actually implies flat growth, but this is still above the historical trend of flat-to-down Y/Y.
There is a case, however, that wireless numbers could surprise to the upside, considering the strength in lower-cost iPhones and iPads in Q3, along with the meaningful increase in Broadcom content in the latest iPhone. Longer term, the introduction of 5G should drive a further increase in Broadcom's RF and connectivity content within the iPhone. Although potential macro headwinds in fiscal 2021 could weigh on sales of 5G units, any weakness in unit growth should be more than offset by the significant increase in content.
Networking Outlook Also Strong on Rising Cloud Adoption
Meanwhile, the networking business also continues to perform, posting 9% Q/Q growth on the back of overall cloud demand tailwinds, along with the rising adoption of its Tomahawk 3 and Trident 3 switch products. The Jericho 2 product also saw good traction in edge and core networks, supporting the steady segmental growth outlook.
Networking looks set for continued growth heading into fiscal 2021, as ASIC demand strength remains firm, and both the Tomahawk 3 and Jericho 2 chipsets gain traction amid the 200/400G networking upgrade cycle. With growth trends in cloud datacenter networking set to persist over the long run, Broadcom appears to be well-positioned to capitalize.
Rising Software Contribution Is a Long-Term Game Changer
The infrastructure software segment (ex-Brocade) remains largely stable, with CA revenue up 6% Y/Y, on the back of double-digit Y/Y bookings growth, and Symantec revenue at c. $400 million (flat Q/Q). Brocade, however, posted sequential declines, weighing on the overall segmental performance (-7% Q/Q).
| | | | | | |
| --- | --- | --- | --- | --- | --- |
| | Q3 '19 | Q4 '19 | Q1 '20 | Q2 '20 | Q3 '20 |
| Infrastructure Software Revenue | 1,140.0 | 1,200.0 | 1,667.0 | 1,715.0 | 1,602.0 |
| Q-o-Q growth | -19.3% | 5.3% | 38.9% | 2.9% | -6.6% |
(Source: Company Data)
Q4 is set to see an improvement, however, with guidance calling for infrastructure software revenue growth in the low-single digit range. Within the segment, Symantec is set to outperform, with top line guidance at +4% Q/Q. CA is also set to sustain its Q3 growth trajectory, with Brocade improving to flat Q/Q. Should Symantec continue to post steady gains, infrastructure software contribution is on track to reach c.30% of total revenue, which will likely be a game changer for the overall business. A shift toward a more predictable revenue stream, along with the higher-margin profile associated with software, will be accretive to the overall business and reduce dependence on product cycles.
Disproving the Skeptics on M&A
A look back at Broadcom's M&A track record highlights management's ability to continuously tap into new markets inorganically. Recall that in recent years, the company has acquired the likes of CyOptics, LSI, PLX, Emulex, Brocade, CA, and Argon, all of which have proven management's ability to not only drive growth but also extract synergies on the cost side. Assuming it can replicate its success with Symantec Enterprise, there is plenty of earnings growth potential to be unlocked.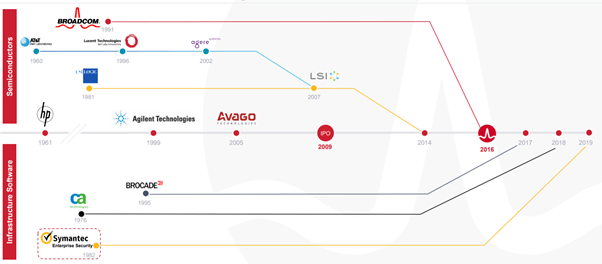 (Source: Symantec Transaction Presentation)
The rationale for the Symantec acquisition is simple – it adds a security product to the existing CA/Brocade platform, in the process, opening up a c.$160 billion addressable market in enterprise security. As things stand, Broadcom is on track to reap double-digit returns and unlock $1.3 billion in EBITDA at a 65% margin (c.9-10%pts greater than the overall margin profile in Q2). The synergy opportunity stands at $1 billion, but I would note the potential for an upside surprise here, should management successfully drive cross-selling opportunities or additional cost cuts.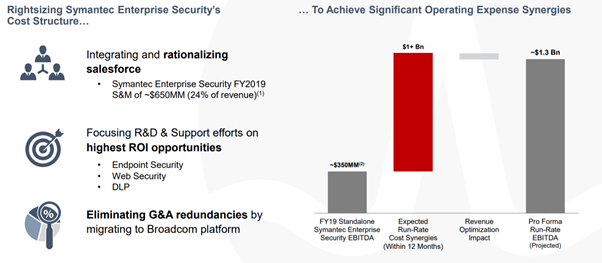 (Source: Symantec Transaction Presentation)
Room for a Dividend Increase
On a year-to-date basis, Broadcom has generated $8.4 billion in free cash flow (+21% Y/Y), with $11-12 billion in FCF likely for the fiscal year 2020 if the current growth trajectory sustains in Q4. Considering the company's prior calls to return 50% of free cash flow in the form of dividends, this would imply a dividend increase to >$14, which would, in turn, drive a yield of c. 4%. Admittedly, the balance sheet is levered, but barring any external shocks, Broadcom has plenty of headroom. Amid a low rate environment, a c. 4% dividend yield is a compelling proposition and will likely add more yield-focused dollars to the shareholder base.
Overall, I see plenty of positives in Broadcom shares. Skepticism around its M&A strategy has been an overhang on the stock for a while now, but this creates a low hurdle, and if management successfully executes on synergies at Symantec, I feel good about a potential re-rating.
Disclosure: I/we have no positions in any stocks mentioned, and no plans to initiate any positions within the next 72 hours. I wrote this article myself, and it expresses my own opinions. I am not receiving compensation for it (other than from Seeking Alpha). I have no business relationship with any company whose stock is mentioned in this article.