Blue Prism (OTCPK:BPRMF) forms part of a select group of companies which provide high-quality services in the IT Robotic Process Automation (RPA) field.
RPA aims to use software including AI features to automate repetitive tasks and contribute to improve efficiency in companies' business processes.
The company's revenues jumped 70% to reach £68.5 million ($90.8 million) during the first half of 2020.
Consequently, the stock price surged above the $20 level but has now somewhat dipped, creating a window of opportunity for buyers.
Figure 1: Blue Prism stock price evolution.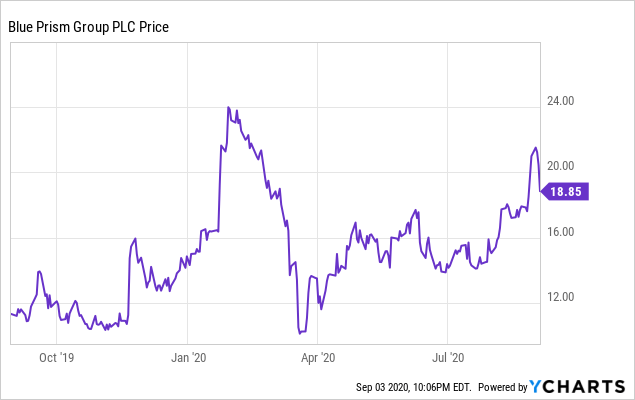 For investors who want to position themselves on the stock, I provide some insights as to the potential growth going forward as well as the competitive position. Moreover, Blue Prism being a high growth company, the expenses and accompanying risks also merit an analysis.
The demand for IT automation services
The need for more dynamic and scalable business models enabled by IT automation tools using software integration has always been there. However, it was implementation which was the problem and executives were daunted by projects going beyond forecast periods and budgets.
With new solutions developed by Blue Prism, this is no longer the case and the projects to automate tend to be business-led instead of having IT project leaders. The new automation tools include bots (software robots or programs) which tend to be adopted faster to facilitate repetitive work especially during periods of spikes in activity caused by COVID-19.
One specific sector which has extensively used the company's solution during the COVID-19 pandemic is banking. Now, the financial sector in general accounts for nearly 50% of the British company's customer portfolio.
Figure 2: Blue Prism automation platform

Source: blueprism.com
Also, by providing a solution with out-of-the-box AI capabilities, Blue Prism has brought a rapid and cheaper alternative to time-consuming development and complex integration work.
Looking further, the company's solution being available through a SaaS (Software as a Service) channel, customers are increasingly accessing the automation tools through the cloud.
I now shed light on the company's competitive strength.
Competition
First, there are different ways for companies to carry out automation, with some still choosing to build their own bots (software robots) from scratch or customize the open-source RPA tools available in the market.
For those who opt for purchase, there are commercial software vendors like Blue Prism who have been able to provide a solution providing faster route to productivity.
The recently updated Gartner cycle shows Blue Prism being into a superior position compared to Pegasystems (PEGA) and even Microsoft (MSFT).
Figure 3: Gartner-Magic-Quadrant for RPA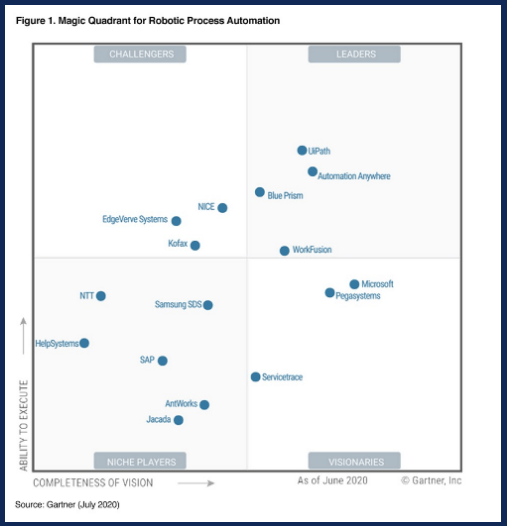 Source: Automation Anywhere Named a 2020 Magic Quadrant Leader for Robotic Process Automation
However, looking deeper into the Leaders quadrant, Blue Prism's RPA has been on the market for a longer time and should normally have been at the top right hand corner of the quadrant in front of the relative new-comers UiPath and Automation Anywhere.
Therefore, it is important to look deeper for reasons explaining this positioning.
According to some reviews on Trustradius, a technology review website, Blue Prism looks "a bit old fashion". Other reviewers however, claim that being an industry leader, clients are eager to buy Blue Prism as its process flow is very easy for a non-technical person to understand, in contrast with competitors which can be more complex.
Therefore, my take was that Blue Prism has a more mature technology, which, while not necessarily having a modern look and feel, delivers productivity.
Other reviewers also highlighted that Blue Prism was fairly high priced. Hence, I look at the churn (customer cancellations) as a possible indication for any future revenue shortfall being already aware that the company has just seen double-digits revenue growth.
Retention rate and revenues
Churn is a key indicator of the value of a SaaS company's product with a lower figure being better. For Blue Prism, after accounting for cancelled and delinquent accounts for the first six months of 2020, churn was at 2%, better than the 3% for H1-2019.
Moreover, Net Recurring Revenue (NRR) which measures the total change in recurring revenue from a pool of customers over time was 110%.
Figure 4: Monthly Recurring Revenue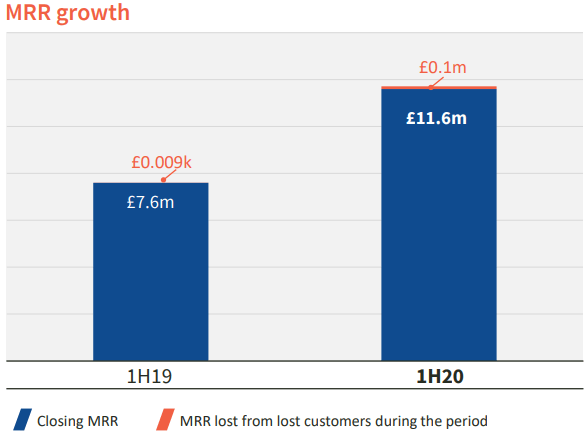 Source: investors.blueprism.com
This means that the company is not only managing to retain customers but also deriving more revenues from them. Therefore, it can be reasonably concluded that product pricing as highlighted by some reviewers on Trustradius has not been an issue.
Also, out of the $90.8 million obtained in the first half, 98% was of a recurring nature, consisting of recurring licenses and support revenues.
This can be viewed as more stable and predictable revenue source but expenses should also be considered.
Expenses
Compared to the first half of 2019, operating expenses for H1-2020 have increased by 40% which is on the high side. The bulk of this increase has been effected in sales and marketing which is now 55% of total operating expenses and these have to be controlled going forward as Blue Prism is currently loss-making.
Figure 5: Operating Expenses and risks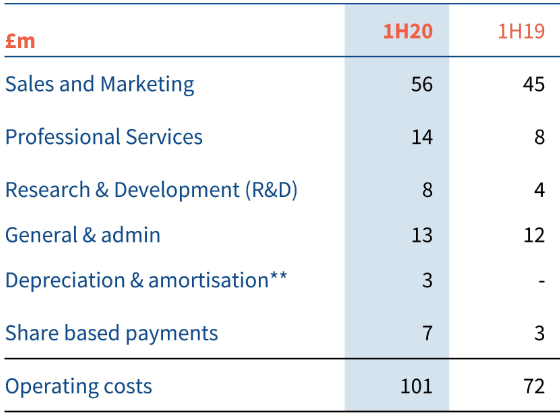 Source: investors.blueprism.com
According to the executives, sales and marketing expenses, the company does not intend to do any full-blown marketing campaign. Their strategy is to be more selective and proceed according to a well-defined plan.
Hence, increasing revenues while keeping cost in control should help the company achieve its commitment of reaching cash break-even in 2021.
On the other hand, I see R&D increasing due to the highly competitive nature of the IT automation sector with the software industry having a low-barrier to entry.
In this respect, Microsoft acquired Softomotive to expand its Automate solutions in May 2019 to include low-code robotic process.
Moreover, the pandemic negatively impacted bookings for the first half with about eight deals postponed into the third or fourth quarter with five having moved to fiscal year 2021. Only five deals out of the twenty originally planned were done in the first half.
Figure 6: Cash position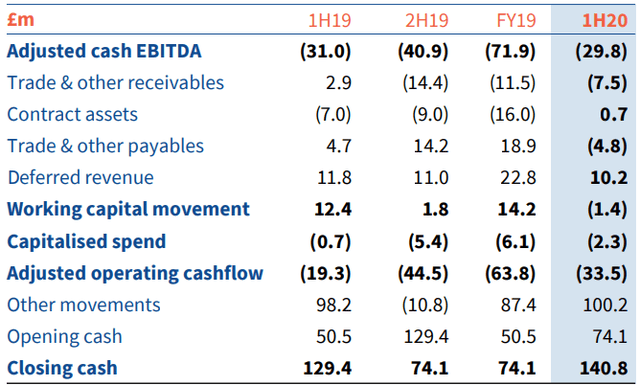 Source: investors.blueprism.com
Now taking into consideration that in April, before the pandemic, the company raised £100 million ($133 million) and this, before expenses with five major deals, the eight deferred deals have the potential to bring in roughly $176 million.
Thinking aloud, even if none of these materializes, there is potential for new deals. Interestingly, the market for RPA is scheduled to reach $6.8 billion by 2026 driven by cloud integration according to a study by Fortune Business Insights. This study was done during COVID-19 times on May 29 during this year with one of the companies mentioned being Blue Prism.
Therefore, being pessimistic, one of the potential risks is that companies as a result of restrictions in budgets concentrate on core IT systems like billing at the expense of automation.
This may result in further deferring of deals or even some slipping out of the pipeline in turn resulting in cash break-even point being delayed to 2022.
In this case, Blue Prism should have sufficient cash to weather the storm.
This is the case as the company closed its first half balance sheet with £140 million ($186 million) of cash and also given the fact that the software play spends an average of about £50 million of cash in capital and operational expenditures in one half.
Therefore, Blue Prism is in a strong position if the broader macroeconomic disruptions continue or even worsen.
Valuations and Key takeaways
Going back to Gartner's magic quadrant, out of the three other companies which share the top spot with Blue Prism is UiPath, a Romanian company.
It is preparing to list its shares under an IPO next year. After it recently raised a $225 million in a series E funding round, the company was valued at $10.2 billion.
Another one of the top companies, Automation Anywhere has raised approximately $850 million in venture capital funding from investors including Salesforce (CRM) Ventures, Workday (NASDAQ: WDAY) Ventures and SoftBank (OTCPK:SFTBY).
Therefore, significant changes are likely to come in the industry as a result of the IPO with interest already been shown by some of the big software plays.
For that matter, the revenue progression of Blue Prism at 78% is already a preclude as to the potential market dynamism as from 2021 in the software automation industry.
Hence, when compared to peers, the EV/Sales ratio of Blue Prism at only 10.15 is on the low side and it should be more in the 11.80 – 12 range considering the high level of growth and low level of debt.
Figure 7: Comparing Blue Prism and Pegasystems.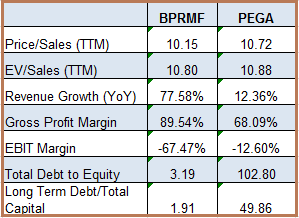 Source: Seeking Alpha
As a pioneer in RPA and one of the first to anticipate the fact that customers would be favoring the cloud and its associated subscription model as a means to deliver applications, Blue Prism is now adapting to the new environment.
As the first-mover, the British company is only spending 8% of total expenses as R&D to generate 78% of growth. Therefore, it has plenty of firepower to deal with the competition.
Also, on the safer side, that gross customer retention rate at 98% while being able to derive 10% more revenue from them means higher degree of customer loyalty and better pricing power respectively.
Therefore, Blue Prism is a buy at current levels with a price target of $20-21.
Disclosure: I am/we are long BPRMF. I wrote this article myself, and it expresses my own opinions. I am not receiving compensation for it (other than from Seeking Alpha). I have no business relationship with any company whose stock is mentioned in this article.
Additional disclosure: This is an investment thesis and is intended for informational purposes. Investors are kindly requested to do additional research before investing.