Without electricity, the air would rot.
– Ralph Waldo Emerson
September has been a rough month for investors and that volatility could easily continue through the election season. One area to look at to get a feel for market direction is the utility sector. I write about it extensively in the Lead-Lag Report as an indicator of short-term market direction. "The utilities sector was one of the few to outperform the S&P 500 last week, reinforcing the notion that defensiveness is taking over the equity markets right now. The fact that utilities outperformed even as growth was a market leader is a bit of a curiosity, but I'd bet that utilities are telling the right story here given that other defensive assets are confirming this move," as written in this week's Lead-Lag Report. Besides just owning the passive utility ETFs, there are other managed investments investors can look at to gain exposure to the utility sector. BlackRock Utility & Infrastructure Trust (BUI) is one of them.
BUI does not use leverage like most closed-end funds. BUI's strategy is much simpler, buying equities and writing options against them to enhance returns. The lack of leverage helped the fund during the market rout in March and is allowing the fund to outperform its peers year-to-date. In the current volatile market we are experiencing, less leverage is better for a smoother ride.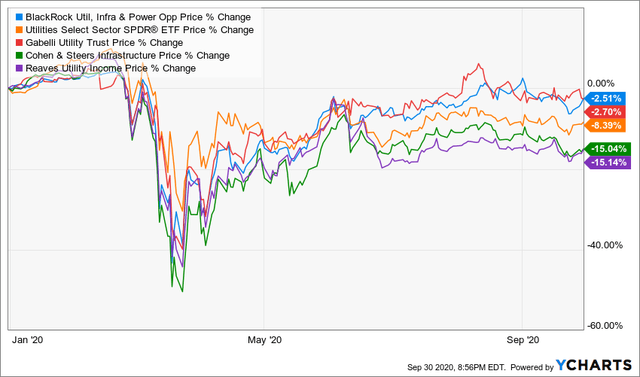 More than half of BUI's assets are in the utilities sector with the largest holding being NextEra Energy (NYSE:NEE), the US's largest power utility, at 8% of assets. NextEra has made headlines lately with its offer to buy Duke Energy (NYSE:DUK). But BUI is more than just a plain vanilla utility fund; it has 23% allocated to industrial names such as Waste Management, Waste Connection, and Kingspan Group PLC. BUI has started to allocate more to its "Power Opportunities" sector which encompasses companies that have a significant involvement in the renewable energy space, such as Vestas Wind Systems (OTCPK:VWDRY), EDP Renovaveis S.A. (OTCPK:EDRVF), and NextEra, which is the world's largest generator of renewable energy from wind and sun. GlobalData has recently released a report citing the growth of renewable energy throughout the world. "The rapid growth of renewables across the Latin American region has boosted its efforts in achieving a low-carbon economy and it is expected that this region will see renewables representing 67% of its energy mix by 2030." By having these different components in the portfolio, they have given BUI diversification to weather the Covid-19 downturn and set it in a direction of growth for the future.
Another benefit of BUI is its international exposure. The fund is almost evenly split between domestic and foreign assets, which is greater than its competitors. The international exposure has benefited the fund as Europe and Latin America have pushed ahead with renewable targets ahead of the US.
Ticker % Weight International
BUI 46%
GUT 17%
UTF 33%
UTG 5%
BUI is a closed-end trust, meaning a fixed number of shares available to investors as opposed to a mutual fund or exchange traded fund that is continuously offering new shares. According to Morningstar.com, BUI has traded at an average premium to its NAV of 1.64%. BUI is currently at a slim premium of 0.28%. This makes the trust attractive given the recent historical premium. BlackRock also just announced the continuation of a share buyback program of up to 5% of shares outstanding for BUI. This will also give the fund support and potential price appreciation.
The fund has a distribution rate of 6.7%, which is the lowest of the four funds but has been able to produce the greatest total return this year. Sometimes we have to look beyond a high distribution rate for the stability of steady earnings and minimal leverage.
*Like this article? Don't forget to hit the "Follow" button above!

Subscribers told of melt-up March 31. Now what? 
Sometimes, you might not realize your biggest portfolio risks until it's too late.
That's why it's important to pay attention to the right market data, analysis, and insights on a daily basis. Being a passive investor puts you at unnecessary risk. When you stay informed on key signals and indicators, you'll take control of your financial future.
My award-winning market research gives you everything you need to know each day, so you can be ready to act when it matters most.
Click here to gain access and try the Lead-Lag Report FREE for 14 days.
Disclosure: I/we have no positions in any stocks mentioned, and no plans to initiate any positions within the next 72 hours. I wrote this article myself, and it expresses my own opinions. I am not receiving compensation for it (other than from Seeking Alpha). I have no business relationship with any company whose stock is mentioned in this article.
Additional disclosure: This writing is for informational purposes only and Lead-Lag Publishing, LLC undertakes no obligation to update this article even if the opinions expressed change. It does not constitute an offer to sell, a solicitation to buy, or a recommendation regarding any securities transaction. It also does not offer to provide advisory or other services in any jurisdiction. The information contained in this writing should not be construed as financial or investment advice on any subject matter. Lead-Lag Publishing, LLC expressly disclaims all liability in respect to actions taken based on any or all of the information on this writing.