One of the most disappointing stocks that I've covered in this market in recent years has been technology company BlackBerry (BB). Despite multiple acquisitions that have used up almost all of the company's cash, and several supposedly high interest technology products/services under its belt, the stock has been hit hard under CEO John Chen's leadership. Next week, the company is set to report its fiscal Q2 numbers, and it is time that this name finally shows it is worth investors' attention.
BlackBerry will report its results on Thursday, September 24th, before the market opens. Current estimates call for the firm to report non-GAAP revenues of $239.83 million, a decline of more than 8%, with non-GAAP EPS of 2 cents as compared to break even in the prior year period. The company has missed top line estimates in three of its last four quarters, while beating bottom line figures every quarter for the past several years.
BlackBerry's most recent acquisition of Cylance does not seem to be doing well. In the latest earnings report, management didn't even break out its results in the earnings release, and key statistics up to that point had been looking bleak. This was the deal that was supposed to cement BlackBerry's growth revival, but it definitely seems to be more of an anchor now, and contributed to the massive goodwill impairment charge that was taken. Meanwhile, take a look at what Cylance competitor Crowdstrike (CRWD) has done in its recent quarters:
Q4: Fiscal Year 2021 forecast has revenue of $723.3 million to $733.5 million, above street consensus of $679.62 million.

Q1: For fiscal 2021, Crowdstrike now sees revenues of $761.2 million to $772.6 million.

Q2: Company raises its Fiscal Year 2021 revenue outlook to $809.1 million to $826.7 million, above consensus of $772.72 million.
BlackBerry revenues are forecast to decline by more than 13% during its fiscal year. On the flip side, Crowdstrike is forecast to see its top line surge by more than 70%, and that's likely before even more guidance raises. In fact, looking forward to their respective next fiscal years, Crowdstrike is expected to surpass BlackBerry in total annual revenues. In fiscal 2018, Crowdstrike had less than $119 million in yearly revenue, and now we're only about a year away from it passing BlackBerry, a company that once had $20 billion in total revenues per year.
I'm sure next week's conference call will also see some questions about BlackBerry's latest bond deal. Management previously said it would be repaying its notes due this November, which is fine, and there was plenty of cash on hand to do this. However, why did the company turn around and then announce it was going to borrow $535 million, only to cut the deal to $365 million? The new deal featured an equity conversion price 40% lower than the past bond issuance. BlackBerry's balance sheet was just fine, so adding debt again seems curious unless management is looking for another acquisition or will start a meaningful share repurchase program.
BlackBerry investors don't want to see just another adjusted earnings beat, one that takes out key expenses like stock based compensation. They are tired of seeing revenues going nowhere, as in the most recent quarter where they tied a new quarterly low under CEO John Chen. GAAP revenues have not topped $300 million in any period in the past four years, and analyst estimates don't see this level being topped for another two years or more. This is likely a key reason why over the past three years, institutional ownership of this stock has gone from the low 60% area to the high 40% area.
On Monday, BlackBerry shares closed a few cents below their 50-day moving average. If they don't get above this key technical level after the earnings report, there likely will be more selling pressure moving forward. While many tech names have surged to valuations in the tens or even hundreds of billions with very little revenues, BlackBerry cannot even get its market cap to top $3 billion currently. As the chart below shows, shares have lost nearly a quarter of their value since John Chen was named interim CEO, while the NASDAQ index is up more than 167%.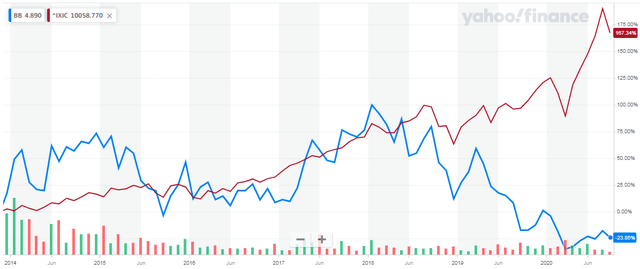 (Source: Yahoo! Finance)
In the end, it is time for BlackBerry to step up to the plate and finally deliver. Competitors like Crowdstrike are growing at tremendous rates, with their share prices being rewarded as such, while BlackBerry is having trouble showing any growth at all. With less than two months to go from John Chen marking 7 years at the helm, investors are definitely losing patience, and that needs to change soon.
Disclosure: I am/we are long TECL. I wrote this article myself, and it expresses my own opinions. I am not receiving compensation for it (other than from Seeking Alpha). I have no business relationship with any company whose stock is mentioned in this article.
Additional disclosure: Author currently long TECL, which has some exposure to CRWD. Investors are always reminded that before making any investment, you should do your own proper due diligence on any name directly or indirectly mentioned in this article. Investors should also consider seeking advice from a broker or financial adviser before making any investment decisions. Any material in this article should be considered general information, and not relied on as a formal investment recommendation.