In a classic American tale of starting little and building an empire, the B&G brand was founded in 1889 by the Bloch and Guggenheimer families, immigrants who came to America seeking a better life. They began by selling pickles in the streets of Manhattan.
Over 130 years after those humble beginnings in NYC's lower East side, B&G Foods (BGS) is now a major food industry corporation, with a $1.76B market cap, which owns many other iconic brands, such as Cream of Wheat, Green Giant, Ortega, Mrs. Dash, Durkee, and Polaner, to mention just a few.
Years ago, we owned BGS's equity note, which had an attractive yield, but, alas, BGS redeemed it, so we lost touch with the company for a while. Its common stock's dividend yield never seemed to trigger our interest quite enough to jump aboard.
But then came the COVID crash of 2020, and suddenly, those everyday staple brands weren't so stodgy. With most Americans now sheltering in place at home, and wary of empty grocery shelves, folks began buying BGS's products like never before.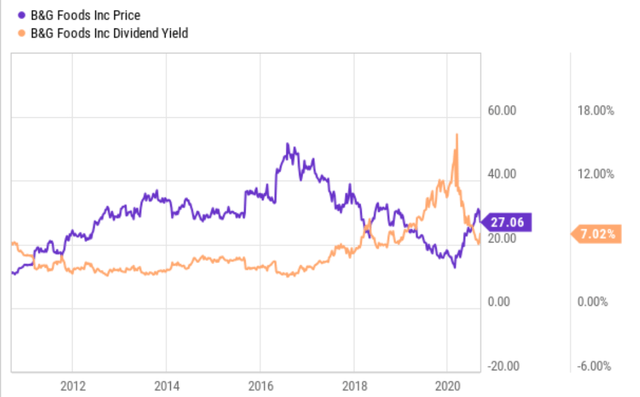 BGS sank as low as ~$10.39 at the March market lows, but once those shoppers started hoarding basic food items, it didn't take too long for the market to start propelling it into the high teens. It eventually rose to nearly $32.00/share in late August, before pulling back over the last 2 weeks to ~$27.00: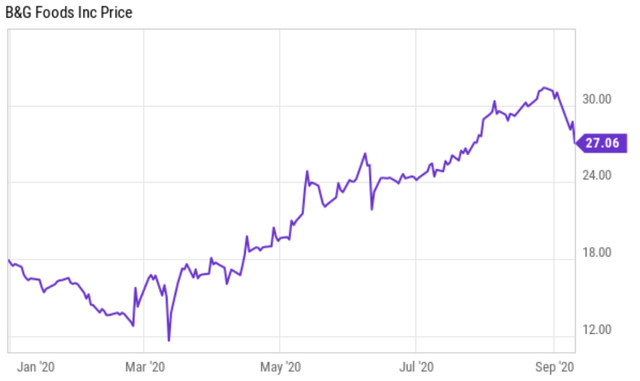 BGS's price performance has trounced the market over the past year, quarter, and so far in 2020, but it's down ~-6% over the past month, joining many other 2020 outperforming stocks:

Earnings
BGS's 2019 revenue, Adjusted EBITDA, and Adjusted EPS were flattish, while its Net Income was up against a tough comp, which included a $176.4M gain from its Pirate Brands divestiture in the fourth quarter of 2018.
Flash forward to Q1-2 2020 – a new world – the COVID environment, and BGS put up growth numbers that'd be the envy of many a tech startup, with Revenue up ~23%, Net Income up 1-8%, EBITDA up 25%, and Adjusted EPS up 43%. As Yosemite Sam used to say, "There's gold in them thar pickles!"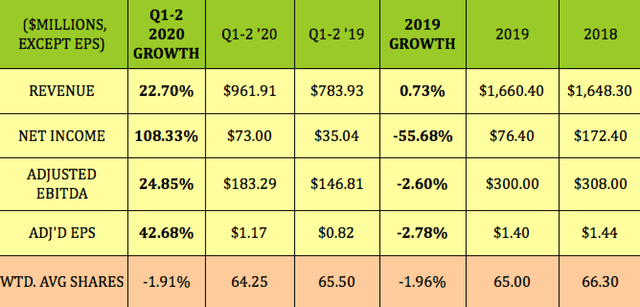 Q1-2 2020 Adjusted Net Income and EPS had fewer adjustments than Q1-2 '19, netting out to $2.26M, ~3% of plain vanilla Net Income.
(BGS site)
Financials
While its ROA, ROE, and EBITDA Margin all look better than packaged food industry averages, it appears that BGS has higher leverage, with a Debt/Equity ratio of 2.3X, vs. an industry average of 1.16X.
While we don't have industry comps for Net Debt/EBITDA, a quick look at industry giants Campbell Soup (NYSE:CPB) and Conagra (NYSE:CAG) shows them having leverage in the ~3-4X range, vs. ~5X for BGS.

Valuations
Even after its big run up in 2020, BGS looks undervalued vs. industry averages on a trailing P/E, Price/Sales, Price/Book, and EV/EBITDA basis. Additionally, its 7% dividend yield stands out, in an industry not known for high dividend yields.

Analysts' Price Targets
BGS's performance attracted the attention of 3 research houses this summer, who all initiated coverage in June and July, albeit with neutral ratings:

At $27.06, BGS is ~even with analysts' lowest price target of $27.00, while being ~7.7% below the $29.33 average price target, and 12.7% below the $31.00 highest price target:

Dividends
Management already declared the Q3 2020 distribution, maintaining the regular $.475/share payout, as they have since Q2 2018. The Adjusted EPS Dividend Payout ratio is 54.94%, and the 5-year dividend growth rate is 6.92%.
BGS pays and goes ex-dividend in a March/June/Sept./Dec. schedule.

Taxes
BGS issues a 1099 at tax time.
In 2019, ~92.48% of BGS's distributions were treated as Return of Capital, ROC, with the balance treated as a taxable dividend. ROC can be useful as a tax deferral strategy, but be aware that it reduces your tax basis.

(BGS site)
Options
If you're leery of autumnal market jitters, you can harness volatility and hedge your bet by selling covered calls. This strategy will give you another income stream, via the call option premiums, which are often higher than the distributions you'll collect during the same period. Investors can use covered calls to enhance or even replace their dividend income, which can be helpful during times of widespread dividend cuts.
The downside of the covered call strategy is that it limits the upside capital gain potential, which is capped at the difference between your cost/share and the call strike that you use. However, you'll know your exact potential capital gain, before you make the trade, vs. the uncertainty of not knowing in a straight stock purchase.
BGS's January 2021 $30.00 call strike pays $1.20, a bit more than the 2 quarterly dividends totaling $.95, which go ex-dividend in late September and December.

This table details the 3 main profitable scenarios for this trade: Static, Assigned before both ex-dividend dates, and Assigned after both ex-dividend dates.
In a Static scenario, your profit would be $2.25, which = 10.86% in just over 4 months, or ~24% annualized.
If your shares get assigned prior to the ex-dividend dates, your total profit would be $4.24, a 15.67% return.
The trifecta would occur if somehow your shares were to be assigned after both ex-dividend dates. Your profit would be $5.19, for a 19.18% return in just over 4 months.

Conversely, if you want to "get paid to wait," and earn a lower break-even, BGS's January $25.00 put strike pays an attractive $2.10, giving you a break-even of $22.90, which is ~18% below analysts' lowest price target of $27.00.
NOTE: Put sellers don't receive dividends. Our options tables use annualized yields so that subscribers can compare trades of varying lengths.
Both of these January trades have a tax deferral advantage. If the trades aren't terminated in 2020, they'll either expire or be closed in 2021, and the taxes on your profit won't be due until April 2022.
You can see more details for these 2 trades on our free Covered Calls and Cash Secured Puts tables.

All tables by DoubleDividendStocks.com, except where otherwise noted.
Our Marketplace service, Hidden Dividend Stocks Plus, focuses on undercovered, undervalued income vehicles, including dividend stocks, bonds, preferreds, CEF's and special high-yield situations.
We scour the US and world markets to find solid income opportunities with dividend yields ranging from 5% to 10%-plus, backed by strong earnings.
We publish exclusive articles each week with investing ideas for the HDS+ site that you won't see anywhere else.
We offer a range of income vehicles, many of which are selling below their buyout and redemption values.
Disclosure: I am/we are long BGS. I wrote this article myself, and it expresses my own opinions. I am not receiving compensation for it (other than from Seeking Alpha). I have no business relationship with any company whose stock is mentioned in this article.
Additional disclosure: Our DoubleDividendStocks.com service features options selling for dividend stocks.
It's a separate service from our Seeking Alpha Hidden Dividend Stocks Plus service.
This article was written for informational purposes only, and is not intended as personal investment advice. Please practice due diligence before investing in any investment vehicle mentioned in this article.