On balance, I am incrementally more cautious on the prospects for a Baidu (BIDU) recovery following a review of its Q2 report, even with cost-cutting efforts guided to continue into the second half of the year. Not only is top line guidance weaker heading into Q3, but the ongoing SEC investigation into iQIYI (IQ) also presents a key unknown for investors. As a result, I don't see Baidu shares re-rating anytime soon. Additionally, the company's advertising revenue continues to come under pressure from live broadcasting platforms, and therefore, I am increasingly concerned about whether core Baidu can sustain its earnings power. Admittedly, the tripling of its repurchase authorization ($3 billion from $1 billion) does help the near-term case. But considering the challenged fundamentals, I am cautious on Baidu shares at present.
Q2 Report Reveals a Cloudy Advertising Outlook
Amid ongoing declines in China's online advertising space, Baidu Core's revenue disappointed, decelerating further to -3.1% Y/Y in Q2. This largely reflected weakness in key COVID-19-hit sectors like travel and often education, in addition to competitive pressures.

(Source: Baidu Form 6-K Filing, Q2 2020)
The H2 guidance was also weak at -7% Y/Y (at the lower end of the guidance range), reflecting further expected weakness in China's advertising market. Beyond COVID-19, macro and industry-level headwinds such as geopolitical frictions between the US and China, along with the recent entry of Tencent (OTCPK:TCEHY) (via Sogou (SOGO)) into the market also weigh on the outlook. Tencent's strategy remains unclear at this juncture, but if Sogou were to be integrated into WeChat search, for instance, I am concerned that Baidu Core's revenue base could become increasingly pressured.
Building Out the Baidu Ecosystem
I do, however, like that the company is focused on building out an ecosystem – Baidu App continues to gain traction, with daily average users (DAU) reaching 204 million in Q2. In-app revenue has also been strong, growing double digits and contributing over half of search and feeds revenue. Baidu's entry into mini-programs managed page strategies and Baijiahao (BJH) also represent positive steps.
Engagement has been strong thus far, with approximately two-thirds of users logging on a daily basis, driving 52% Y/Y growth in the number of BJH accounts and Smart mini-programs. Specifically, it's smart mini-programs have reached 339 million monthly active users (MAUs), while total publisher accounts on BJH reached 3.4 million as of end-Q2. The scale effects of Baidu's platform are invaluable – with easy sharing of content across Baidu App, Haokan, and Baidu's full set of knowledge products, more original content creators will be incentivized to participate in the ecosystem, driving a more sticky user base. Going forward, the gains will be twofold – increased in-app revenue contribution should lower traffic acquisition costs, which would otherwise have been used to promote the Baidu app.
I am also encouraged by the range of monetization opportunities available to tap into beyond just selling user traffic. For instance, the increasing mix of video advertising opportunities and the expansion of content and features within the mobile ecosystem should improve advertisers' ROI and, in turn, boost core search revenue going forward. Nonetheless, I would still be wary of the increasing competitive intensity within China's online advertising market as more key players shift their focus back toward the domestic market in reaction to headwinds overseas.
Emerging Cloud and AI Growth Engines
Other notable growth drivers include Baidu's cloud business, which contributed over RMB 2 billion in revenue in Q2 (+25% Y/Y), along with AI initiatives such as smart devices and transportation, which registered double-digit Y/Y growth numbers for the quarter. In June 2020, DuerOS monthly voice queries on Xiaodu devices almost doubled to 2.8 billion, while the number of DuerOS monthly voice queries reached 5.8 billion (+57% Y/Y).
Both AI and Cloud add to Baidu's ability to offer closed-loop value-added services for advertisers (in addition to live streaming, transaction, and mini-programs), which could help offset future declines in the core advertising business.
Post-Q2 Outlook Appears Bleak for iQIYI
Meanwhile, iQIYI posted a largely positive Q2, with revenues up 4% Y/Y and margins well above expectations, driving non-GAAP diluted EPS of RMB 1.96. The beat was largely attributable to limited content cost inflation at +2% Y/Y, with management likely implementing a more selective approach toward content launches for the quarter. This was supported by the fact that content distribution revenues rose 66% Y/Y, pointing toward more content being sub-licensed (rather than aired).

(Source: iQIYI Quarterly Press Release, Q2 2020)
The guidance was, however, a weak point – revenue is set to range between RMB 6.95 billion to 7.4 billion (-3% Y/Y at the midpoint). This indicates a protracted slowdown ahead as more people return to work and spend less time watching shows online. Q3 also represents a short summer holiday for students – a key negative for viewership. Last but not least, SEC investigations into the company are still ongoing. Per management, the SEC is still seeking financial and operating records related to certain acquisitions and investments identified in the short-seller report in April 2020. Pending the results of an internal review led by the audit committee, I would be very cautious on this front going forward.
Narrative Shifts to Cost Control
If there was anything positive to be gleaned from Baidu Core's Q2 report, it was its margin improvement – non-GAAP operating margins rose to 34% (up from 22% in 1Q). The expansion was largely the result of an ROI-focused approach to traffic/user acquisition campaigns. As a result of the company cutting spending on traffic acquisition from external channels, operating expenses fell 9.4% Y/Y, in turn, boosting the non-GAAP net margin to 20% for the quarter.
In the face of a weak advertising environment in China, I am encouraged by management's efforts in cutting spending over the last year, which has supported earnings growth over the past few quarters. However, the sustainability of these efforts is in question. As Baidu approaches the one-year mark of its cost-cutting efforts, room for incremental spending cuts will likely prove limited going forward.
Nonetheless, management has guided toward continued margin expansion in the long run, on the back of increased productivity, in addition to more cost control efforts and narrowing losses in its emerging businesses such as AI. However, I am skeptical of its ability to sustain growth without further spending. For instance, management is already guiding toward higher marketing expenses in the second half of the year as promotional activities ramp up amid a challenging economic backdrop. Additionally, incremental investments into mid-form video (iQIYI Suike) and international expansion could drive costs upward as well.
Triple the Repurchases
On the bright side, the company is cash-rich – Baidu returned c. $540 million to shareholders under its 2020 repurchase program in Q2 alone. The prior authorization for the program stood at $1 billion, but this has been tripled to $3 billion and will be effective to December 2022. The expanded repurchase program is timely, considering the iQIYI overhang, and should go some way towards helping soothe investor concerns in the meantime.
Challenged Growth Outlook Justifies Lower Multiple
Baidu shares trade at c. 16x 2021 earnings, which is significantly lower than its peers, such as Alibaba (BABA) and Tencent at c. 30x and c. 41x, respectively. But I would argue the multiple is fair considering Baidu's slower growth outlook and the uncertainty around the iQIYI investigation. While the increased repurchase authorization does help the near-term case, I remain firmly on hold in light of Baidu's challenged fundamentals and pending clarity around iQIYI.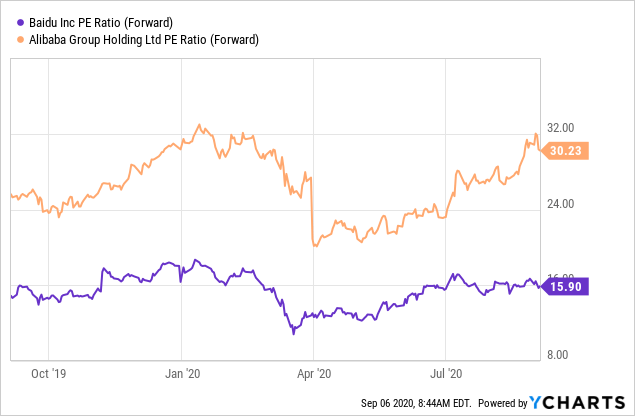 Disclosure: I/we have no positions in any stocks mentioned, and no plans to initiate any positions within the next 72 hours. I wrote this article myself, and it expresses my own opinions. I am not receiving compensation for it (other than from Seeking Alpha). I have no business relationship with any company whose stock is mentioned in this article.