Introduction
It seems that AT&T (NYSE:T) shares have gone entirely out of fashion. Not here on Seeking Alpha, where several worth reading analyses about the company are published almost daily. With only one bearish, two very bullish, and six bullish ratings, the optimists dominate here. But as vivid as the discussions were held here at Seeking Alpha, the share price development was just as dull. After the COVID-19 crash, the share price gradually faded and has now been trading around the USD 30 mark for several months. AT&T did not take part in the hype rallies of Tesla (TSLA), Apple (AAPL), Microsoft (MSFT), and co.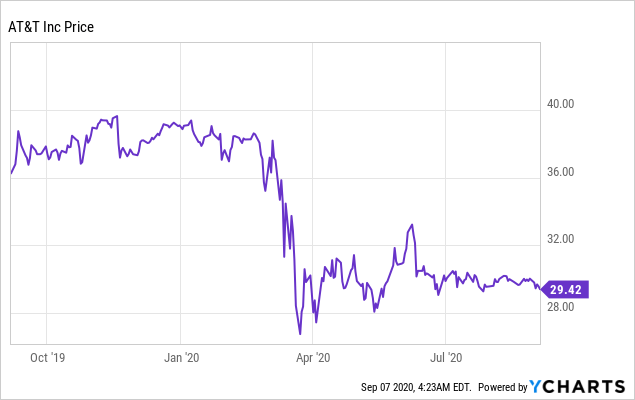 The former investment thesis
I have repeatedly pointed out the bullish catalysts that should help AT&T to keep shareholders happy in the long term, not only with dividends. 5G, mass content, advertising, insights into consumer behavior, and a goalkeeper position for all this content make AT&T a company on paper that has everything it takes to be a potential winner in the new data-driven world.
This does not mean, of course, that you can ignore the problems that the company carries with it. Total long-term debt of USD 161 billion, dwindling subscribers, and not always smart transactions from the past (DirecTV) still gnaw at the soul of investors. The investment thesis was that it would take a while before all these aspects blend, and AT&T can exploit synergies and grow as a global media company.
COVID-19 has worsened problems but left a somewhat safe dividend
Since the COVID-19 crisis, further problems have been added. For example, revenues suffered from lower sales in cinemas, production delays, and declining advertising revenues, particularly in the sports segment. Overall, AT&T's revenue dropped by almost USD 9 billion in the second quarter of 2019 to only USD 6.8 billion in 2020. In the future, growth in the business segments (Communications; WarnerMedia; Latin America) will also not increase noticeably).
After all, and luckily, the virus has not infected the safety of the dividend. The company currently distributes 57 percent of its free cash flow to investors as dividends, which is within a reasonable range. Even in the second quarter, which was strongly affected by the COVID-19 crisis, the payout ratio based on cash flow was only 49 percent. For the year as a whole, AT&T is expecting a payout ratio of just over 60 percent. Honor to whom honor is due: For such a time of uncertainty and problems, this is a great ratio. However, do not set the expectations too high. You should not expect a large dividend increase. In recent years, the average growth in dividends has been just 2 percent per year and has only just made up for the inflation rate. The argument at AT&T remains that the high dividend yield of currently 7 percent compensates for the small future increases.
Value discount on the one side still offers an opportunity
AT&T currently offers a high safety margin in this regard. In the view below, you can see the anticipated impact of COVID-19 on fair value, based on historical cash flow and historical adjusted profit. In the wake of the COVID-19 crash, the share price here is significantly below the fair value based on cash flow. Accordingly, there is currently not only a safety margin to the pre-COVID-19 time, but even if the effects of COVID-19 are continued.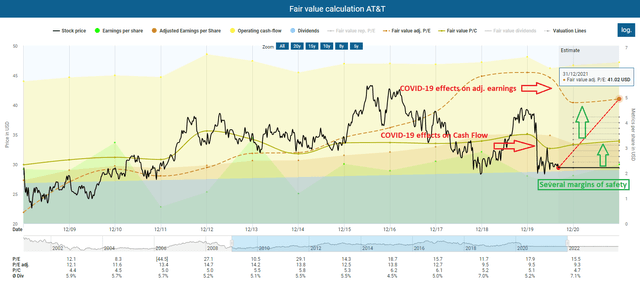 So, for long-term investors who believe in the bullish catalysts for AT&T, it looks like the company still offers a lot of value. So, if you have the courage to put shares into your portfolio when things are bad, you can be rewarded in the long term.
The head-scratching side
Accordingly, we have seen one side of the company that is somewhat more promising. The other side offers rather shadows and many reasons to scratch your head. Firstly, there were rumors that AT&T wants to sell the Warner Game unit. With a sale, AT&T could have earned approximately USD 4 billion. However, the company decided against a sale because the game segment was too valuable. I don't mind if AT&T turns over every stone to see if they can sell assets to overcome the massive mountain of debt. Precisely because we do not know how the COVID-19 crisis will develop in the next few quarters, such an assessment makes absolute sense. However, such considerations call into question the original USD 100 billion merger thesis, because the game unit is full of content owned by AT&T and closely linked to the movies, series, etc. Thus, a sale of this unit makes little sense from the perspective of the merger thesis from the beginning.
What made me think a lot more was the idea of selling the advertising business. I saw advertising business as a jewel, which from my perspective is quite promising in the long run – at least I thought so:
I would go even further and say that advertising could become AT&T's most valuable business. AT&T initially wanted to grow vertically and is now planning a horizontal explosion. Therefore, AT&T bought already existing users through vertical growth and plans to use this potential to create new sources of income. […] With its subsidiaries Xandr and Xandr Invest (the former Appnexus), AT&T provides marketers with advanced advertising solutions using valuable customer insights from AT&T's TV, mobile and broadband services, combined with the extensive ad inventory of WarnerMedia's cable networks and AT&T's pay-TV services. Xandr is making AT&T data available to buyers across all media types through AppNexus's demand-side platform (DSP). Given that, AT&T has a very big advantage here that many companies do not have. This is due to the combination of sell-side and buy-side demands within the advertising market. AT&T is able to address both of them in a unique way with its service portfolio. The resulting potential is promising for investors. This focus on the advertising business is already paying off. Advertising revenues across AT&T are more than USD 7 billion on an annualized basis. In Q1 2019, revenues of Xandr were up 26 percent. The EBITDA margin was 62 percent. Accordingly, AT&T's advertising business is highly profitable.
And now, AT&T wants to sell the business. Just to remind you, the crown acquisition for the Xandr advertising unit was the cloud company AppNexus for approximately USD 1.6 billion. That was just 2 years ago. What has changed since then? We do not know. The sale will not leave a big gap as the advertising business is still very small. Furthermore, the business was profitable and also growing strongly.

Source: Annual results 2019/table by author
Nevertheless, the fact that AT&T is thinking about selling two pillars of its merger thesis (part of the valuable content and the advertising business) makes me doubt the long-term strategy. If no perspective remains or is recognizable, then the present moves all the more into focus, and there, we also see little that is illuminating. Sinking subscribers, strong competition, high debts and the effects of corona – altogether, reasons to scratch your head cluelessly.
Conclusion
AT&T makes it difficult for me to maintain my original investment thesis. Let me be clear, I buy shares not because I think the price will rise, but because I want to be the owner of excellent companies and maintain this position in the long term. Therefore, I am patient. I can wait, but as such a long-term investor, I need a strategy that offers value.
Currently, I am missing such a strategy at AT&T. Fundamentally, the AT&T stock looks cheap. Operationally, however, things are not going well. Shortly, things will not be much better. With the latest developments, I am heavily scratching my head, which is why I am changing my bullish rating for AT&T to neutral.
AT&T is part of my diversified retirement portfolio. If you enjoyed this article and wish to receive other long-term investment proposals or updates on my latest portfolio research, click "Follow" next to my name at the top of this article, and check "Get email alerts".
Disclosure: I am/we are long T, AAPL. I wrote this article myself, and it expresses my own opinions. I am not receiving compensation for it (other than from Seeking Alpha). I have no business relationship with any company whose stock is mentioned in this article.