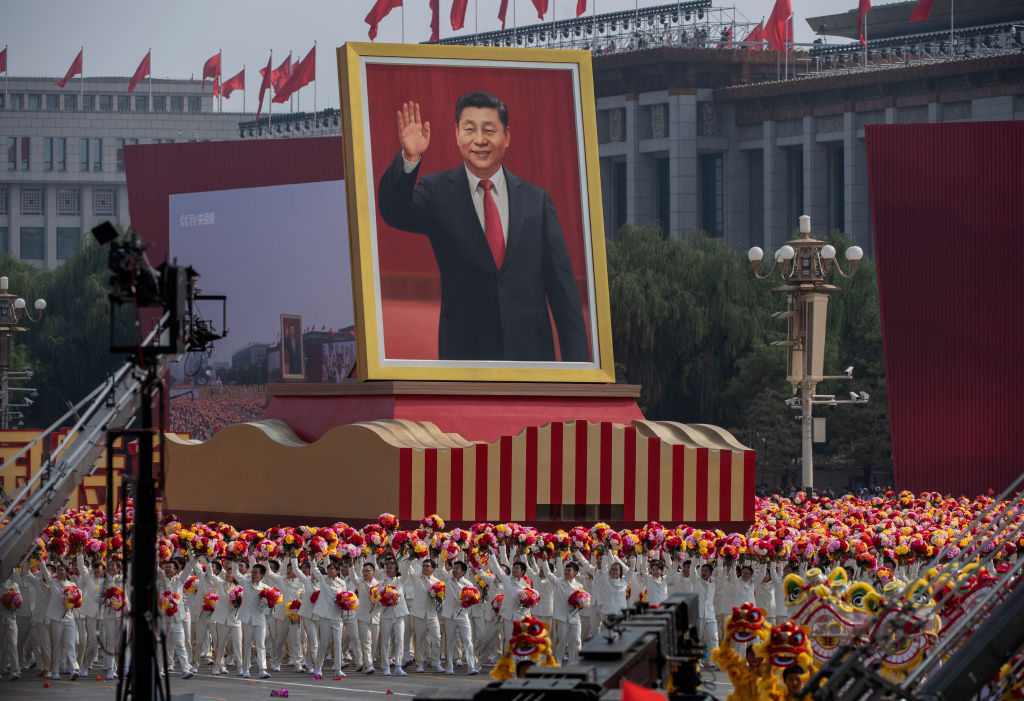 Leaked documents obtained by the New York Times reveal Chinese President Xi Jinping's directives to round up and incarcerate the one million or so Muslims in detention centers. Pictured: A giant portrait Xi at the official parade to celebrate the 70th anniversary of the People's Republic of China, on October 1, 2019 in Beijing, China. (Photo by Kevin Frayer/Getty Images)
Leaked documents obtained by the New York Times reveal Chinese President Xi Jinping's directives to round up and incarcerate the one million or so Muslims — Uighurs, Kazakhs and others — in detention centers. The detainees, from the province of Xinjiang, are treated to a strict "re-education" program that includes what one escapee described as horrific physical abuse, such as forced organ removal, abortions and medical "experiments."
These camps are part of what the New York Times calls "the country's most far-reaching internment campaign since the Mao era."
President Xi claims that the purpose of these camps is to protect the country from Islamic radicalism. This excuse for the mass detention of Muslims seems to stem from the fact that an estimated 4,000 volunteers from Central Asian countries joined ISIS.
The round-ups and arrests began after Xi's visit to Xinjiang in April of 2014 — his first since taking office in 2012 — when Uighur terrorists launched several attacks against China's majority Han population and killed scores of citizens. Those deadly attacks were most likely carried out by the East Turkestan Islamic Movement (ETIM), which first claimed responsibility for terrorist attacks in 2008. ETIM and other Uighur irredentist groups — such as the East Turkistan Liberation Organization — are fighting to secede from China and establish an independent Uighur Republic. Twice, in the last century, from 1931-1934 and 1944-1949, Xinjiang had enjoyed brief periods of independence.
In recent years, ETIM members reportedly received training by Al-Qaeda instructors in Afghanistan.
Repression against the Uighurs accelerated in 2016, after China's ruling Communist Party ousted its branch chief in Xinjiang, Zhang Chunxian, who, in the eyes of Beijing, proved unable to curb ethnic violence and failed to maintain discipline over his subordinates. One such subordinate, for example, was Wang Yongzhi, who reportedly released about 7,000 detainees without approval from authorities.
Zhang was replaced by Chen Quanguo, a hardliner who quickly transformed Xinjiang into a giant gulag. Chen's chief of security, Zhu Hailun — who stepped down in 2018 — was revealed in the leaked documents to have been a key and ruthless player in carrying out the internment campaign.
According to the New York Times, of the more than 400 pages of documents, the "most detailed discussion of the indoctrination camps" was in the "directive on how to handle minority students returning home to Xinjiang in the summer of 2017," and asking the whereabouts of their family members who had disappeared.
The release of the documents is personally embarrassing for Xi, who has been trying to portray himself internationally as a benign and moderate statesman. China's propaganda themes — including its false depiction of the impetus for its "Belt and Road" initiative as resurrecting a great legacy between China and Europe — have lost their luster. It is now clear that the so-called "free vocational training centers" in Xinjiang are actually prison-like ghettos. Muslim-majority states may now more than ever view China's Communist regime as an enemy of Islam — just as it is an enemy of the West.
Dr. Lawrence A. Franklin was the Iran Desk Officer for Secretary of Defense Donald Rumsfeld. He also served on active duty with the U.S. Army and as a Colonel in the Air Force Reserve.
© 2020 Gatestone Institute. All rights reserved. The articles printed here do not necessarily reflect the views of the Editors or of Gatestone Institute. No part of the Gatestone website or any of its contents may be reproduced, copied or modified, without the prior written consent of Gatestone Institute.