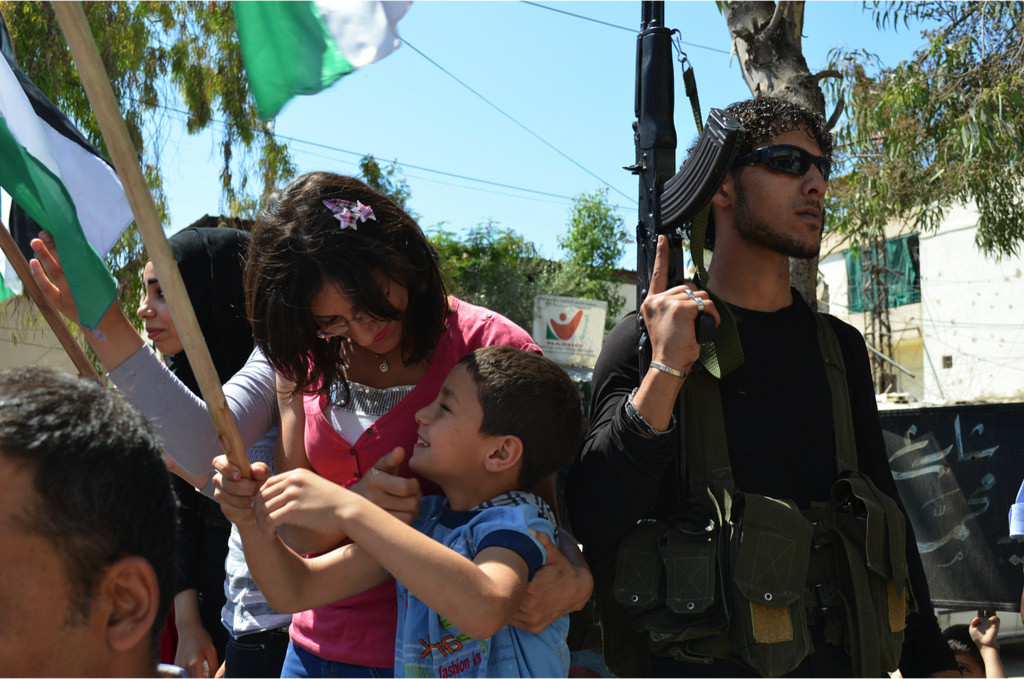 En gadefest i den libanesiske, palæstinensiske flygtningelejr Ain al-Hilweh, juli 2015. (Billedkilde: Geneva Call/Flickr)
Libaneserne er bekymrede for, at en ny lov om håndteringen af de palæstinensiske flygtningelejre vil bane vejen for "genbosættelse" af hundredtusindvis af palæstinensere i Libanon. Udsigten til "genbosættelse" af palæstinensere er et mareridt, som har hjemsøgt libaneserne i årtier.
Ligesom flertallet af arabiske lande har Libanon længe behandlet palæstinenserne som andenklassesborgere. Man har berøvet dem basale rettigheder, herunder statsborgerskab, beskæftigelse, sundhedspleje, uddannelse, sociale ydelser og retten til at besidde fast ejendom. Det store flertal af de 450.000 palæstinensere, som bor i Libanon, har ikke libanesisk statsborgerskab.
I 2001 vedtog det libanesiske parlament en lov, som forbød palæstinensere at besidde fast ejendom, og libanesisk lov begrænser også deres muligheder for at arbejde inden for hele 20 erhverv. Libanon bliver ved med at ignorere diverse menneskerettighedsgruppers opfordringer til de libanesiske myndigheder om at ophøre med at diskriminere mod palæstinensere.
En rapport i 2007 fra Amnesty International bemærkede:
"Vi opfordrer på det kraftigste libaneserne til at tage øjeblikkelige skridt til at fjerne alle former for diskrimination mod palæstinensiske flygtninge med henblik på at gøre disse i stand til at udfolde deres økonomiske, sociale og kulturelle rettigheder på samme grundlag som resten af befolkningen i Libanon. Fastholdelsen af restriktioner, som nægter palæstinensiske flygtninge adgang til deres ret til arbejde, uddannelse samt passende bolig og sundhed, er fuldkommen uberettiget og bør ophæves uden yderligere forhaling eller forsinkelse."
I stedet for at forbedre levevilkårene for palæstinenserne synes libaneserne at kappes om at finde på ideer til at komme af med deres uvelkomne arabiske brødre.
Nogle libanesere er endda bekymrede over en ny lov, som de tror kan bane vejen for en "genbosættelse" af palæstinensere i Libanon. Årsagen til deres bekymring er en rapport i en libanesisk avis om en ny lov om "administration" af palæstinensiske flygtningelejre i Libanon.
Den foreslåede lov, der er udfærdiget af Den Libanesisk-Palæstinensiske Dialogkomite, har til formål at mindske spændingerne mellem de to parter og forbedre levevilkårene for palæstinenserne i Libanons flygtningelejre.
Afsnit 1 i loven fastslår, at dens mål er at "regulere håndteringen af de palæstinensiske flygtningelejre i Libanon samtidig med, at deres palæstinensiske nationale identitet bevares, og den libanesiske stats suverænitet som værtsland i disse lejre fastholdes."
Loven vil give en libanesisk "national kommission" ret til at bestemme det geografiske omfang af hver eneste lejr, udføre en omfattende folkeoptælling af beboerne og styre de offentlige ydelser, herunder vand, elektricitet, sanitet og infrastruktur.
Loven kommer midt i de fortsatte spændinger mellem de libanesiske myndigheder og palæstinenserne, især i kølvandet på nogle væbnede sammenstød mellem rivaliserende palæstinensiske grupper i Libanons 12 flygtningelejre. De libanesiske sikkerhedsstyrker arbejder ikke inde i lejrene, som længe har været skueplads for væbnede sammenstød mellem palæstinensiske grupper, herunder Hamas, Fatah og terrorister fra Islamisk Stat (ISIS).
I sidste måned indgik palæstinenserne en aftale med de libanesiske myndigheder om at "afmilitarisere" Mieh Mieh-flygtningelejren i det sydlige Libanon, som har været skueplads for væbnede sammenstød mellem rivaliserende palæstinensiske grupper gennem de seneste to år. Aftalen giver den libanesiske hær lov til at operere inde i lejren, der rummer omkring 5.000 palæstinensere.
Men ikke alle libanesere synes at være tilfredse med den måde, hvorpå deres regering behandler spørgsmålet om palæstinenserne i Libanon. Libaneserne frygter, at den nye lov om håndtering af de palæstinensiske flygtningelejre ikke er andet end en maskering af en egentlig "genbosættelse" af palæstinenserne i Libanon og som sådan vil påvirke landets demografi.
Libanons Maronittiske Liga, som er en privat og apolitisk organisation for libanesiske, kristne notabiliteter, og som hovedsagelig har viet sig til forsvaret af Libanons uafhængighed og suverænitet, har udtrykt sin ængstelse for, at de libanesiske myndigheder er i færd med at erstatte FN-organisationen United Nations Relief and Works Agency for Palestinian Refugees (UNRWA) vedrørende håndteringen af palæstinensernes forhold.
Tydeligt bekymrede for, at den foreslåede lov vil resultere i en "genbosættelse" af palæstinensere i Libanon, udtalte Maronitligaen, at loven "optræder samtidig med talen om [den amerikanske præsident, Donald Trumps endnu ikke afslørede] Århundredets Aftale, som søger at berøve palæstinenserne deres ret til tilbagevenden" til deres tidligere hjem i Israel.
I et forsøg på at gendrive anklagerne om "genbosættelse" benægtede Den Libanesisk-Palæstinensiske Dialogkomite, som har taget initiativet til den kontroversielle lov, enhver forbindelse til Trumps fredsplan.
"Libaneserne og palæstinenserne er enige om at afvise genbosættelsen [af palæstinensere] og konfrontere Århundredets Aftale," udtalte komiteen i en erklæring. "Enhver diskussion, som er baseret på kendsgerninger frem for formodninger og usikre scenarier, er en sund og velkommen debat."
Den nye lov kan være et oprigtigt forsøg på at forbedre levevilkårene for de palæstinensere, som bor i flygtningelejre i Libanon. Men hver gang der bliver fremlagt en plan om at forbedre levevilkårene for palæstinenserne, hvad enten dette sker i et arabisk land eller på Vestbredden eller i Gazastriben, gør konspirationsteoretikerne straks deres bedste for at afspore sådanne bestræbelser.
Det Palæstinensiske Selvstyres ledelse har opfordret palæstinensere og arabere til at boykotte den amerikansk ledede økonomiske konference, der efter planen skal finde sted i Bahrain i denne måned. Den planlagte konference har, som del af Århundredets Aftale, til formål at skabe økonomisk fremgang for palæstinenserne.
De palæstinensiske ledere hævder imidlertid, at den økonomiske workshop i Bahrain er del af en amerikansk-israelsk sammensværgelse om at bestikke palæstinenserne til at opgive deres "nationale rettigheder".
De arabiske stater synes på deres side ikke at bekymre sig synderligt om palæstinenserne. Ellers ville de ikke have fastholdt dem i elendighed i flygtningelejrene gennem flere årtier. Libanon siger, at man fuldt ud støtter palæstinenserne i deres kamp mod Israel – men ser dem gerne forlade landet så hurtigt som muligt. Det budskab, som Libanon og andre arabiske land sender til palæstinenserne, lyder således: "Vi elsker jer og vi støtter jer – men hold jer langt væk fra os."
Dette er den moderne udgave af arabernes "solidaritet" med deres palæstinensiske brødre: diskrimination og apartheid – ingen jobs, intet statsborgerskab, ingen sundhedspleje og ingen sociale ydelser.
Heller ikke de palæstinensiske ledere giver en døjt for deres befolknings velfærd. Gjorde de det, vil det være svært at retfærdiggøre deres imponerende forsøg på at forhindre en økonomisk konference, hvis hovedformål er at løfte deres befolkning ud af det økonomiske helvede, som de selv samme ledere har skabt og energisk fastholder.
Khaled Abu Toameh, prisvindende journalist med base i Jerusalem, Shillman Journalism Fellow ved Gatestone Institute.