ANSYS (Ansys) (ANSS) is an industry leader (arguably the leader) in simulation software across a wide variety of engineering applications – from automotive to aerospace, to oil & gas, and from fluid-dynamics to electromagnetics to finite element analysis. During the most recent quarter, the company announced a number of large new contracts that bode well for the future. Let's take a look at how the company has been performing during the new era of Covid-19.
Earnings
The Q2 EPS report was released on August 5th: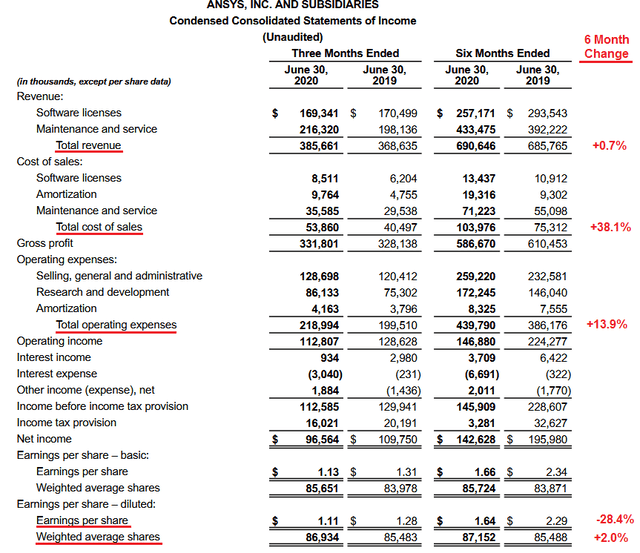 Source: Q2 EPS Report
As can be seen from the graphic above, 6-month revenues were flat yoy while cost-of-sales and total operating expenses increased significantly. As a result, earnings per share fell 28.4% over the first six months of 2020 as compared to 2019. Although these results were likely negatively affected by Covid-19, and generally beat expectations, they were certainly nothing to get overly excited about.
The GAAP operating profit margin was 29.3% in Q2 and the company announced a backlog of $846.5 million as of June 30, 2020 – that's an 18% increase over Q2 of 2019.
In the earnings release, Ansys president and CEO Ajei Gopal said:
Q2 was a very strong quarter for Ansys, with revenue, operating margins and earnings exceeding the high end of our financial guidance. I'm excited that during the quarter we closed both the largest deal in our 50-year history as well as our largest sales agreement for new business. These results demonstrate the strength and resilience of our business and give us confidence for the future.
Indeed, on the Q2 conference call CEO Ajei Gopal gave more information about two significant and large-scale contract wins:
That included two notable sales. First, we closed the largest total contract in our 50-year history at almost $100 million with an existing customer in the automotive and ground transportation space. This customer is standardizing on ANSYS solutions for multi-physics, additive manufacturing, electrification, and digital twin to develop great products faster and more affordably.

Our second notable deal was our largest new business professional agreement which was driven by our flagship HFSS for electromagnetics and LS-DYNA for explicit analysis. This $12 million agreement with a major high-tech company had been forecasted for the second half of the year. But based on the customer's evolving needs and strong sales execution we were able to sign the contract in Q2. That contract was the primary contributor to our Q2 revenue coming in over the high end of our guidance.
The size and scale of these developments certainly bode well for the future. The second contract was like with Samsung (OTC:SSNLF) – see this announcement. Note that Ansys also counts companies like Apple (AAPL), Qualcomm (QCOM), and Boeing (BA) among its clientele.
Going Forward
Q3 and full-year guidance were given in the Q2 EPS report and is shown below:

Source: Q2 EPS Report
The midpoint of the earnings guidance – GAAP=$4.36/share and Non-GAAP=$6.05/share, compares to GAAP=$5.25/share and Non-GAAP=$6.58/share for full-year 2019. That equates to a change of -17% and -8.1%, respectively.
No doubt Covid-19 had a big impact on a company that does a lot of employee/customer interfacing when it comes to sales and training of its complex simulation tools. Ansys also has a thriving relationship with the academic world and is widely used by engineering programs around the world. Obviously, the current global pandemic has had a big impact on college campuses and that likely also impacted ANSS's recent results.
As can be seen from the slide below, Ansys already has a slew of tier-1 customers across a multitude of industries and engineering disciplines: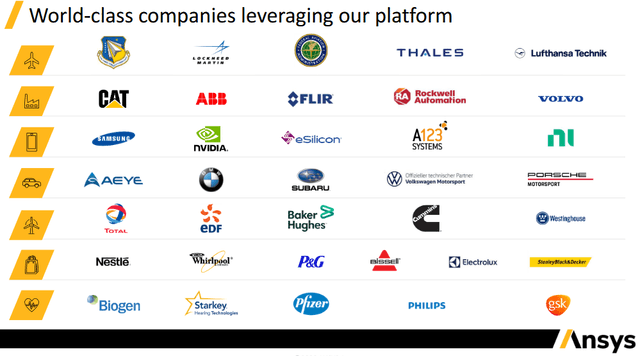 Source: Q2 Presentation
And according to a research report by Allied Market Research, the global software simulation market – which was only $5.13 billion in 2017 – is expected to grow at a CAGR of 8.9% from 2018 to 2025 to over $10 billion by 2025.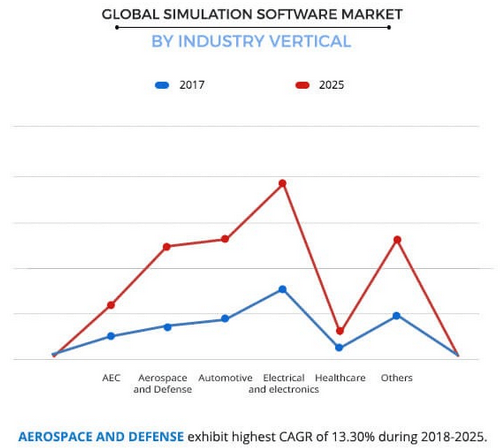 Source: Allied Market Research
So the future looks excellent for Ansys when it comes to opportunities for growth. Note from the graphic above that two of the largest growth sectors are automotive and electrical, which just happen to correspond to the two big new sales wins described earlier.
Valuation
But, like most of the software companies I have written about lately, my issue is with the company's current valuation. The current P/E=69. Based on the midpoint of full-year 2020 guidance, the forward P/E=73 (GAAP) or P/E=53 (non-GAAP). Take your pick, but either way that seems extremely stretched for a company that is expected to show a significant earnings decline in 2020 as compared to 2019. Covid-19 or no Covid-19.
With a market cap of $27.5 billion, ANSS is trading at 56.5x full-year 2019 revenue.
In comparison, Synopsys has a PE=50 on TTM earnings and with a market cap of $30.9 billion, is trading at only 9.2x revenue and has better last 6-month revenue growth.
Risks
And of course the risks are that Covid-19 and the lingering global economic malaise could last longer than many analysts believe, and that the somewhat more "discretionary" expense of simulation software may be under pressure. In the meantime, companies like Synopsys (SNPS) and Cadence Design Systems (CDNS) are likely to provide increasing competition in the simulation arena (see Synopsys: On The Leading Edge Of Technology).
Summary and Conclusions
Engineering tools can save companies a lot of time and money, and Ansys is certainly an industry leader in the field and is well respected in engineering colleges around the world. As those students continue into corporations and into management roles, Ansys likely goes with them. And the overall total addressable market is large and growing as technology becomes more complex and more important in our lives and the products we use. All that said, Ansys is not just priced to perfection, it has an astonishing high valuation in comparison to its near- and mid-term revenue and earnings growth rates (in terms of earnings, it's a negative growth rate).
As can be seen from the chart below, ANSS has traded as high as $354 as the market has raced higher, and closed at $316 Thursday. But that doesn't mean it's a bargain. The stock is still up 24% YTD and I would put the fair value at something closer to $181. Note that's still a generous P/E=30 on the midpoint of the 2020 non-GAAP full-year earnings estimate of $6.05/share. That said, and looking from the chart below, ANSS never broke the $200 level even during the March sell-off. From that perspective, my $180 fair value would appear off-base. But I'll wait to see a couple more (and significantly better…) earnings reports before I'll modify it.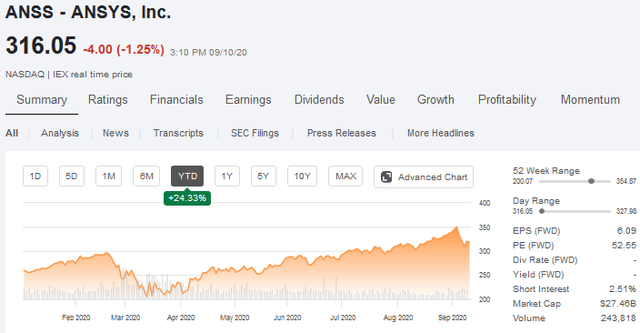 Source: Seeking Alpha
Disclosure: I/we have no positions in any stocks mentioned, and no plans to initiate any positions within the next 72 hours. I wrote this article myself, and it expresses my own opinions. I am not receiving compensation for it (other than from Seeking Alpha). I have no business relationship with any company whose stock is mentioned in this article.
Additional disclosure: I am an engineer, not a CFA. The information and data presented in this article were obtained from company documents and/or sources believed to be reliable, but have not been independently verified. Therefore, the author cannot guarantee their accuracy. Please do your own research and contact a qualified investment advisor. I am not responsible for the investment decisions you make.