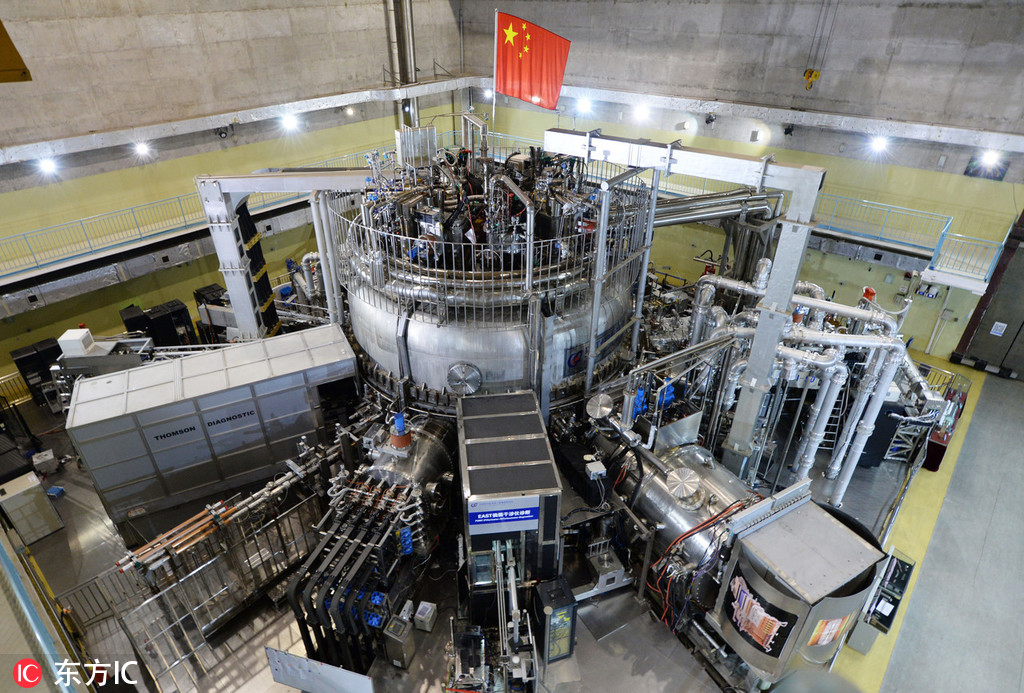 Talent blooms in unexpected places, according to an old saying. The same can be said of science, on a green island northwest of Hefei, the capital of Anhui province.
Rather than livestock grazing peacefully on the grassy land, the area features cutting-edge research institutes-and researchers such as Liu Qingsong.
Like many of his peers, Liu was an early believer in the Western dream. He headed to the United States-to Harvard Medical School-for his postdoctoral studies and later became a researcher at the Dana-Farber Cancer Institute in Boston, Massachusetts. But after spending a decade in the US, he decided to return to China in 2012.
What drew him back was a "science island" in Hefei, where he is now busy testing a new drug targeting a type of leukemia.
Liu is not alone. In just a few years, at least eight Harvard postdoctoral researchers have left US cities and moved to Hefei to pursue their scientific ambitions.
"I know this is the place to make things happen," Liu said. "Anhui boasts some of the world's best scientific research facilities, and local government officials are sparing no effort to encourage innovation."
The science island that has attracted many eminent researchers is home to the Hefei Institutes of Physical Science, a branch of the Chinese Academy of Sciences. Ten research institutes are housed on a peninsula, along with dozens of key laboratories, a slew of pioneering research facilities and more than 2,600 scientists and researchers from around the world.
Taking initiative
The island illustrates Hefei's emphasis on scientific innovation and is part of a broader push by Anhui for high-quality development. The province is striving for breakthroughs in fundamental research while stepping up efforts to leverage the technological prowess of its sizable manufacturing sector.
"Doubling down on innovation can invigorate the whole game," said Anhui Party Secretary Li Jinbin. "We will roll out more measures to encourage original work, so as to take the initiative in technological competition."
He said Anhui would pounce on the strategic opportunity brought by the Yangtze River Economic Belt, a national development strategy, to accelerate industrial upgrading and leverage its geographic proximity to Shanghai, and Zhejiang and Jiangsu provinces, for faster and greener growth. Last year, Anhui's GDP topped 3 trillion yuan ($428.8 billion) for the first time, with high-tech industrial output accounting for more than one-third of that.
Encouraged by that achievement, the province is ratcheting up resources to revolutionize its traditional industries while also building clusters of high-tech industry, Li said.
Significant progress is underway. Local cement-maker Anhui Conch and copper producer Tongling Nonferrous Metals made their way into the Fortune Global 500 list for the first time this year, despite the relatively gloomy prospects for global resource industries.
More importantly, Anhui's manufacturing powerhouse ushered in a new era through an industrial cluster including semiconductors, display panels and robots.
Mutual trust
Anhui is building 24 production bases for emerging industries. Hefei alone houses 186 semiconductor companies and 85 display panel makers.
China's largest maker of display panels, BOE, is using its latest generation 10.5 production systems, valued at 45.8 billion yuan, to manufacture color-rich displays for large-screen 4K and 8K televisions in Hefei.
Zhang Yu, vice-president of BOE, said local government officials trust entrepreneurs and have the determination to help companies grow.
He said that when BOE wanted to build its sixth generation plant about 10 years ago, the company was still small and didn't have enough money. At a critical moment, the Hefei municipal government promised to invest 9 billion yuan in the project at a time when it had only around 10 billion yuan in its annual budget.
Because of the trust demonstrated by the local government, BOE later managed to raise 6 billion yuan from other companies, and the Hefei government ultimately invested 3 billion yuan.
That deep trust has nurtured a longtime partnership. BOE has emerged as a technological pioneer in the global display panel industry and has set up a number of cutting-edge plants in Hefei, laying down an industrial foundation for the city, which is thriving as the world's largest display panel production base.
"The two sides worked together and survived all the challenges and difficult times," Zhang said.
Anhui's desire to encourage innovation is also mirrored in its tolerance of risk. Liu, who returned from Harvard, said that when he decided to set up Precedo-a startup focusing on cancer cell research-in 2015, the technologies used were cutting-edge, and most people did not understand them.
Precedo is now the world's largest cell bank for BaF3, a type of cell increasingly used as tools in drug research having to do with enzyme behavior at the molecular level. The company has developed HYML-122, a drug targeting acute myeloid leukemia, that was approved by the State Drug Administration for a clinical trial in June.
"Hefei has given me a stage that no other city in the world would offer," Liu said.