An Election Year Correction Signal And Only The 3rd Negative Weekly MG Signal In 2020

Introduction
This event driven Momentum Gauge® article builds on all the prior signal event articles with more explanations on how to benefit from one of the most popular features of the Value & Momentum Breakouts marketplace service. As more data points are collected, more insights are gained. This article serves to answer key questions about the current negative signal and prepare readers for the potential of more downside risk in the short term. Frequently asked questions addressed at the end of the article include:
What are the Momentum Gauges® and how do they work?
Why do you measure Federal Reserve intervention and why do you prefer the Fed's SOMA Holdings report over the Fed's H.4.1 Reserve Balance report for this data?
But our main focus begins with what this current correction signal means and addresses our two main concerns with any market downturn.
1. How long will it last?
2. How far will the markets decline?
The Prior Negative Signals in Advance of Major Downturns
Before we begin the current analysis of the 9th Momentum Gauge® topping signal here are the links to the prior 8 signals that readers can check for reliability and additional explanation.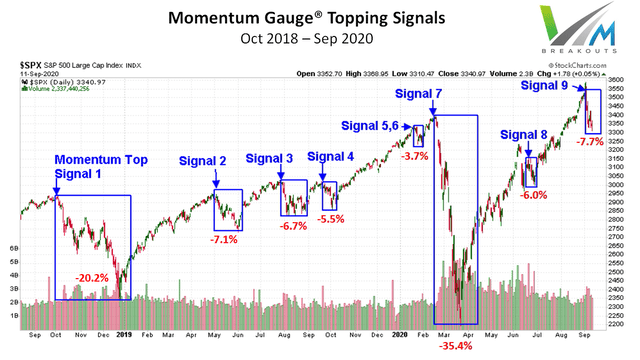 Examining the Charts and Signals of The Current Decline
On Wednesday, September 2nd just the day before the -3.51% S&P 500 decline, members were cautioned to limit broad market exposure based on very elevated technical signals. Specifically the Morning Update article on Sep 2nd stated:
The S&P 500 is still in a positive trend channel from June with daily sentiment indicators in elevated levels with greater risk of a short term pullback. The current steep acceleration looks similar to the early June pattern with an increased chance of profit taking.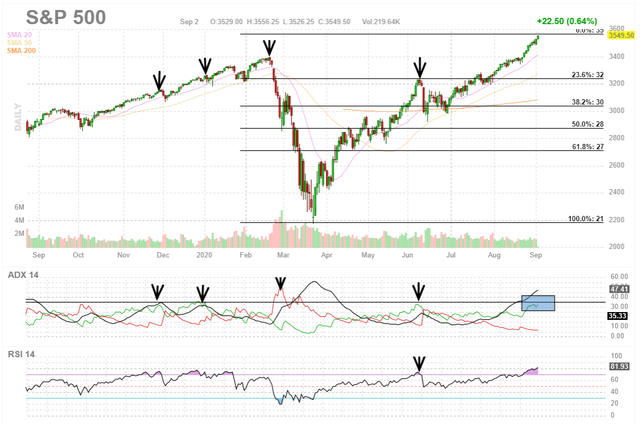 For the first time in months we received an intraday alert that the Momentum Gauges® had turned negative on the morning of September 3rd. In the V&M Breakout chat rooms members began to make adjustments and the Premium Portfolio moved to cash on the intraday Negative Momentum Gauge® signal change. The following charts among many others were shared with members on Sep 2nd and 3rd and later with my Twitter followers:

The reference to (FNGD) the MicroSectors FANG+ Index -3X Inverse Leveraged ETN refers to the gains from taking a position in one of my favorite bear funds earlier that week based on extremely overbought conditions of the mega-cap FANG stocks. The Bull/Bear ETF Trading signal turned Negative Thursday, then positive Friday ahead of the long weekend. A check premarket Monday and Tuesday showed very negative market conditions and a strong Negative signal Tuesday continued to delay any market reentry. The signal has not turned positive again since September 4th. The Bull/Bear ETF Trading gains for the tracked inverse combo funds from the current signal are as follows:

As detailed in my ETF Bull/Bear trading articles, combos that follow the equity market indices more closely tend to match the Momentum Gauges® better for more reliable returns. Volatility and bond funds are lagging currently, while FANG, Nasdaq (TQQQ), and Technology (TECS) leveraged inverse funds are among the top gainers. Crude Oil WTI has been unusually highly correlated with the equity markets this year as shown below and the (DRIP) Oil & Gas bear fund has the best returns in the current downturn.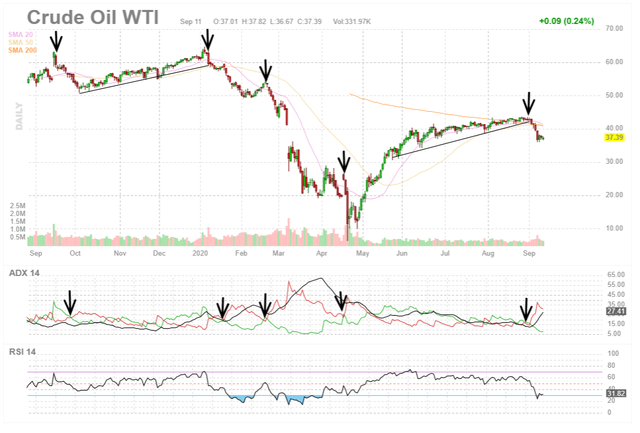 Chart 1. 2-year Weekly Momentum Gauge® chart – Early Signals
One of the first warning signs we received was on the Weekly Momentum Gauge® chart that has been consistent over the past 2 years. In every case of two or more weekly declines from a peak in the Positive Momentum line (green), there has been an S&P 500 decline that followed within 1-3 weeks. Not all subsequent declines in the S&P 500 were equally large nor did all declines result in a confirming crossover event signal. But just as we saw the peak at the end of Week 33, we had several weeks notice that an S&P 500 topping event was likely coming.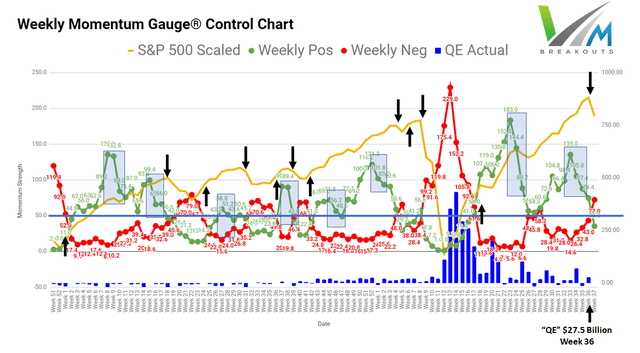 Every day this bolded message was included in the Morning Update articles as well as weekly in the MDA Breakout Articles for my public readers:
Week 36 completed a third consecutive week of declining positive and increasing negative values in a pattern that has preceded S&P 500 declines in nearly all subsequent weeks.
We will next look at the Daily Momentum Gauge® signals, but I think you get a clearer and smoother overview starting with weekly charts that have less daily noise.
Chart 2. 2-year Weekly Momentum Gauge® chart – SOMA patterns
Astute observers will also notice a high positive correlation between the Federal Reserve SOMA holding changes (blue bars) and the Positive Momentum Gauge® values (green line). There appears to be an offset of 1-3 weeks from when the Fed stimulus peaked until the Positive Momentum values also peaked. You may notice more detailed patterns, but for brevity this high level generalized pattern has been very consistent. This high correlation is one of the main reasons that I track the Federal Reserve's domestic securities transactions weekly and plot the weekly changes against the Momentum Gauge® values.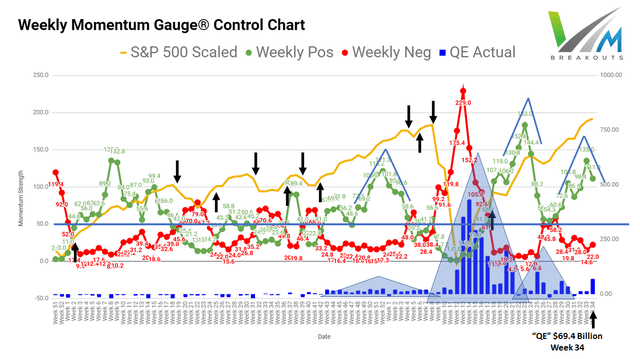 We are currently returning back to Fed activity levels consistent with normal operations and pre-pandemic levels. I believe without further Fed intervention we will see higher levels of volatility and larger market declines consistent with prior measured periods. This is one weekly chart to keep an eye on.
Chart 3. Daily Momentum Gauge® chart
We will look next at the Daily Momentum Gauge® chart that provides early intraday signals to members as well as the "official" default signal at the close of each day for timing trades in the ETF Bull/Bear trading system. We received our first negative intraday signal in months for the first time on the morning of September 3rd.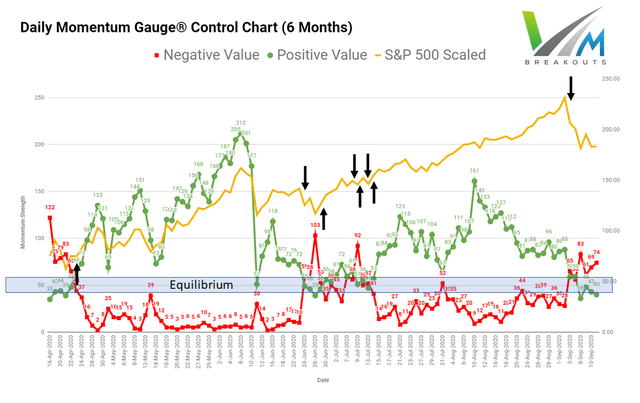 As shown above the Momentum Gauges® turned negative at the close with a high negative value of 65 well above the equilibrium uncertainty zone in blue. As mentioned above, we have not had a suitable positive re-entry signal and will be looking closely for any changes in this negative market condition.
So what does the Momentum Gauge® say will happen next?
Unfortunately, to my knowledge the gauges do not forecast duration or magnitude and have only been extremely reliable for changes in market direction. As in all prior events the conditions remain as signaled until we receive a change in the daily crossover signal, in the current case back to a positive market condition.
Starting with the 2 year S&P 500 chart that goes back to the October, 2018 signal we can make some important observations. We have had eight events in the data that we can evaluate to try to forecast the magnitude and duration of the current 9th topping signal.
Of the eight prior Momentum Gauge® topping signals from 2018 only 2 forecasted S&P 500 decline signals eventually broke below the 200 day moving average. As indicated by a red arrow for Signal 1 and Signal 7.
5 of 8 62.5%) of the past Momentum Gauge® topping signals have broken below the 40 day moving average not including the current signal. Those events were Signals 1, 2, 3, 4, and 7.
Chart 4. 2 year S&P 500 chart with Momentum Gauge® signals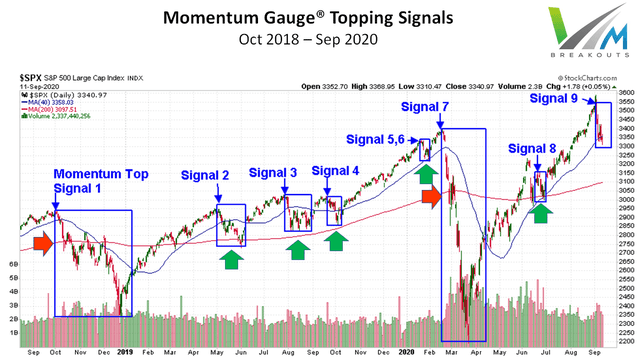 Most importantly for forecasting purposes, 6 of 8 (75%) have been significant moves that have tested the 200 day moving average within +/- 1% of the moving average. Signals 2, 3, 4 and 8 have all held at key 200 dma support levels shown with green arrows, while signals 1 and 7 did not find support.
Based on these observations and probabilities of recurrence, there is a high likelihood that the current decline event may also retest the 200 dma. This probability may be further increased based on the fact that the S&P 500 is below the 40 day moving average following a negative Momentum Gauge® signal.
Chart 5. Daily S&P 500 chart with Momentum Gauge® signals
Looking more closely at the daily S&P 500 chart we can observe that the current "MG signal 9" is in a -7.7% decline from the all time high of the S&P 500 back on September 2nd. The index is testing the 50 day moving average and the technical ADX and RSI indicators are in negative condition also validating negative market momentum.
If a retest of the 200 day simple moving average shown in orange is a high probability event then we may expect the S&P 500 to pull back to levels between 3100 – 3150. If 75% of the prior events from 2018 have retested the 200 day moving average, we may see further declines in the coming days.
All of these forecasting assumptions are also based on a continuation of current levels of Fed intervention with no large stimulus injection to disrupt the current short term downturn. We will continue to watch for a confirmed weekly signal next week knowing full well that Fed intervention could reemerge at any time to sustain the markets and completely disrupt this signal.
Examining a Significant Election Year Pattern
This analysis of only the 3rd negative Momentum Gauge® signal for 2020 would not be complete without consideration of powerful election year effects. Going back 92 years on the S&P 500 to look at every average monthly return since the 1928 elections shows very strong distinct patterns. Most noteworthy, ahead of the uncertainty of November elections the S&P 500 has averaged losses in September and October with subsequent market rallies from November through January. Similarly, we are already seeing the S&P 500 come off record gains at all time highs as patterned with the chart below from June to August. The precipice between August to September in election years represents the steepest drop of any change between any two months of the year.
S&P 500 average monthly election year returns going back 92 years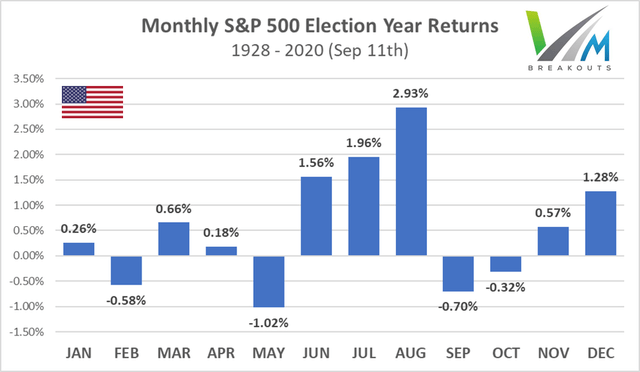 As the S&P 500 Index again floats precariously above its 200 day moving average perhaps we will see this larger election effect contribute to a retest of support in the coming days. Again, We will continue to watch for the confirmed weekly signal next week knowing full well that Fed intervention could reemerge at any time to sustain the markets and disrupt this signal.
Frequently asked questions:
Question 1: What are the Momentum Gauges®?
The Momentum Gauges® are a proprietary model that leverage fundamental, technical and behavioral financial variables to classify market and stock conditions into 7 different momentum cycle segments.
As I describe in my summary article called A Primer On Quick-Pick Momentum Accelerators, the stock segments that make up the Momentum Gauges® are Segments 2 (Negative Acceleration) and Segment 6 (Positive Acceleration). They are selection models not based on momentum, but on multiple discriminant analysis [MDA] of more than 75 variables tested over the past 5 years.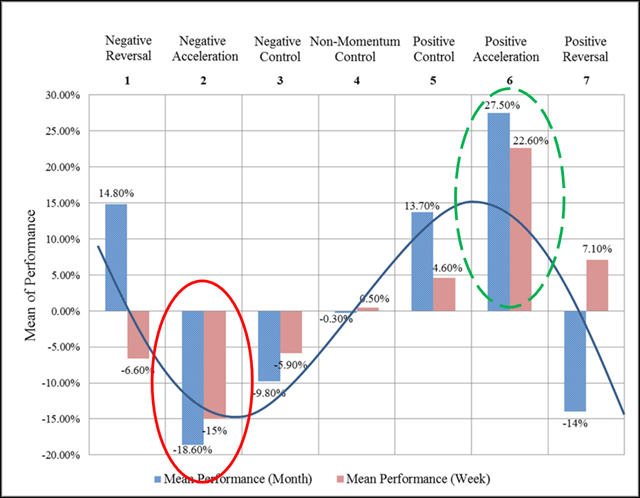 There are many more elements of this research that are explored in other articles linked above and shared with members from my doctoral research and presentations. The purpose of this article is to document another signal event and continue with observation and trading changes to take advantage of potential changes in market conditions.
Question 2. Why are you using SOMA Holdings to measure Fed intervention on the blue bars in the weekly Momentum Gauge® chart above?
I am using the weekly change in $billions from the NY Federal Reserve's SOMA Holding page of Domestic Securities linked here primarily for its continuing reliability and positive market correlation:
System Open Market Account Holdings – FEDERAL RESERVE BANK of NEW YORK
Some people have asked me why I am not using the Federal Reserve's statistical H.4.1 Reserve Balance report for these charts:
FRB: H.4.1 Release–Factors Affecting Reserve Balances– June 25, 2020
The simple answer is that I have found very strong positive correlation for many years using the Fed's Domestic Security holding changes. It may be that the SOMA Holding report relates directly to domestic securities in the US equity markets. The H.4.1 Reserve Balance report includes additional assets like loans, gold, and foreign investments that may not be as important to forecasting impacts to the US markets, but I have not undertaken a study yet to confirm this possibility. My assumption is that both datasets will provide reliable forecasting information.
The Fed's total balance sheet shown below in the following charts certainly reveals a very strong correlation between the March 23rd bottom on the S&P 500 and the record high levels of Fed intervention to date.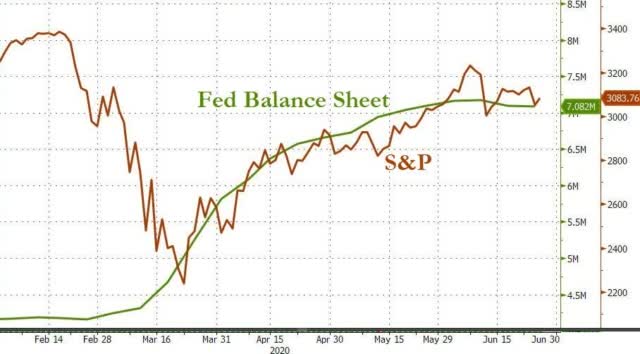 (Source: ZeroHedge)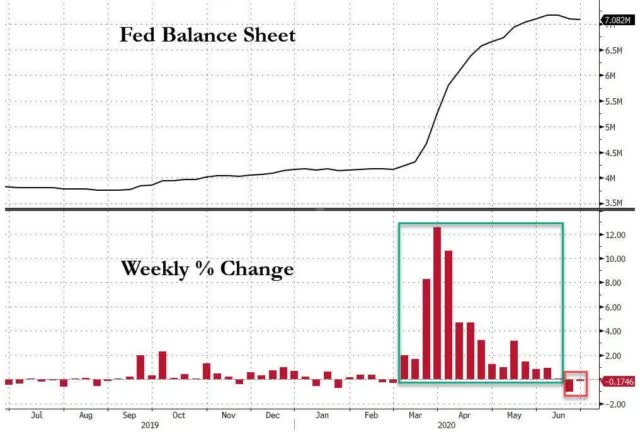 (Source: ZeroHedge)
So whether you choose to use the Federal Reserve's total balance sheet or the changes in the SOMA Holdings of Domestic Securities I believe either way you will realize a significant factor in market behavior. The declining intervention of the Federal Reserve back to normal pre-pandemic operations may contribute to increased volatility and market declines. The markets have been buoyed by record levels of stimulus and exuberance that may begin to weaken in the coming days based on the factors and signals discussed above.
Conclusion
The Momentum Gauges are part of an active research project that has delivered highly profitable results to more than 12,000 active followers and subscribers of the Value & Momentum Breakout service. These signals have become the most popular feature of my service for profiting in both good and bad market conditions. I look forward to improving and enhancing the model as we gather more data over many more weeks and years.
All the very best to you!
JD Henning, PhD, MBA, CFE, CAMS

If you are looking for a great community to apply proven financial models with picks ranging from short term breakouts to long term value and forensic selections, please consider joining our 900+ outstanding members at Value & Momentum Breakouts
Disclosure: I/we have no positions in any stocks mentioned, but may initiate a long position in FNGD, SQQQ, TECS over the next 72 hours. I wrote this article myself, and it expresses my own opinions. I am not receiving compensation for it (other than from Seeking Alpha). I have no business relationship with any company whose stock is mentioned in this article.