Publicly traded Goldman Sachs BDC (NYSE:GSBD) and privately traded Goldman Sachs Middle Market Lending LLC (MMLC) are merging. The merger presents an enticing opportunity for investors as GSBD deleverages its portfolio and gains access to a $200M cash war fund for the middle markets as they advance deeper into the pandemic economy and cash increasing becomes important to companies. The merger is positive for GSBD and will help it maintain its dividend commitment, which is currently trading at an 11% yield. This article goes into detail on the merger parts and will help investors better understand what the merger means for the new GSBD.
Overall, given the current market situation, I take a positive and bullish stance on GSBD as it has minuscule non-accruals in Q1 and Q2, and with the merger giving it access to a large cash pile, I anticipate it being able to aid its portfolio companies and make further investments in Q3, ultimately driving long-term value for investors. The long-term potential for value creation and portfolio security created by the merger comes at a premium price, though, for investors. MMLC investors, in particular, will see their expense ratios and fees increase under the new GSBD.
Table of Contents
History and Structure of GSBD and MMLC
Context of new GSBD in BDC Market
Merger Estimate
New GSBD and Previous NAV performance of GSBD and MMLC
New GSBD Portfolio Review by Industry and Estimated TII
Combined Portfolio Leverage
Expense Ratios
Risk: Debt/Equity and NII/NAV Approach
Evaluation of Total Returns
Conclusion
History and Structure of GSBD and MMLC
GSBD became publicly traded at the beginning of 2015. The company's investment advisor is Goldman Sachs Asset Management's – Private Credit Group – Alternatives Asset Management Team ("GSAM").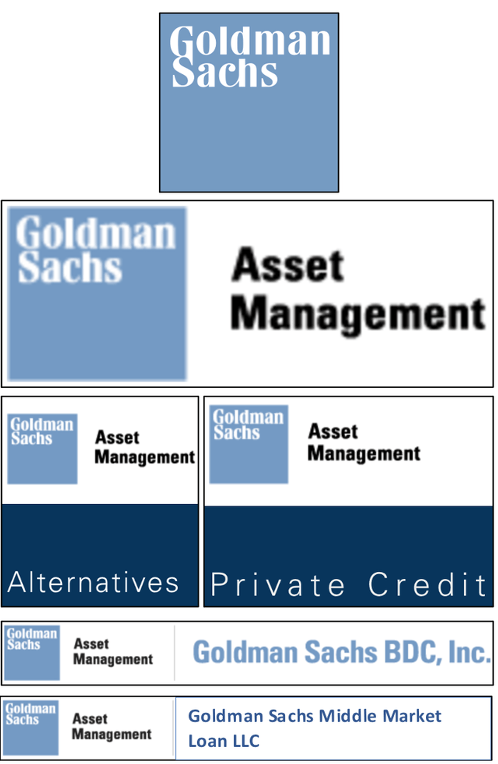 Created by the author using Goldman Sachs website images.
GSAM also oversees investments and overlaps investments in other BDCs, including Goldman Private Middle Market Credit LLC ("GS PMMC"), Goldman Private Middle Market Credit LLC II ("GS PMMC II"), and Goldman Sachs Middle Market Lending LLC ("GS MMLC") investment vehicles. In the first half of 2020, MMLC and GSBD shareholders agreed to a merger. The merger recently closed on October 12, 2020. The merger is an "NAV for NAV" exchange, and as a result of the merger, MMLC shareholders will receive 1.1336 shares of GSBD for each share of MMLC they own, according to a press release. MMLC was previous a private BDC, yet released its reports publicly through the SEC.
As a result of the merger, GSBD will have a combined portfolio of roughly $3.5B at cost with a fair market value ("FMV") of $3.3B. This is a massive jump and more than doubles its portfolio holdings at FMV. Depending on how consolidation takes place, the portfolio will contain 118 investments in about 111 portfolio companies, operating across 40 different industries. The deal is a major move as GSBD jumps up the BDC industry assets under management ("AUM") charts from 17th to 7th.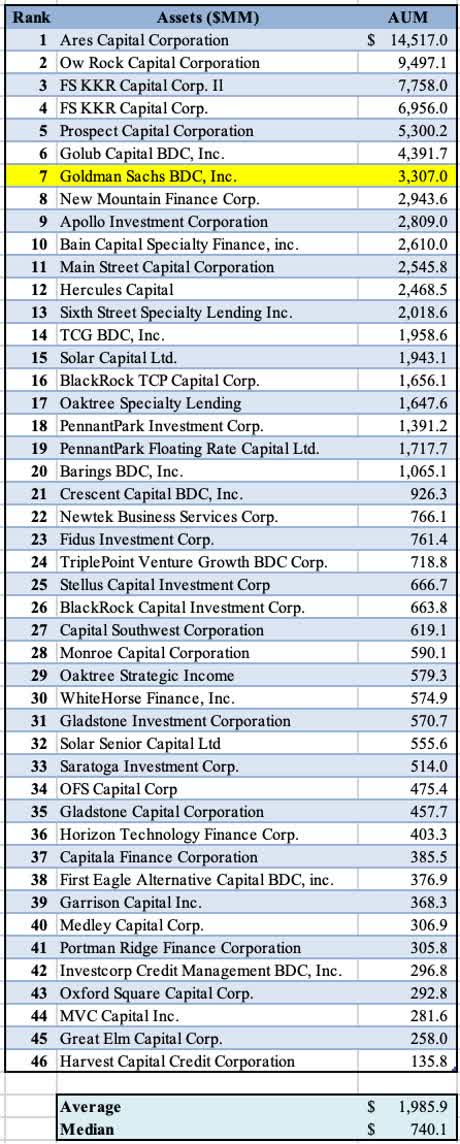 Created by the author. Sourced from Raymond James BDC Weekly Insights October 1, 2020. GSBD AUM determined using the FMV of combined portfolio holdings of MMLC and GSBD.
The merger follows on the M&A trend in the BDC industry where investors are continuing to see consolidation due to the tight yield environment and managers anticipating that portfolios of scale will provide their BDCs with many synergies, including deleveraging of assets, maintenance of net income, expense efficiencies, structural streamlines, and other portfolio synergies. Some other major activity to note from this year for the BDC industry has been MVC Capital (MVC) and Barings BDC (BBDC) agreeing to a merger and FS KKR Capital Corp. II (FSKR) being introduced to the market.
Further Peer Comparison
The below chart depicts the top seven BDCs by AUM and their performance over the last year when compared to Invesco Senior Loan ETF (NYSEARCA:BKLN), which is a publicly-traded ETF that tracks senior loans. Of the top seven, FSKR was recently released this year and is so far the best performing BDC this year. The other top six have all seen 20-30% declines in their stock price since the pandemic. Attentive investors, however, could have made a mint from pandemic lows and the rebound to the current plateau.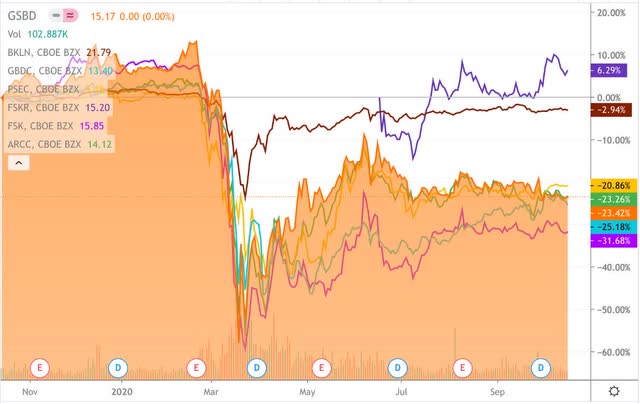 Sourced from SA
Having examined the industry as a whole, it's time to review the merger.
Merger Results
The merger between GSBD and MMLC is an "NAV for NAV" exchange, and as a result of the merger, MMLC shareholders will receive 1.1336 shares of GSBD for each share of MMLC. Based on the current NAV price reported by GSBD in 2020 Q2, the current NAV for NAV exchange would value MMLC's net asset value per share ("NAVPS") at $17.16. The table below highlights the combination of the two companies. The resulting NAVPS is roughly $15.00. GSBD is currently trading around $15.00, so the markets are pricing the stock as if the merger has happened at the NAV price.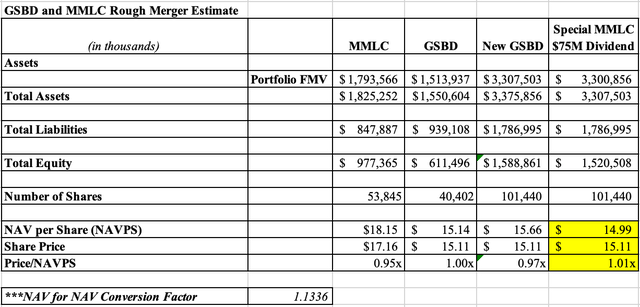 Created by the author using GSBD's and MMLC's 10Q2
After the merger, MMLC shareholders will receive a special $75M dividend. The resulting company will have a rough Debt/Equity ratio of 1.18x. This is an improvement on GSBD's current Debt/Equity ratio of 1.53x and is the result of combining with MMLC, which has a low Debt/Equity ratio of 0.86x. The merger also improves the Debt/Assets ratio for GSBD from 0.68x to 0.54x. The merger primarily helps GSBD deleverage its assets.
GSBD's NAV Performance
Over the last five years, GSBD's NAV has steadily decreased as a result of both share introductions but also a steady decline in the underlying assets. The charts below highlight the high premium to NAV that the stock was trading at.

Created by the author and sourced from GSBD's 10Ks and 10Qs.
MMLC's NAV Performance
In contrast, the net asset value for the last three years for MMLC has stayed steady even with the introduction of new shares. As a result of MMLC being a private BDC, the market value for the company was not readable.

Created by the author and sourced from MMLC's 10Ks and 10Qs.
Combined NAV Performance Evaluation
Upon reviewing the individual NAV performance, it is clear that MMLC has had superior NAV performance over the last three years. While MMLC has had superior performance and has been traded privately, GSBD has been trading publicly as a premium to price/NAVPS for the last three years. It is important to note as well that GSBD has been trading at a 25% premium compared to the BDC industry mean average of 0.75x price/NAVPS.
Created by the author using GSBD's and MMLC's 10Ks and 10Qs. The Combined NAV was created by combining NAV and # of shares for MMLC and GSBD.
The above chart and table above show the high correlation between the individual companies and the estimated new GSBD's previous record. The high correlation between GSBD and MMLC yet the clear divergence since 2017 for the two funds' NAV performance hints at one of the strategic reasons why the two funds are being combined to average out the performance.
The MEGA Investment Portfolio
Of the approximately 118 investment relationships that will be in the new GSBD's portfolio, approximately 70% of GSBD's and MMLC's overlap. Below is a pivot table of MMLC and GSBD and their combined investment vehicles by the industry for amortized cost, fair value, and interest rate. As an investor can see from the following table, the combined strength of both companies is an incredible breath of ownership and assets, and it seems likely that, in the foreseeable future, GSAM may seek to integrate its other private credit funds into GSBD as it starts to realize the synergy benefits from this type of transaction for the firm.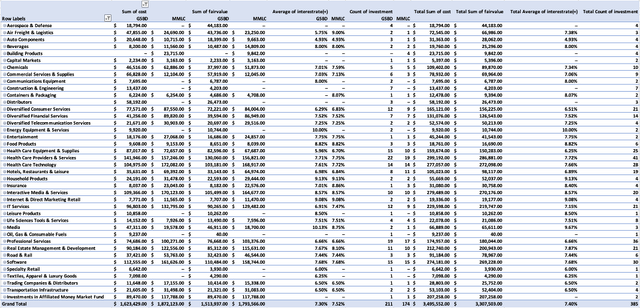 Created by the author and sourced from GSBD's 10Q2 and MMLC's 10Q2
This table is where an investor can parse out the true value underlying a BDC. The most interesting insight is the average interest rate for the combined portfolio of 7.4%. This is important because both companies borrow capital at about 1.5-2.0%, and so the expected yield on this portfolio can be assumed at approximately 5.4%. The average yield of 5.4% on $3.1B (ignoring the $200M in money market funds) is $167M in annual expected Total-Investment-Income ("TII"). Of course, with a $200M money market fund, it can be expected the GSBD will seek further acquisitions.
An alternative way to determine the TTI from this table is by expanding the pivot table that gives us the breakdown of each loan in an industry by fair value and interest rate. Multiplying the FMV of the loan by the interest rate gives us an expected income generated from the loan for the year. Summing up all the loans' incomes helps us gain a more accurate understanding of the portfolio. The resulting value of this calculation after expanding the pivot table is $233M, which is roughly 7.50% of the fair value of the entire portfolio non-money market investments. Since GSBD generally uses 45% of its TII to cover expenses, we can assume that net investment income ("NII") will be roughly $128.15M = [$233M*55%]. This is roughly $32M a quarter, which will help GSBD maintain its current NII/TII ratio of roughly 55%. It can be expected that GSBD will be aggressive with the new money market funds and cash it acquired from the merger and that, as a result, the portfolio will grow and, with it, the NII.
Small Amount of Loans on Non-Accrual Status
As of 10Q2, MMLC had one investment on non-accrual status.
Chase Industries, Inc.; a 2nd Lien/Senior Secured Debt loan on non-accrual status.
This loan was valued at an FMV of $11.8M. This is minuscule in comparison to MMLC's entire portfolio size at FMV of $1.79B.
As of 10Q2, GSBD had three companies on non-accrual status.
GK Holdings, Inc.; an IT company 2nd Lien/Senior Secured Debt loan marked from $2.9M to $1.7M.
IHS Intermediate Inc.; a healthcare company 2nd Lien/Senior Secured Debt loan marked from $9.9M to $0.
Kawa Solar Holdings Limited; a construction company preferred stock investment marked from $0.778M to 0.
Overall, it is impressive that both companies' portfolios have done so well during the pandemic. This can be expected to change, given the 5% default rate for the loan market right now but is still very impressive.
Combined Portfolio Concentration
The "Combined Investment Portfolio Table" gives a good overview of the individual and combined portfolio values. The below table zeros in further. The combination of both firms' portfolios will increase diversification as illustrated. However, the summary table further dissects the large table to highlight the fund's concentration in Healthcare and Technology investments.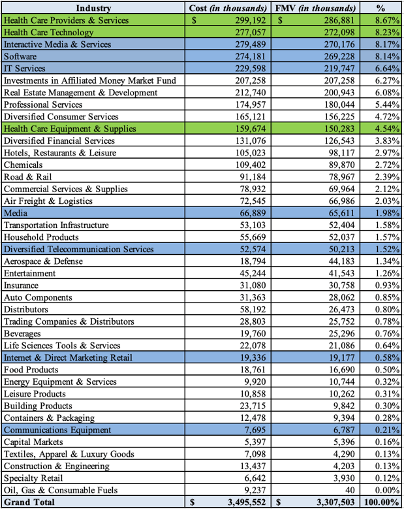 Created by the author
Loan Concentrations
As the diagram and table illustrate, the new GSBD will have a heavy concentration in 1st and 2nd Lien/Senior debt.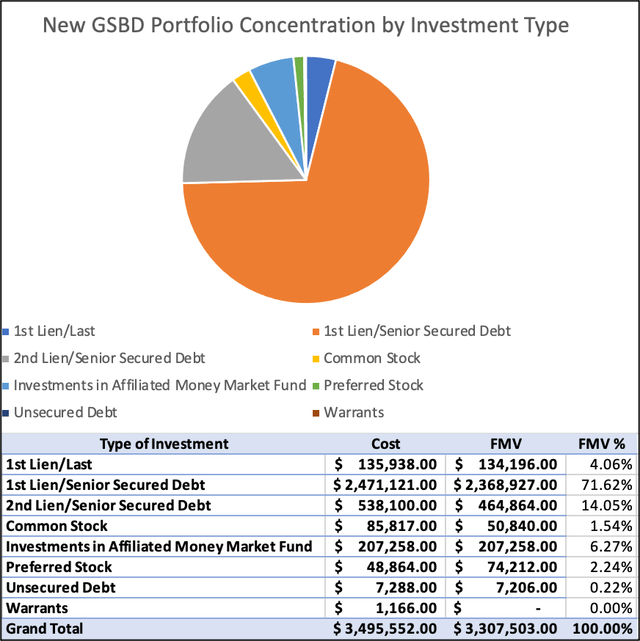 Created by the author
Most of this debt will also be in non-fixed rate loans which are good for adjusting to current Fed rates. What is positive of late is that the Fed remains accommodative and is seeking to boost inflation. Their overall aim seems to be to boost inflation to prevent deflation and the potential need for negative rates that are persisting in many developed markets. This long-term trend will mean that, eventually, interest rates can be expected to be raised by the Fed, which behooves the BDC industry and especially for firms with large portfolios like GSBD who can use their portfolio assets scale and name brand to receive cheaper interest rates, thus increasing their net interest margin potentially. This seems like a probable future outcome.
Portfolio Leverage
As previously mentioned, the new GSBD will have a rough Debt/Equity ratio of 1.18x and a debt-asset ratio of 0.54x. The merger primarily helps GSBD deleverage its assets.

Created by the author using GSBD's 10Qs and 10Ks
The tables here highlight to investors the past performance for both funds in terms of leverage, which is very important for BDCs as they generally use debt to make investments and rely on the cash flow from their underlying portfolio companies to cover their borrowing expenses.

Created by the author using GSBD's 10Qs and 10Ks
Expense Ratios
MMLC investors will cringe at the high NE/NAV expense ratio that their capital has bought into in GSBD. To highlight, GSBD has almost a 3% percent NE/NAV difference compared to MMLC.

Created by the author using GSBD's 10Qs and 10Ks
This high expense trend also carries over to the NE/TII ratio, which, for the last two quarters, has been 10% higher for GSBD than MMLC. However, it is important to note that both companies had the same NE/TTI for 2019.

Created by the author using GSBD's 10Qs and 10Ks
Risk, Debt/Equity, and Net Investment Income/NAV
What is also interesting to note from the tables above is the NII/NAV ratio. This ratio is another way for investors to gauge their equity yield. For GSBD in 2019, its ratio was 12% compared to MMLC's 8.7%. This can be explained by referring back to the leverage of both companies. GSBD has a higher leveraged portfolio with a Debt/Equity ratio of 120% in 2019 compared to MMLC's 75%.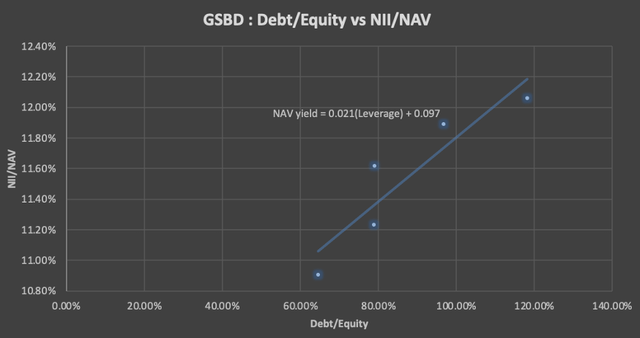 The higher risk means that GSBD can earn a higher return. Mapping a correlation score between the leverages and NII/NAV for both companies draws scores of 0.91 (a correlation score of -1 or 1 is perfect). This high correlation score between the NII/NAV and Debt/Equity can help attentive investors understand that both companies' portfolios follow Modern Portfolio Theory (MPT).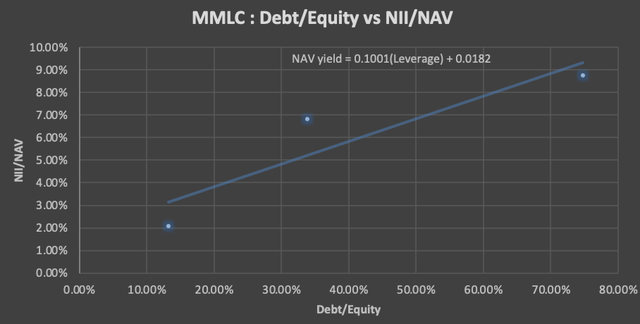 Correlation to Markets
As the BDC industry concentration chart highlighted, the fund is so well-diversified it looks like a standard ETF. An attentive investor who examines the Debt/Equity ratio may argue that the new GSBD just looks like a leverage S&P 500 index. Investors and market participants who have recently seen J.P. Morgan's 2020Q4 projection will note that U.S. high yield portfolios have a strong correlation score of 0.8x with the S&P 500.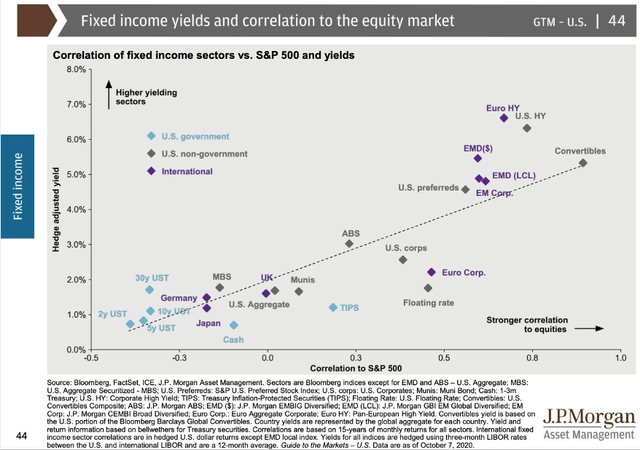 Sourced from J.P. Morgan's "Guide to the Market 2020Q4"
When portfolios reach a certain scale and volume, as it appears that GSBD may have reached with its recent merger with MMLC and potential future merger with other Goldman privately held BDCs, it seems likely that GSBD may revert to the mean. If we were to map GSBD to the High Yield Market since most of GSBD and MMLC's investments are triple Bs or lower, the above chart shows that GSBD's portfolio yield of 7% has a strong correlation with the equity markets (a score of -1 or 1 is perfect correlation).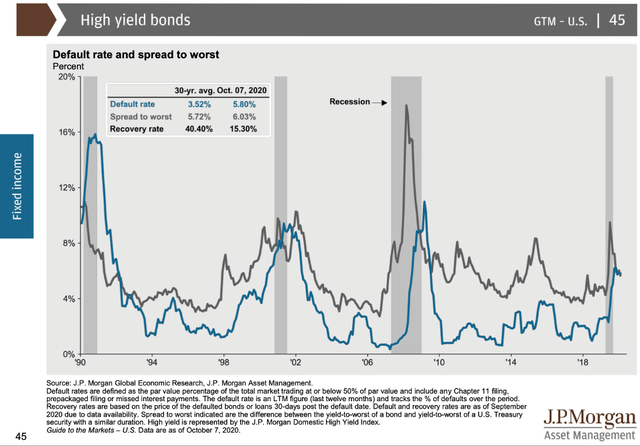 Sourced from J.P. Morgan's "Guide to the Market 2020Q4"
The above table highlights the risk that investors are taking on investing in a BDC as default rates are up 2.28% from their 30-year average, which is almost double compared to the normal default rate in the last 30 years.
Total Returns for GSBD and MMLC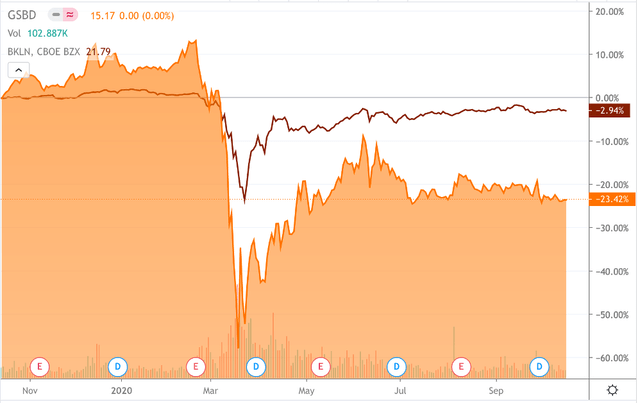 Sourced from SA
Overall, the company has not performed well for investors this year as the above chart highlights. However, since inception, GSBD has consistently paid a dividend of $1.80 every year, which has been covered by Net Investment Income Per Share ("NIIPS"). This is important for a BDC as NIIPS is the lifeblood for a BDC. MMLC has also paid a steady dividend. The special $75M dividend will earn MMLC shareholders about $1.39 = [$75M/53M shares].

Created by the author
Since 2015, GSBD has seen its market price decline from $20.66 to $16.23. Combine this decline with the $9.90 in dividends investors have received and total returns for the long-term investor are 26% or roughly 5% CAGR. This is a brutal analysis of total return as the company has had to deal with a decline in the market this year due to the pandemic. Drawing the line at the end of 2019 paints a much better picture for GSBD as investors who exited at the beginning of 2019 saw a 9% CAGR if you subtract 2% for inflation.

Since 2017, GSBD has seen its NAVPS decline from $18.89 to $16.15. Combine this decline with the $6.50 in dividends investors have received and total returns for the long-term investor are 30% or roughly 8% CAGR if you subtract 2% for inflation.
At the stock's current price of $15.17, the dividend yield is 11%, which presents an enticing and stable opportunity for new investors to get in on the BDC market at record lows.
Conclusion
Goldman Sachs BDC's recent merger presents an interesting opportunity for investors. The company's combined low non-accrual status percentage, concentration in "low-risk loans" in the high yield space, and deleveraging due to the merger all present a positive picture for the new GSBD's portfolio and, thus, its investors. Areas of concern are expense ratios as highlighted above, as investors pay for the premium brand of Goldman, but perhaps in uncertain times like these, investors may take comfort in a well-established brand as illustrated by GSBD's trading 25% above the industry average 0.75x price/NAVPS. Returns for the company have been average when compared to the run-up for the broad markets in the US, given the tech boom and digital revolution the country has been experiencing for the last decade coming out of the recession.
For investors interested in the BDC industry and looking for a solid BDC during uncertain times, the new GSBD presents a positive opportunity. With GSBD's underlying assets consisting of a solid portfolio concentrated in high yield senior debt and a $200M cash war chest, the company will be able to maintain and provide assistance to its current portfolio and make future acquisitions for a steady yearly return rate consistent with its historical returns.
If you want to receive more articles like this that go in-depth on the BDC sector please click the "Follow" button at the beginning of the article or the "Like" button below to encourage more content creation. Thank you for reading!
Disclosure: I/we have no positions in any stocks mentioned, and no plans to initiate any positions within the next 72 hours. I wrote this article myself, and it expresses my own opinions. I am not receiving compensation for it (other than from Seeking Alpha). I have no business relationship with any company whose stock is mentioned in this article.
Additional disclosure: The content of this post is not meant as investment advice as it is the expressed opinion of the author. The numbers and statistics were developed using public information from involved companies and may as all analyst work contains errors. Any decisions or actions made by readers or actors of this article are the sole responsibility of the readers or actors themselves and have no legal or financial responsibility or bearing on the author.