It is time for software giant Adobe (ADBE) to deliver, perhaps, another of its trademark "bare bones all-around beat." The San Jose-based company is scheduled to report fiscal third-quarter results on September 16, after the closing bell.
Over the past five years at least, Adobe has met or slightly surpassed EPS expectations each quarter, while also delivering revenue growth of at least 14%, even through the thick of the COVID-19 crisis. This time, analysts expect sales growth to decelerate to 11.5%, which is very much in line with guidance. Consensus EPS of $2.41, on an adjusted basis, is also aligned with management's outlook.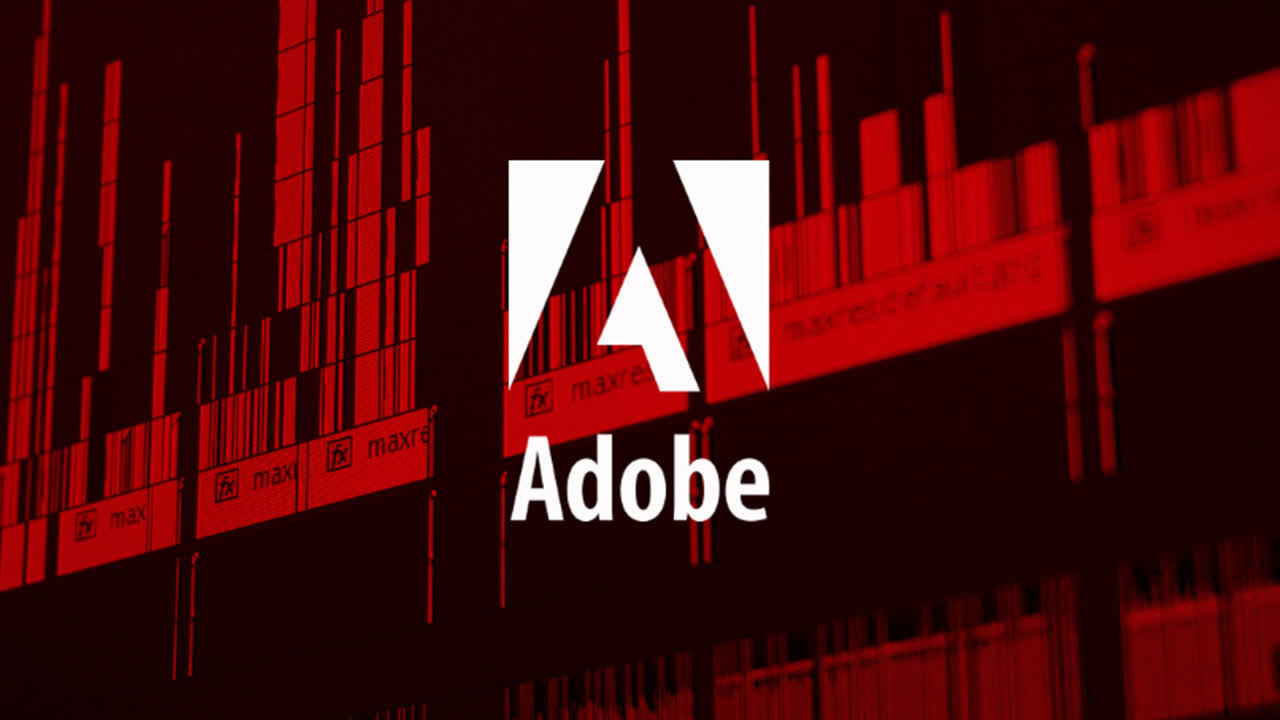 Credit: Neowin
What to expect this quarter
Last quarter, Adobe benefited from trends in remote schooling, social content creation and widespread use of digital documents as a result of the "COVID-19 economy." Top-line headwinds came from the company's smaller experience segment, hurt by weakness in professional services and the unwind of the advertising cloud business. The bottom line benefited from lower expenses, a result of Adobe's "wait and see" approach to the pandemic and its implications.
Regarding the top line, I would be surprised to see a different dynamic at play in fiscal third quarter. Technology trends are here to stay, and Adobe's subscription-based model implies that previous tailwinds in customer acquisition are likely to be "sticky." On the flip side, advertising cloud should remain a soft spot, although this time fully captured by guidance and unlikely to catch anyone by surprise.
The management team promised more investment in the business, now that the thick of the economic crisis seems to have been left behind. Therefore, I anticipate richer expenses in fiscal third quarter – although not beyond expectations, since Adobe has control over the cost levers and will likely keep expenditures within budget.
Below is the yardstick against which Adobe will be measured this Tuesday.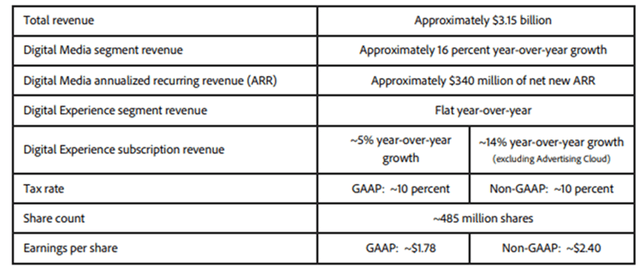 Source: Adobe's investor relations page
Classic storm-resistant growth
My investment management diligence prevents me from aggressively adding any particular stock to my All-Equities SRG – an allocation of around 10% is my upper limit. But if I were given a hall pass and could choose one name to concentrate a portfolio into, ADBE would likely be my top choice.
I explained a few months ago that this stock is the poster child of my storm-resistant growth strategy due to the company checking all the necessary boxes: (1) market dominance, (2) a reliable source of recurring revenues, (3) a business model that seems to do well in economic expansion and contraction, and (4) deep pockets.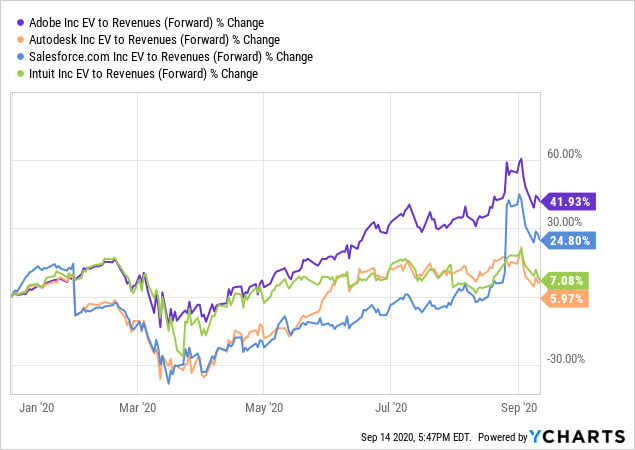 The perceived problem with this stock is, and likely always will be, its rich valuations. The chart above shows that ADBE is more expensive than other names within its peer group, at a forward EV-to-sales ratio of nearly 18x. Not only that, but the multiple has expanded the most so far this year, outpacing high flier salesforce.com (CRM). Probably for this reason, I often hear potential investors say that they would rather wait for a pullback before buying shares.
But at least until now, ADBE has climbed much more than it has corrected. Take September as an example. The stock has been down 9% from the peak reached earlier in the month. But even so, investors who waited since last earnings season for this pullback have missed out on a 19% rally that has beaten the S&P 500 (SPY) by a solid eight percentage points. In fact, buying shares "on the dip" now would still be pricier than buying them three weeks ago. The story keeps repeating itself, so why bother trying to get the timing right?
For this reason, I believe that ADBE is a stock to own at current prices, before or after earnings (absent an unprecedented hiccup in performance in fiscal third quarter), not one to trade in anticipation of a better entry point.
Beating the market by a mile
Members of my Storm-Resistant Growth community will continue to get updates on ADBE (allocation updates, insights, etc.) and the performance of my market-beating "All-Equities SRG" portfolio on a regular basis. To dig deeper into how I have built a risk-diversified strategy designed and back-tested to generate market-like returns with lower risk, join my Storm-Resistant Growth group. Take advantage of the 14-day free trial, read all the content written to date and get immediate access to the community.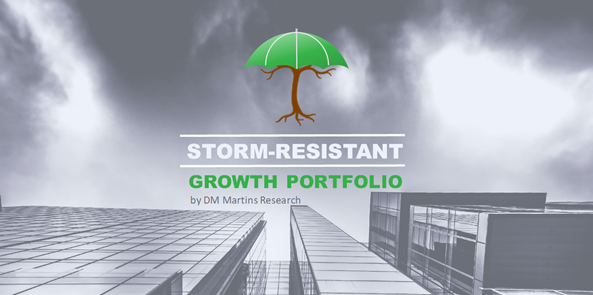 Disclosure: I am/we are long ADBE, CRM. I wrote this article myself, and it expresses my own opinions. I am not receiving compensation for it (other than from Seeking Alpha). I have no business relationship with any company whose stock is mentioned in this article.