Editor's note: Seeking Alpha is proud to welcome Diego Aransaenz as a new contributor. It's easy to become a Seeking Alpha contributor and earn money for your best investment ideas. Active contributors also get free access to SA Premium. Click here to find out more »
Investment thesis
I do not believe e.l.f. Beauty Inc. (NYSE:ELF) is positioned to deliver on becoming a pillar brand in the mass beauty market. The beauty brand has yet to prove its staying power in a very competitive landscape. In order to bounce back from its poor investment returns since its IPO, the brand will need to continue to deliver on profitability goals while demonstrating a capacity to build brand equity. I believe e.l.f. will continue to tread along but will not deliver rapid growth or disruptive innovation to warrant a significant multiple expansion. I don't believe this is a great short opportunity as the stock is close to fairly priced but there are some significant risks to track that could provide an opening to bet against the brand.
e.l.f. faces several significant risks tied to its value chain on both the manufacturing and the distribution side which could have a strong adverse effect on its performance and will continue to suffer from headwinds in the color cosmetics category. e.l.f.'s dependency on its retail partners (Target (TGT) and Walmart (WMT) — and to a lesser extent CVS (CVS)) exposes them to risks tied to their performance.
e.l.f. has launched the "Project Unicorn*" initiative to refocus its brand around its core business of selling high-quality and prestige-inspired products at affordable prices. It aims at winning within its retail partner doors and through investment in its e-commerce. According to management, succeeding in its retail partner doors will require regularly getting new products to shelves and find similar new launch success stories like its Poreless Putty Primer release last fall.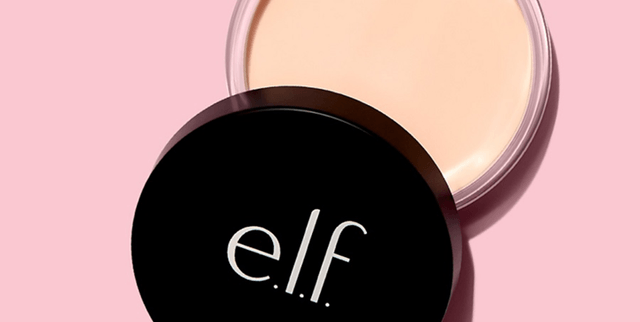 Source: Global beauty cosmetics news
Industry environment & company risks:
Barrier to entry:
The initial cost needed to develop a new cosmetics brand has been reduced. There are many opportunities to find a lab and manufacturing facility to partner with to bring a product to market.
Threat of substitutes:
There isn't much of a moat in the cosmetics industry which has been stratified through the evolution of the retail model from a department store & pharmacy focused format into an omnichannel experience with new specialty-multi retail players. The main defensibility of a brand is to create a strong brand identity with an expertise in a subcategory of the industry.
Buyer bargaining power:
e.l.f. has two main retail partners (Walmart & Target), which accounted for 31% and 22%, respectively, of the company's net sales in fiscal 2020. In the current economic environment, retail has severely suffered, and while both Walmart and Target have fared better than other retail firms, they will likely be putting some more negotiation pressure on brands to offer better wholesale terms. Retailers will likely double down on promotional activity to drive customers through their doors (or online channels).
Supplier bargaining power:
e.l.f.'s heavy reliance on China for both sourcing and manufacturing places some geo-political risks on continuing its gross profit margin expansion if US/ China relationship sours. The determinant for success in e.l.f.'s value chain could run into some unplanned hurdles which would have a material impact on inventory availability and gross margin.
e.l.f.'s costs are currently being impacted by increased tariffs on imported products which it has passed along to its customers through increased prices. These price hikes have likely had an impact on volume particularly at the company's product's price point, where price sensitivity is higher (versus prestige products).
Performance highlights:
e.l.f. has grown sales at a CAGR of 11.1% between FY2016 and FY2020. e.l.f. has gradually decreased its COGS from 42.4% in FY 2016 to 36.0% in FY 2020 due to cost reductions in the supply chain; mostly from the company's third-party manufacturing partners in China. SG&A costs (personnel-related expenses, including salaries, bonuses, fringe benefits and stock-based compensation, marketing and digital expenses, warehousing and distribution costs, costs related to merchandising, depreciation of property and equipment, amortization of retail product displays and amortization of intangible assets) have steadily increased as the company invested in its growth. The recent savings tied to the company's store closure has been offset by an increased investment in marketing and digital investments. e.l.f. has grown its advertising and promotion budget from $8.1 MM in FY 2017 (3.0% of net sales) and $10.2 MM in FY 2018 (3.8% of net sales) to $37.8 MM in FY 2020 (13.4% of net sales). e.l.f. is likely doubling down on CO-OP promotions and ads with its retail partners to continue to drive traffic to their doors and .com as well as continue to invest its personalized digital touchpoints to customers. e.l.f. has expressed (in its 2020 annual report) that it is over indexed with Millennials, Gen Z and Hispanic consumers. It is focused on driving advocacy through its presence on social media platforms (Instagram, Facebook, Twitter, TikTok, YouTube and other).
I have taken a quick look at e.l.f.'s Instagram account (@elfcosmetics) to determine if they are leading its direct competitors in basic performance metrics. e.l.f. is slightly over the average on all metrics, but is not demonstrating any competitive advantage with a significant outperformance.

Source: Created by author using data from Instagram
e.l.f. has partnered with Alicia Keys to launch a new lifestyle skincare brand. While this is not the company's first partnership (previous partnerships with influencers: JKissa and Nabela Noor), it is e.l.f.'s first celebrity partnership that entails launching a new product line in the skincare category.
In February, e.l.f. announced it will be closing all 22 of its retail locations by end of March 2020. In-store sales account for a small portion of e.l.f.'s total revenues, but the loss of its own brick and mortar presence means a continued reliance on its retail partners (Walmart and Target) and a continued importance to grow its e-commerce business. The loss of its own stores also limits its capacity to capture customer level data to its e-commerce sales and translates to a loss of control its customer's in-store and post-sales experience.
e.l.f. has maintained a healthy balance sheet through most of its growth with acceptable leverage. The company's debt to equity ratio currently stands at 0.49x (taking EOP term loan + capital lease / total equity). e.l.f. should be capable of paying back its term loan without liquidity issues even accounting for conservative growth and performance metrics. Below, I performed a quick comparison of e.l.f.'s working capital metrics and ratios versus a basket of competitors including: Estee Lauder Companies (EL), Revlon (REV), L'Oreal (OTCPK:LRLCY), Shiseido (OTCPK:SSDOY) and Natura & Co (NTCO). e.l.f. is efficiently using its working capital with its ratios often around the average versus competitors. Its account payable days being lower versus competitors likely is a clue that it is not in a position of power when negotiating payable terms with its retail partners. The company makes up for it by having a below average account receivable days. In total, e.l.f. has room for improvement in its working capital efficiency.

Source: Created by author using data from companies' corporate filings and Yahoo finance website
Looking forward:
e.l.f. should continue to successfully weather the impact of COVID and continues to have a healthy cash balance of $54.2MM along with access to $49.8MM under its current Revolving Credit Facility arrangement. The short-term performance of the company will depend on its ability to defend and improve on its current margin level. This will heavily depend on the resolution of its supply chain bottle necks tied to China/ US trade negotiations and its relationship with its main retail partners.
e.l.f.'s long-term success will not only depend on its ability to continue hitting its target on profitability targets, but will even more importantly depend on the ongoing appeal of its brand to its existing customer base and its capability in attracting new customers. A close evaluation of its upcoming product launches will determine if it can continue to attract clients through newness.
As long as there are ongoing shutdown/ social distancing measures in place, color cosmetics will face significant headwinds. Skincare is the best performing category within beauty since the beginning of COVID and e.l.f.'s expansion into the segment through its partnership with Alicia Keys will play a significant role in the growth of the company's top line. The question remains on whether they will successfully cross sell their customers into the new category and gain market share in a very crowded subcategory.
I have e.l.f. share price at $18.83 (slightly below the current share price. My price target is based on a comps EBITDA multiple analysis, DCF analysis and looking at the 52-week previous high low. My DCF model is based on calculating and discounting e.l.f.'s annual free cashflow to the firm out to FY 2030 and a terminal value based on 12.0x EBITDA multiple. I used a 9.5% discount rate to calculate the rolling enterprise NPV. I finally added back cash and subtracted debt (revolving credit, term loan and capital lease) to arrive at an equity value for the firm. I used an unchanged fully diluted shares outstanding to arrive at a rolling value per share.
For my DCF, I created 3 scenarios including a consensus, a bull and a bear case. For my bull scenario, I have sales growing at a 5% QoQ rate for 2020 and picking up the pace to 10% in 2021. I have COGS continuing to improve slightly (to ~33% of sales) and SG&A's proportion to sales dropping to ~45%. Finally, I have a slight improvement to working capital efficiency as the company continues to grow and improve its relationship with retail partners and suppliers. This bull scenario represents what the company's performance will be if it executes on its growth plans and avoids the risks listed earlier. The consensus case paints a likely more realistic picture of upcoming performance, which extrapolates the past performance of the company with minor improvements to gross margin and net profit margin. Finally, the bear scenario represents what the company will endure if supply chain risks materialize and the company's market share stagnates. The bear scenario would materialize if the company's venture into skincare is a flop and if its current sales per doors within its retail partners remains flat.
Based on today's price of 19.09, I have a hold recommendation for ELF. I do not believe there is a good risk reward balance in ELF.
Disclosure: I/we have no positions in any stocks mentioned, and no plans to initiate any positions within the next 72 hours. I wrote this article myself, and it expresses my own opinions. I am not receiving compensation for it (other than from Seeking Alpha). I have no business relationship with any company whose stock is mentioned in this article.