3M Company (MMM) is a favorite of many dividend growth investors. But the stock price is still down from its high in early 2018, requiring investors to have extreme patience in the current bull market. It is trading at levels last seen in 2015-2016. Several Seeking Alpha authors, including myself, have documented the reasons why the stock price has been pressured, including lawsuits related to PFAS and a few other products, the U.S. and China trade war, a downturn in China's automotive sales, leverage, and COVID-19. This lengthy list likely kept investors on the sidelines. However, I believe that today there are three reasons why 3M is a buy for long-term dividend growth investors: 3M is reducing debt and improving capital deployment, the third quarter will be better than the second quarter, and the company is a Dividend King.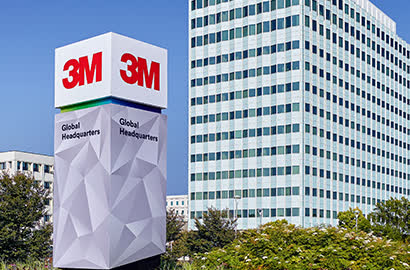 (Source: 3M Company)
Company Is Reducing Debt and Improving Capital Deployment
3M historically had a fortress balance sheet. But starting at about 2014, long-term debt and net debt started to rise. The leverage ratio (net debt-to-EBITDA) rose from a minuscule 0.16X at end of 2013 to 2.06X at the end of 2019. 3M had about $2,795 million in short-term debt and $17,518 million in long-term debt, offset by only about $2,451 million in cash, equivalents, and short-term investments at the end of 2019. Much of this debt was being used for share buybacks, which is not a good use of debt, in my opinion. Granted, some debt was also used for the $6.7 billion Acelity acquisition in 2019, expanding 3M's business in wound care.
3M seems to have turned the corner on the philosophy of using debt for share buybacks. There was only $365 million in stock repurchases in the first quarter and only $1 million in stock repurchases in the second quarter. Further, net debt declined by about 10% to $17,151 million. The company has paid down short-term debt, which stood at $1,486 million at the end of Q2 2020. Long-term debt increased to $19,276 million, but this seems to have been to shore up liquidity, since the cash and marketable securities position is up to $4,446 million. You can see the trends for total debt and net debt in the chart below. The peak for both was at end of Q1 2020.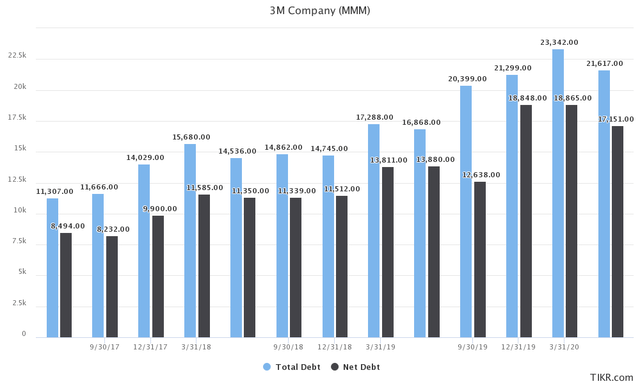 (Source: TIKR.com)
The question is, though, will 3M bring leverage down? The company did not highlight debt reduction in its most recent earnings call. But in the first quarter, it did state that it is aggressively reducing costs and adjusting capital allocation plans. This goal was to protect liquidity and financial flexibility. 3M also suspended share repurchases. These changes were driven by the adverse effects of COVID-19. Nonetheless, I interpret these changes as focusing on maintaining a strong balance sheet.
The company indicated that it is trying to allocate about 30% of capital to growth, about 30% to the dividend, and about 40% for flexible deployment. As you can see from the chart below, current management is emphasizing acquisitions rather than share repurchases. Further, share repurchases are based on relative value, so they are not automatic. Share repurchases are also influenced by other capital demands. I take this to mean that debt reduction has higher priority relative to share repurchases. The lower priority for share repurchases was confirmed in the Q2 2020 conference call. The CFO stated:
To reiterate capital allocation, our first priority has always been to invest in the business. It's R&D organic growth, best returns right there. Dividend is our second, which has been a big hallmark of 3M, that's our second priority, and then M&A is third, and then share buybacks would be our last priority. That's the way we are looking at it right now.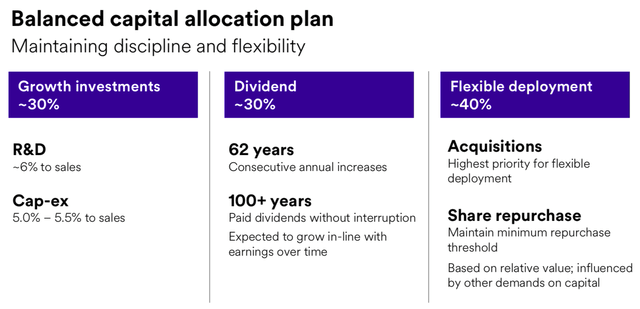 (Source: 3M 2019 Investor Overview)
Third Quarter 2020 Will Be Better Than Second Quarter 2020
The second quarter was not great for 3M. The company had reduced expectations, but still missed on revenue and adjusted earnings per share. This was driven by weakness in Healthcare and Transportation & Electronics, offset by beats in Safety & Industrial and Consumer. That said, all four segments had lower sales, as seen in the chart below, despite higher sales of personal safety equipment. But Healthcare and Transportation & Electronics were particularly weak. This should be no surprise, though, as many patients deferred elective procedures and dental offices were closed. Additionally, most manufacturing facilities, including automotive, aerospace, and electronics, were shut down for at least part of the quarter.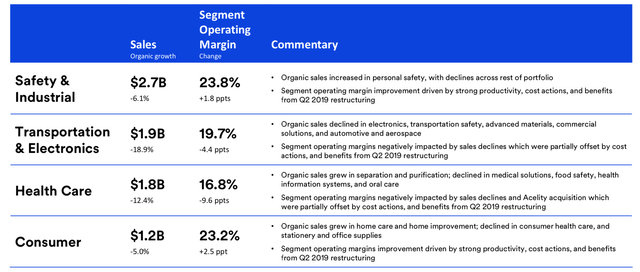 (Source: 3M 2020 Second Quarter Business Review)
The restart of global economies means that 3M will in all likelihood have a better third quarter. The company acts as a supplier to many other manufacturers. Hence, when the US and global economies slowed in the first quarter, 3M was one of the first industrial companies to feel its effects. But the US and global economies are recovering. In the US, manufacturing bounced back quickly and is in its third straight month of expansion. This will benefit 3M's top and bottom lines. Granted, aerospace is still weak but both automotive and electronics are recovering.
Automotive manufacturers are a major end-market for 3M. In China, new sales are rising for the fourth straight month on a year-over-year basis. In the U.S., the second quarter for new car sales was abysmal, with sales down an estimated 34.3% resulting from plant shutdowns and stay-at-home orders. That said, sales in May and June were better than in April, which was the bottom. July car sales were better, with some car makers reporting gains, and August was the best month for some car makers since the pandemic started. 3M will be as beneficiary, since it is a supplier to car makers in both countries.
Electronics makers are another major end market for the company. Retail electronics sales are bouncing back after a steep drop. Sales bottomed in April and are now near the long-term averages. Further, the large change to remote working is driving global computer sales. Globally, sales are up 11% in the second quarter. In the U.S., sales are up 14%. It is likely that sales will be up even more in the third quarter, particularly in the U.S., due to many schools opening in a virtual-only mode. The learn-from-home trend has led to school districts issuing students laptops. Both Dell (DELL) and HP (HPQ) reported strong sequential and year-over-year gains in the sale of laptops. 3M will be a beneficiary, since it is a supplier to electronics and computer makers.
Lastly, health care is recovering. Many hospitals and patients had postponed elective surgeries. In addition, dental offices were for the most part closed for two to three months across the country. This was likely unexpected, as healthcare is largely thought to be recession-proof. As you can see from the chart above, not only were sales down, but 3M's margins for this segment took a big hit. In late May and early June, many states starting allowing elective surgeries again. In addition, dental offices started to reopen. This will benefit 3M's healthcare segment. This was confirmed by the company's July Summary, which showed that total Health Care sales increased 29%, probably due to pent-up demand.
3M is a Dividend King
3M is a Dividend King, having paid a growing dividend for over 50+ years. Not only that, it is one of only nine companies to have raised the dividend for 60+ consecutive years. Further, the company has paid a dividend for over 100+ years without interruption. This means the dividend has survived the Great Depression, the Great Recession, inflation in the '70s, two World Wars, pandemics, etc. In my mind, that is commitment. The dividend will likely grow at about the same pace as earnings. So, I am not expecting much growth in 2020 or 2021 at this point.
Final Thoughts on 3M
3M has been a difficult stock to hold for a few years. Further, there has been quite a bit of negative sentiment for the stock due to lawsuits and other challenges. That said, low expectations are now built into the stock price. Further, the yield is elevated relative to long-term average over the past decade. The stock is also a Dividend King and also one of the ten Dogs of the Dow for 2020. It looks like the worst is past for the company from the perspective of the pandemic and global economic slowdown. In a market that is largely overvalued, 3M still trades at a more reasonable forward valuation of about 20X forward earnings. If the third quarter ends up better than expected for the company, then 3M may be a deal. I view the stock as a long-term buy.
If you would like notifications as to when my new articles are published, please click the orange button at the top of the page to "Follow" me.
Disclosure: I am/we are long MMM. I wrote this article myself, and it expresses my own opinions. I am not receiving compensation for it (other than from Seeking Alpha). I have no business relationship with any company whose stock is mentioned in this article.