By Lambert Strether of Corrente.
Patient readers, stay tuned for Elizabeth Warren. –lambert
Politics
"But what is government itself, but the greatest of all reflections on human nature?" –James Madison, Federalist 51
"They had one weapon left and both knew it: treachery." –Frank Herbert, Dune
Here is a second counter for the Iowa Caucus, which is obviously just around the corner:
* * *
2020
Alert reader dk (not to be confused with DK) is in the process of developing the following interactive chart.

Here is (are) the latest Dem Primary Polling as of 11/22/2019, 12:00 PM EST. Biden leads, Sanders strong second, Warren third, Buttigieg third tier.

Here, the latest national results:

I think dk has started a really neat project, and in the near future we'll seek your feedback (within reason) for the tool "live."

* * *

Bloomberg (D)(1): "Bloomberg spending $15M-$20M to register half million voters" [Associated Press]. "New York billionaire Michael Bloomberg is rolling out plans to spend an estimated $15 million to $20 million on a voter registration drive designed to weaken President Donald Trump's reelection chances in five battleground states." • So if you live in other states, you don't deserve a franchise. Voter registration should be a normal party or even governmental function. It's insane to do it on a project, campaign-driven basis.

Gabbard (D)(1): "Democratic establishment reaches boiling point with Tulsi Gabbard" [Politico]. "The Hawaii congresswoman's presence on the debate stage is becoming a headache for the party as she uses the platform to appeal to isolationists, dissatisfied liberals and even conservatives. She has managed to secure a spot on the debate stage as more mainstream candidates like Sen. Michael Bennet (D-Colo.) and Gov. Steve Bullock (D-Mont.) failed to meet polling and donor thresholds to participate." • So how are candidates that can't get donors or make an impact in the polls "mainstream"? Maybe the mainstream isn't where the political class thinks it is?

Patrick (D)(1): The rule is that you should always hire a hall that's too small. Unfortunately for Patrick, in his case the hall would need to be smaller than 0'x0′. That's a heavy lift:

Governor @DevalPatrick was supposed to have an event at Morehouse College tonight. An organizer with the college who planned the event told CNN that Patrick cancelled the event when he arrived and learned that he would not have an audience. (Note, two people came, not pictured) pic.twitter.com/CzNjWYcWKJ

— Annie Grayer (@AnnieGrayerCNN) November 21, 2019

Patrick's debacle at Morehouse is in great contrast to Sanders–

Sanders (D)(1): Impressive photo at Morehouse, another key HBCU:

"I was arrested and went to jail fighting housing segregation in Chicago.

I know that that's usually not the kind of thing pres. candidates advertise, but it's a better way to go to jail than the corruption that currently goes in the White House" @BernieSanders at @MoreHouse pic.twitter.com/HEGK7nWFJD

— People for Bernie (@People4Bernie) November 21, 2019

Sanders (D)(2): "El-Sayed endorses 'consistent' Sanders for president" [Detroit News]. "In 2018, [El-Sayed] ran for governor as a progressive outsider. … Ultimately, El-Sayed finished second with 30% of the vote in the Democratic primary, behind Whitmer's 52%." • So we'll see.

Sanders (D)(3):

Bernie Sanders' aides point out that he has retaken the second-place position in the RealClearPolitics national polling average. At 19.3%, he's at his highest point since early May. pic.twitter.com/lnXtQpbCvn

— Holly Otterbein (@hollyotterbein) November 21, 2019

We have post-modern polling, a narrative created by an unreliable narrator.

* * *
Impeachment
"John Bolton's absence grows conspicuous as Fiona Hill and David Holmes testify at impeachment hearing" [MarketWatch]. "Bolton hasn't been subpoenaed to appear, and House Intelligence Committee Chairman Adam Schiff has so far suggested he won't be, even though his testimony could be of high interest to impeachment investigators. Schiff has indicated he doesn't want a prolonged court battle over Bolton's testimony, and Democrats have said they already have a mountain of evidence in their impeachment probe."

"Opinion: Two things are now clear: Trump's call wasn't 'perfect,' and he won't be removed" [Scott Jennings, Los Angeles Times]. Scott Jennings is former advisor to President George W. Bush and Senate Majority Leader Mitch McConnell and a CNN contributor. So I'd say Jennings is sending a message, both from the Republican establishment and Mitch McConnell. "[L]est you think use of the word 'coup' is something hysterical Republicans have deployed to whip conservatives into a frenzy, they borrowed it from a card-carrying member of the liberal resistance: attorney Mark Zaid, better known as the whistleblower's lawyer. In January 2017, Zaid tweeted: "#coup has started. First of many steps. #rebellion. #impeachment will follow ultimately. #lawyers." So the attorney for the whistleblower who started this impeachment frenzy (yet will not appear before the Intelligence Committee) predicted a 'coup' and 'impeachment' almost simultaneously with Trump taking office. You'd have to forgive your average Republican in flyover country for taking Trump's opposition at its word." • 

"Understanding Adam Schiff's 'Bribery' Theory" [Andrew McCarthy, National Review]. "Schiff knows that not all bribery is created equal. He knows the first official act is not good enough for impeachment, even if it's good enough for the federal bribery statute. That is: No one in America except the most ardent anti-Trumpers is going to support the impeachment of the president of the United States over the mere denial of a White House visit to a foreign politician." • I'll say it again: If a Republican Senator in the trial phase of the impeach can make their case in a sober manner — unlike the yapping puppies of the Freedom Caucus — they'll have the chance to be Trump 2.0. For example: Do we want foreign policy made by an elected President, or by The Blob? Because that's what this power struggle is about.
The Debates
Like a Roman circus:

I was in the crowd of the Democratic Debate last night. It felt like being on a Jerry Springer set.

The crowd–DNC members, party insiders, campaign guests–were not there to hear substantive argument, but felt bloodthirsty to be entertained by blows, takedowns, and clapbacks.

— Nicole Alexander Fisher (@_nalexander) November 22, 2019

And:

Kenya, Lee, Brett and I had that exact discussion as we were leaving the seats. It was bloodlust at its worst.

— Livin_Aloha_Joe 🌺🏄‍♀️☂️ Unusual American (@aloha_livin) November 22, 2019

Ladies and gentleman, I give you The Political Class.
L'Affaire Joffrey Epstein
"EXCLUSIVE: Inside Jeffrey Epstein's New Mexico ranch: Jaw-dropping pictures show pedophile's eight person party shower, life-sized installation of a crucified Jesus and 'underground strip club where teens would entertain VIP guests'" [Daily Mail]. Do these VIP guests have names? Well, one of them does. An anonymous contractor: "'I had seen things in the house, on the computers, which made me evaluate whether I should be working for him or not. There was numerous photographs in frames, in his library, his office, on the walls, of young underage girls topless and him and various other powerful people. Celebrities, entertainment people, political people, , he wasn't shy about having those in the house… I have seen a picture of him and Bill Clinton smoking cigars on pool lounge chairs with underage topless girls." • Granted, this is a single source, but let's not let this get lost in the oddly simultaneous hoopla about Randy Andy, mkay? And: "On security, [the contractor] discloses: 'There were a lot of photographs being taken, they were all over [the ranch]. I noticed in the closets there were video distribution systems, which I initially assumed to be for entertainment, but now I'm not so sure. [They] may have hidden cameras in some of the rooms, that type of thing.'" • Damn, what's that Russian word everybody was using, back when RussiaGate was a thing? Starts with a "k."
Stats Watch
Kansas City Fed Manufacturing Index, November 2019: "Tenth district manufacturing activity continued to contract in November, with the composite index remaining unchanged at minus 3, matching the second lowest reading in three years" [Econoday]. "There were also some signs of recovery in the survey, however, particularly in shipments, which rose. Improvement was also seen in orders, though these were still negative… " • Mixed news at best.
Purchasing Managers' Index Composite Flash, November 2019: "Very close together along a shallow upward slope is the modest but still constructive indication from November's set of flash PMIs, led by a 6 tenth gain for manufacturing" [Econoday]. "New orders for the manufacturing sample were also the best since April." • Good news, even if only a survey!
Consumer Sentiment, November 2019: "Consumer sentiment continues to recover from its tariff-related scare in August" [Econoday]. • More good news.
Tech: "Global 5G wireless deal threatens weather forecasts" [Nature]. "Wireless companies are beginning to roll out their next-generation networks, known as 5G, around the world. The new agreement is meant to designate the radio frequencies over which 5G equipment can transmit. But some of those frequencies come perilously close to those used by satellites to gather crucial weather and climate data. … Weather forecasters will have to figure out how to mitigate the impacts on satellite observations — perhaps by working with the wireless industry to research ways to shut off or redirect 5G transmissions when a satellite is making its measurements. Botha said that the new agreement requires a "continued monitoring" of how 5G networks affect weather observations, but provided no details on what that monitoring would involve or what the consequences would be if the weather data are degraded." • That's insane. Why isn't the precautionary principle controlling? The wireless monopollists should have to prove that they won't screw up weather reporting, not the other way round. And all for moar and faster pr0n and the Internet of SH*t? It's exactly Musk screwing up astronomy with his stupid satellites. And for what?
* * *
Today's Fear & Greed Index: 68 Greed (previous close: 70, Greed) [CNN]. One week ago: 87 (Extreme Greed). (0 is Extreme Fear; 100 is Extreme Greed). Last updated Nov 22 at 12:31pm. We have now transitioned to Greed from Extreme Greed.
The Biosphere
"Coal Knew, Too" [HuffPo]. • Excellent, a must read. The first three paragraphs:
In August, Chris Cherry, a professor in the Department of Civil and Environmental Engineering at the University of Tennessee, Knoxville, salvaged a large volume from a stack of vintage journals that a fellow faculty member was about to toss out. He was drawn to a 1966 copy of the industry publication Mining Congress Journal; his father-in-law had been in the industry and he thought it might be an interesting memento.

Cherry flipped it open to a passage from James R. Garvey, who was the president of Bituminous Coal Research Inc., a now-defunct coal mining and processing research organization.

"There is evidence that the amount of carbon dioxide in the earth's atmosphere is increasing rapidly as a result of the combustion of fossil fuels," wrote Garvey. "If the future rate of increase continues as it is at the present, it has been predicted that, because the CO2 envelope reduces radiation, the temperature of the earth's atmosphere will increase and that vast changes in the climates of the earth will result."
"Massive Australian blazes will 'reframe our understanding of bushfire'" (interview) [Science].
Q: What is the role of climate change?

A: You have to ask: Has there ever been a fire event of 1.65 million hectares that's burnt a large area of what is generally considered fire-proof vegetation, and also occurred simultaneously with fires in other regions of Australia and California? What is happening is extraordinary. It would be difficult to say there wasn't a climate change dimension. We couldn't have imagined the scale of the current event before it happened. We would have been told it was hyperbole.

This is teaching us what can be true under a climate changed world. The numbers, scale, and diversity of the fires is going to reframe our understanding of bushfire in Australia. This is a major event which will have huge intellectual and policy legacies.
Well worth a read. Also, new word: "Pyrogeography is thinking about landscape, people, and fire."
"Trump EPA to roll back Obama-era chemical rules" [Axios]. "The Environmental Protection Agency is set to roll back a set of Obama-era standards outlining how companies must store dangerous chemicals… The rules were enacted following a 2013 explosion in Texas that killed 15 people. Officials blame arson for the deadly blast, but the fertilizer plant fire was fueled by 80,000–100,000 pounds of unsafely stored ammonium nitrate. Under the EPA's newly weakened rules, companies will no longer have to provide public information on what chemicals they store onsite." • What could go wrong?
"How two intruders from interstellar space are upending astronomy" [Nature]. "Among other things, 1I/'Oumuamua and 2I/Borisov have provided the first direct glimpse of the physics and chemistry of the squashed debris clouds that surround young stars and serve as the birthing grounds for planets. These samples from other planetary systems are allowing scientists to explore whether the Solar System is unique or whether it shares building blocks with other planetary systems in the Milky Way." • Ha ha, they only look like debris clouds. I mean, the aliens managing our interstellar quarantine aren't stupid. I just hope they like what they see on their latest swing through.
Gunz
"Nearly All Mass Shooters Since 1966 Have Had 4 Things in Commonm" [Vice]. "The stereotype of a mass shooter is a white male with a history of mental illness or domestic violence. While that may be anecdotally true, the largest single study of mass shooters ever funded by the U.S. government has found that nearly all mass shooters have four specific things in common. A new Department of Justice-funded study of all mass shootings — killings of four or more people in a public place — since 1966 found that the shooters typically have an experience with childhood trauma, a personal crisis or specific grievance, and a "script" or examples that validate their feelings or provide a roadmap. And then there's the fourth thing: access to a firearm."
Groves of Academe
"Southeastern Middlestill University Hiring Visiting Assistant Adjunct Just Because They Heard You're on the Market" [McSweeney's]. "The School of Communications, Businesses, and Queer Studies in the Fränk Malamarde College of Impossibilities at Southeastern Middlestill University invites applications for a visiting adjunct professor in nonprofit management to begin in August 2018." • And it gets better.
Guillotine Watch
"How the 1% like to heal the world" [MarketWatch]. "There were a few recurrent themes among the [Forbes 50] top 20 donors' priorities: universities, K-12 education, health-related causes, research to end various diseases, and criminal justice and prison reform." • Gives me a warm feeling that top donor Warren Buffet is donating to social justice causes.
Class Warfare
"Bankruptcy, Divorce, and Long Commutes. More Evidence That Income Inequality is Toxic" [Evonomics]. "A team of economists led by Robert H. Frank measured changes in income inequality in each of the states and in the 100 most densely populated counties in America during the period 1990-2000. Income inequality was measured in two ways—the familiar GINI index and the ratio of the 90th percentile household income to the 50th percentile household income (P9050ratio). Well-being measures included non-business bankruptcy rates, the proportion of the adult population that is divorced, and the proportion of workers whose daily commute is an hour or more. The first two measures are obviously indicative of financial and other forms of stress. The rationale for the third measure is that most people do not want to commute more than an hour to work if they can afford to live closer. As with all good research of this sort, a host of other variables were controlled for. The results spoke loud and clear: The states and counties that experienced the largest increases in income inequality between 1990-2000 also experienced the largest increases in bankruptcies, divorces, and long commutes." • A long commute is a really good stress indicator, as I know from personal experience.
"Analyses claiming that taxes on millionaires and billionaires will slow economic growth are fundamentally flawed" [Economic Policy Institute]. "Genuine information about economic policies is good and useful. But the highly stylized output of models that assume supply-constraints on growth are the norm, and which are presented as effects on 'growth' and 'jobs' with no further context are notably unuseful, and often actively misleading in today's policy debates."
News of the Wired
Not to start a text editor flame war or anything:
Harry Potter and the Prisoner of Vim https://t.co/OejiUVXQ0C

— vkmc (@vkmc) November 22, 2019
* * *
Readers, feel free to contact me at lambert [UNDERSCORE] strether [DOT] corrente [AT] yahoo [DOT] com, with (a) links, and even better (b) sources I should curate regularly, (c) how to send me a check if you are allergic to PayPal, and (d) to find out how to send me images of plants. Vegetables are fine! Fungi and coral are deemed to be honorary plants! If you want your handle to appear as a credit, please place it at the start of your mail in parentheses: (thus). Otherwise, I will anonymize by using your initials. See the previous Water Cooler (with plant) here. Today's plant (PS):
PS: "These are deep-sea corals that live below the depth that light can penetrate. Consequently, unlike their shallow-water cousins, they have no photosynthetic algae symbionts and so have to rely exclusively on what they catch to feed themselves." Moar coral (an honorary plant)!
* * *
Readers: Water Cooler is a standalone entity not covered by the annual NC fundraiser. So if you see a link you especially like, or an item you wouldn't see anywhere else, please do not hesitate to express your appreciation in tangible form. Remember, a tip jar is for tipping! Regular positive feedback both makes me feel good and lets me know I'm on the right track with coverage. When I get no donations for five or ten days I get worried. More tangibly, a constant trickle of donations helps me with expenses, and I factor in that trickle when setting fundraising goals:
Here is the screen that will appear, which I have helpfully annotated.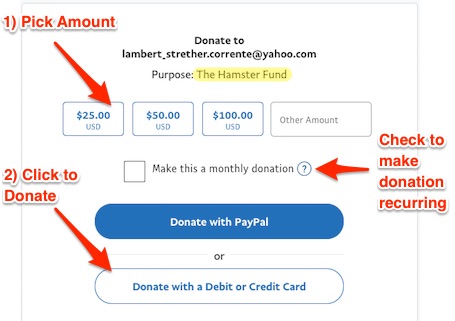 If you hate PayPal, you can email me at lambert [UNDERSCORE] strether [DOT] corrente [AT] yahoo [DOT] com, and I will give you directions on how to send a check. Thank you!