The IPO market has been extremely hot lately as the recent run-up in the stock prices (read tech) has inspired every other company to cash in on the bonanza. Plus, when every other investment guru tells you that if you'd invested $10,000 in Amazon (AMZN) at its IPO, it would have grown to $20M+, some of the investors feel that buying IPOs is the sure-shot way to become rich and leave a fortune for their kids. I will tell you, it's absolutely not true.
Let's take the example of 1997 – the year in which Amazon went public. There were 96 other listings and no one mentions what happened to the other 96 companies. The only other solid companies that come to my mind from the class of 1997 are TD Ameritrade (AMTD) and C.H. Robinson (CHRW). So rather than talking about returns of one out of the 97 stocks, I would be curious to see how the whole class has performed.
Here is a quick chart showcasing the number of IPOs in the US by year, and though these numbers have reduced over the years, there are still 100-200 IPOs every year, and you can count on one hand, how many of these actually outperformed S&P 500 or Nasdaq over a long period of time.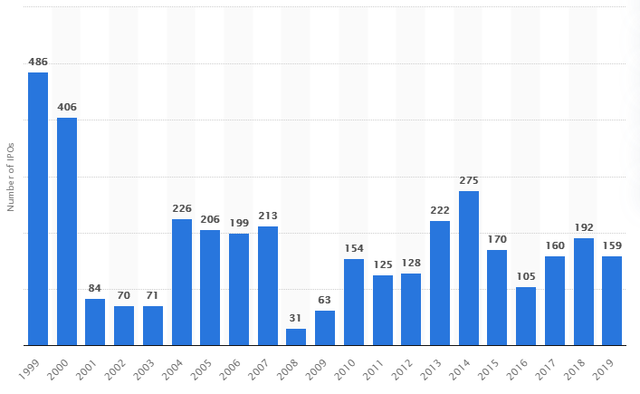 The point is not that we shouldn't invest in IPOs, but we have to start from understanding the business, valuations, and true long-term prospects before making the call, rather than trying to jump in at the open and buying something at absurd valuations, only to regret it later. Here is a quick chart of some of the hottest 2020 IPOs (area chart), and their performance compared to the S&P 500 (line chart) as of 9 September 2020:
JAMF Holding Corp. (NASDAQ:JAMF)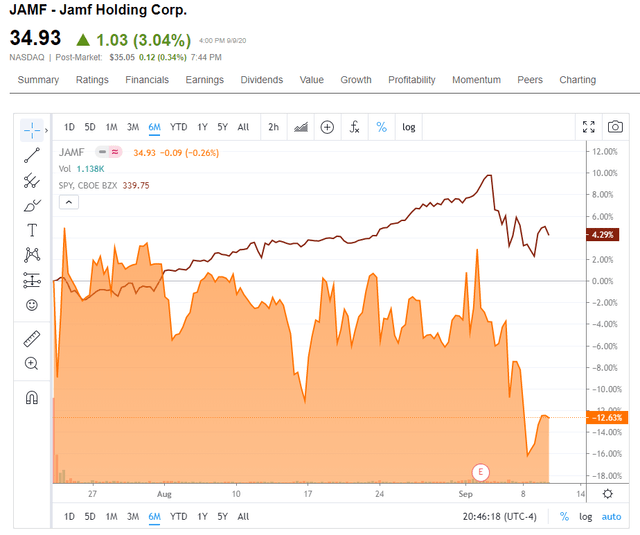 JAMF >> -12.63% vs. S&P 500 >> 4.29%
nCino (NASDAQ:NCNO)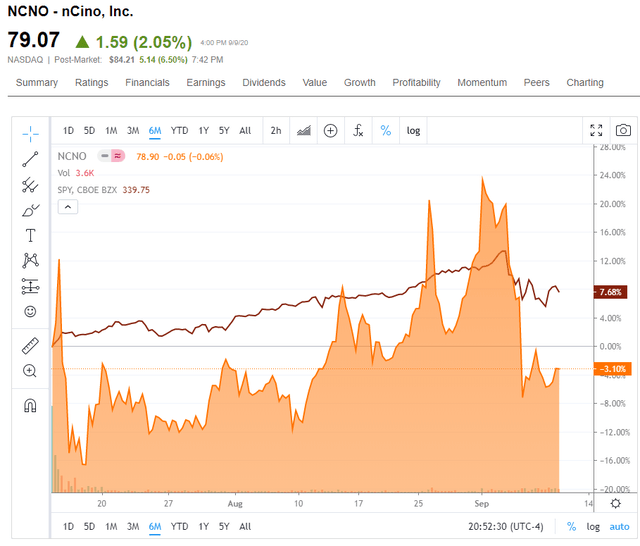 NCNO >> -3.10% vs. S&P 500 >> 7.68%
Lemonade (NYSE:LMND)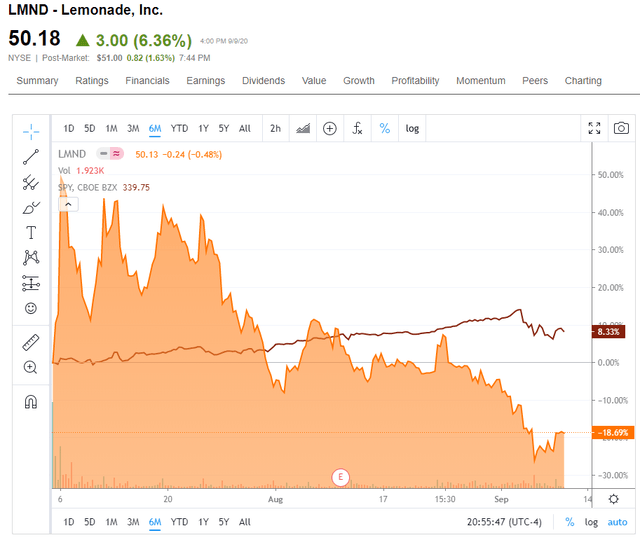 LMND (area chart) >> -18.69% vs. S&P 500 >> 8.33%
As you can see in all three of them, S&P 500 is significantly outperforming each one of them and that is assuming you bought at the price IPO was open. If not, and you got caught up in the initial spike, you may be looking at a hot potato. Again, don't get me wrong. None of this short-term performance says anything about the business, but the IPO frenzy that is driven by venture capitalists, investment bankers, and media makes us think that our life would end if we don't buy on day one.
Full disclosure: I do like NCNO and LMND and hold them into my portfolio. So, the point is, start with understanding the business, the long-term prospects and see whether you would actually like to keep it for the long term. This should be followed by understanding the valuations and making a firm commitment about the max price you are going to pay. If the trading price is way about your expectations, wait for it. Your time will come!
So, as you already know, the topic of the day is IPO, and I am going to discuss two hot ones – you guessed it – Snowflake (SNOW) and Airbnb (AIRB). Let's start with laying down the key outcomes of the discussion –
Give you a bit of an overview of the business and long-term prospects.
Discuss valuations, compare it to its peers and possible listing prices.
Share how I am planning to invest in them.
Enough said. Let's get going.
Snowflake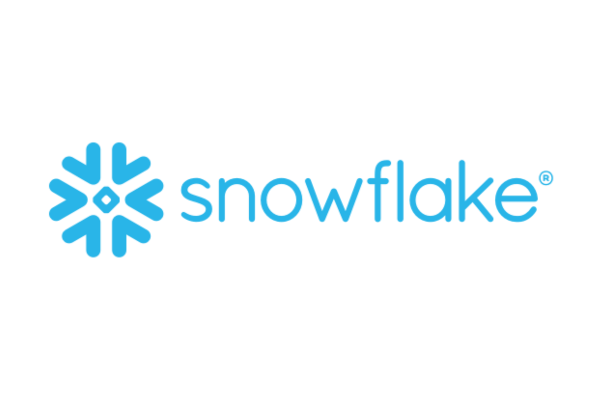 I hate to pile on, and there have already been 3 great articles on Seeking Alpha that have discussed almost anything that needs to be discussed about the stock. So here is a quick overview of these articles in my preferred order:
AlphaBeta Asset Management (Snowflake: Unfreezing the Data Market) – Detailed overview of the overall opportunity and the value add of Snowflake in the data economy, list of competitors and how they are positioned, financial and valuation.
Andres Cardenal (Snowflake IPO: Opportunity, Risk, and the Big Unknown) – Great overview of the business, competitive landscape, and revenue growth.
Donovan Jones (IPO Update: Snowflake Attempts High Valuation At IPO) – Quick overview of the business, customer acquisition, financials.
So, after this high bar, where do I start?
Let me show you two charts to give you an overview of Snowflake's quarterly performance –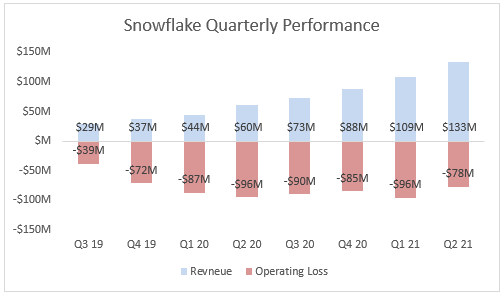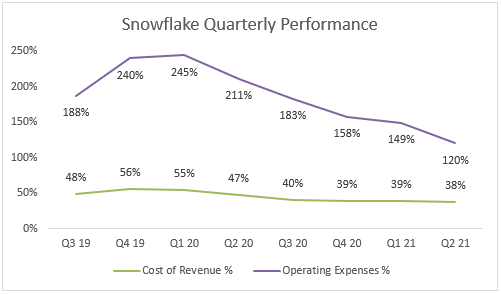 Source: Author, S-1
I want to draw attention to the following three things –
The revenue growth is phenomenal – The company has been compounding its revenue at ~100%+ pace over the last few quarters. In its S-1, the company highlighted 121% revenue growth in the most recent quarter, and the YoY number looks 155%, 139%, 149%, and 121% over the last four quarters. So, revenue growth is slowing down – which is kind of normal and no one expects SNOW to grow at 100%+ forever – but it's definitely extraordinary.
Operating loss is still quite high, but the gap is narrowing – The story here is also positive as the company has managed to keep a tab on the overall expenses resulting in narrower loss not just in % terms but also in absolute numbers.
The cost of revenue/gross margin has stabilized – I am seeing the cost of revenue to be stabilizing in the range of 38-40% over the last 4 quarters and see limited potential for SNOW to reduce it significantly as it has to pay Amazon (NASDAQ:AMZN), Microsoft (NASDAQ:MSFT), and Google (NASDAQ:GOOG) (NASDAQ:GOOGL) to rent infrastructure, that may continue to eat its margin. This is a concern for me. Here is a gross margin of SNOW compared to other high growth cloud peers – prepared by AlphaBeta Asset Management –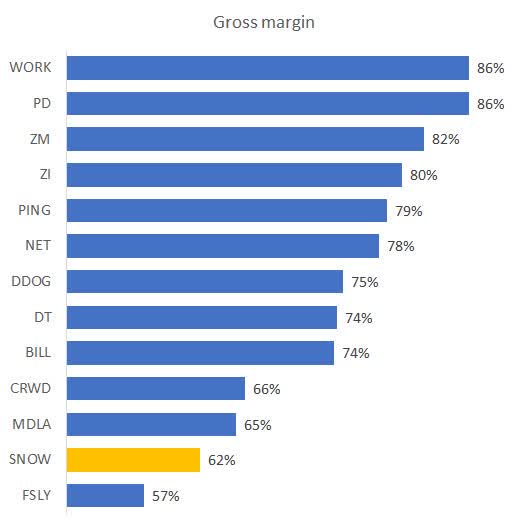 I noticed in the past, investors paying a lot of attention to revenue growth rate but not enough to gross margins. A business with a 70-80% gross margin (e.g., MSFT, WDAY, NOW, FB) can easily spend 40-50% in SG&A and R&D – both extremely crucial for the cloud business – and still churn out a respectable 20-40% operating profit. A business such as SNOW (~60% gross profit) may either have to skimp on research or post operating income in the range of only 10-20%. So, for the same revenue and revenue growth, an organization such as SNOW should only command half of what its pure cloud peers should get.
So we should indeed discuss valuations, but what about the competitors?
I think these numbers don't lie. This is an incredible business, SNOW is the market leader and the TAM is huge. We are still in the first or second innings. But a number of readers seem to worry that –
Amazon, Google, and Microsoft will eat SNOW's lunch
No. They won't. Building a best-of-breed platform that can save significant costs to its customers is much more difficult than it sounds. Most of the enterprise businesses (SNOW's main customers) will prefer a cloud-agnostic warehousing solution that enables them to run their analytics effectively and efficiently. Plus, all these tech giants have more important things to worry about and Amazon is not even a super sophisticated tech shop. Btw, moving to a platform like Snow is not as simple as subscribing to Zoom video. It takes effort to build all the integrations and make everything work and once it does – there are high switching costs and that makes the platform sticky. Even though I am a techie, I am more on the business applications side and not the infrastructure side, so there are people smarter than me who use this on day-to-day basis and may hold a slightly different view. And I'm happy to engage in the comments section.
Valuations: Now we already know that SNOW is planning to list its IPO between $75 and $85, which gives it the valuation between $26B and $30B. Considering high 50s and low 60s gross margins, one interesting comparable for valuing the company is Fastly (FSLY). Fastly's gross margin is ~58%, is growing its revenue at ~40-45%, and trading at ~33 EV/Sales (trailing). Now, if we assign a 50-75% premium to SNOW for higher revenue growth, we come to ~50-60X sales, which is lower than where IPO is priced (75X trailing Sales at $30B valuation and ~$400M sales).
How about looking at next year? Let's say Snow does $720M in revenue next year, so at the $30B valuation, we are looking at 42X Sales, 30% higher than where Fastly trades now. I can still somehow justify the $30B valuation considering the importance of the platform in the digital economy and limited competition, so I may be okay buying into this business at this price. What I am not comfortable with is to pay anything more than $30 at the open, which is inevitably going to happen considering the hype around the IPO.
Verdict: Watch from the sidelines till the price comes under control (~30-40X FW Sales equivalent to $22-29B market cap or ~<$60-80 share price)
Airbnb

Did you come across this super interesting chart from Axios showcasing Airbnb spending to be 75% more (green line – 51 vs. 34) than Marriott (NASDAQ:MAR)?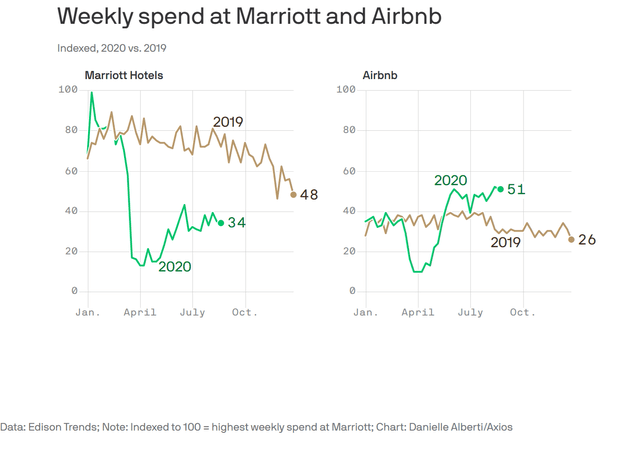 I know, I know. We are in the middle of a pandemic, and no one is staying in the hotel, and everyone is trying to book a vacation rental to work from a nicer place and all that. But I feel the way Airbnb has managed to survive one of the toughest business situations, the company may ever face, says a lot about the company and the management. If you want to get a bit more sense of who Brian Chesky (CEO) is, check out this Bloomberg interview. He talks about what matters to him, how he thinks about the business, how he navigated the Airbnb angry host crisis, and how he had to make tough decisions such as cutting 25% of the workforce, and his plans to bring them back.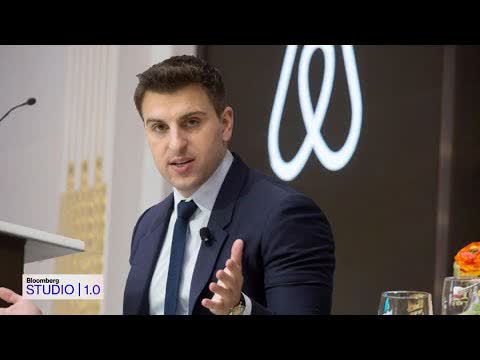 I don't know if Airbnb is not a 'Verb' then what is. And this is coming from someone who has been an Airbnb host as early as in 2014-15. I have also stayed in various Airbnbs across the globe including Italy, Greece, Egypt, the USA, Canada, and many others. My experience says that Airbnb makes it super easy to participate in this end-to-end value chain both for hosts and guests, and let me share a few things why I like this business –
I strongly believe that the memories you may make in an Airbnb, living with a local host, are just not possible in a hotel. For example, when I asked my host in Genoa, Italy – the birthplace of Christopher Columbus – about dinner options, she graciously ordered an incredible meal from a local place, and that was the first time I had such an amazing pesto sauce. No hotel can give you that experience or at least not in less than $100/night.
The model is extremely efficient. The cost for someone to rent out a spare room four blocks from Eiffel Tower could be just $10, while for a hotel it could run in 100s of dollars, so they just can't compete with Airbnb in a significant manner.
The scalability of the model is huge. Airbnb literally has zero marginal cost, apart from some marketing, to expand and grow in a new market. It won't have to buy a big property or get into a franchisee to grow and scale. It just works better.
What about the luxury market? I would argue that the kind of experiences Airbnb hosts can deliver even in this luxury market would be far superior to something that one can get even in Four Seasons or St. Regis or Mandarin Oriental. By the way, did you know that Netflix (NASDAQ:NFLX) had a whole TV series dedicated to short term/vacation rental? Check this out, and you will get a sense of how big the market is, how seriously hosts think about this business.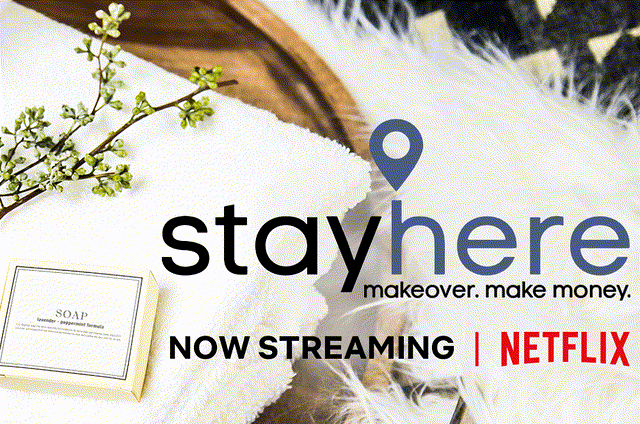 The only potential concern for me is business travel, which I still feel Airbnb will have a hard time penetrating. Though, from my perspective, the leisure market itself is big enough. Here are some old numbers, but will give you some sense of the opportunity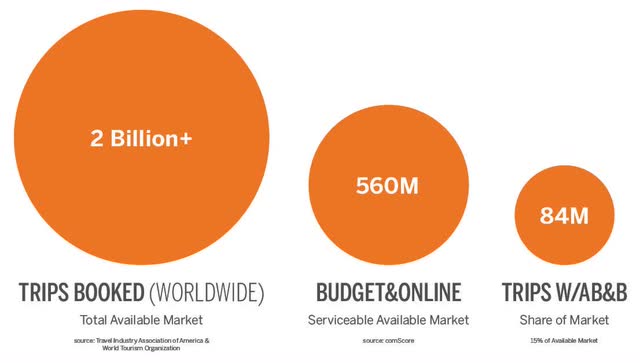 Okay Long-winded, all this makes sense. But isn't Airbnb just another participant of the sharing economy and we know what happened to Uber and Lyft?
Think about how much time it takes for you to decide a ride vs. how much time you invest in deciding the stay for your vacation. This itself will give you your answer. Uber (NYSE:UBER) is a commodity service driven by price while Airbnb is an experience and the decision is multi-dimensional. And this is the reason why Uber had such a hard time competing (and exiting) in a number of large markets globally, while the same is not the case for Airbnb, and it's doing so well in pretty much most of the markets.
Valuations: As far as valuations are concerned, it's anybody's guess. Though I am expecting it to be somewhere close to $30-35B, the level it was targeting before the pandemic. Some estimates suggest that the revenue for 2019 could be roughly $3.5B, while it's growing in the range of 20-40%. Booking Holdings (NASDAQ:BKNG) is a good comparable and it is trading at 7X EV / Sales with a growth rate of 10-12%. So, assigning 75-100% premium due to a much higher growth rate (and almost a monopoly) will give us 12-15X sales, meaning an enterprise value between ~$40-50B.
Verdict: I am super positive on Airbnb, its business model, and the way it operates. I will be looking to replace my current Booking shares with Airbnb unless they go out at a ridiculous valuation.
If you like the material and want more, click "Follow" to receive instant notification when I publish the next one. Also, leave a comment with your thoughts on the analysis.
Disclosure: I am/we are long AMZN, MSFT, GOOGL, BKNG, NCNO, LMND. I wrote this article myself, and it expresses my own opinions. I am not receiving compensation for it (other than from Seeking Alpha). I have no business relationship with any company whose stock is mentioned in this article.