In the wake of last weekend's devastating attacks, which killed a total of 253 people across more than six locations, including three churches and three luxury hotels, Sri Lankan President Maithripala Sirisena has vowed to leave no suspect's home undisturbed as police round up every one in the country of 20 million with even a passing affiliation with Islamic fundamentalist groups.
Sirisena, whose government failed to act on an intelligence memo warning of the impending attacks 10 days prior, has been struggling to rebuild the public's confidence, claiming that he never saw the memos while firing one of his defense ministers and pushing a police chief inspector general to quit (so far, he has refused).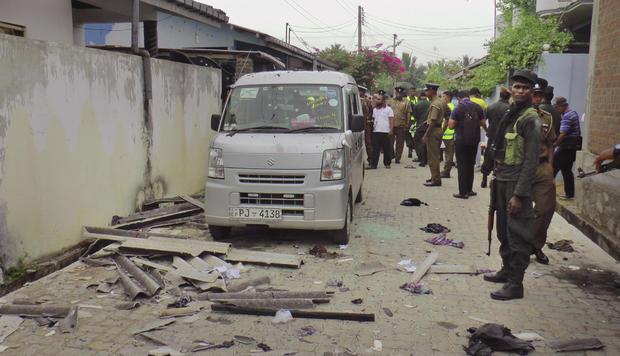 Yet so far, the raids have been successful, as police have captured dozens of suspects and seized bombs, weapons and ISIS flags. However, violence has erupted that has caused the total death toll from the attacks to climb. On Friday, violence erupted during raids on suspected bomb-building sites and other terrorist strongholds. Police have said they believe some 140 members of ISIS are in the country, and that only 70 have been taken into custody.
According to Bloomberg, a total of 15 bodies, including six children, were recovered after a lengthy gun battle between military police and suspected Islamic militants linked to the bombings. The suspects were killed after police raided a house in Sainthamaruthu on Friday; earlier, police had said they believed four gunmen and a civilian had been killed. Police scoured the area after one of the bombings happened in nearby Batticaloa.
Three suicide bombers were among the dead, according to military spokesman Sumith Atapattu, who said they were suspected members of National Towheed Jama'at, the domestic group believed to have partnered with ISIS in carrying out the attacks. Unfortunately, suicide bombers detonating explosives has become a troubling theme during the raids. Earlier in the week, the daughter-in-law of a wealthy spice merchant whose sons were among the assailants in Sunday's attacks killed herself, two of her children and several officers when they raided the family compound.
Earlier, two militants and one civilian were killed in a firefight between troops and suspected militants near Sammanthurai. The fighting erupted on Friday night after troops raided a safe house on a tip from police, encountering militants who set off multiple explosions and opened fire.
Since the raids began in the days after Sunday's attacks, police have seized explosives, military uniforms, detonators, materials used to make suicide vests, and Islamic State flags. Some 10,000 soldiers have participated in the raids. The FBI has been assisting local police in the attacks.